Men Fake Orgasms, Too
Finally! Proof wives aren't the only ones (occasionally) guilty of this bedroom faux pas.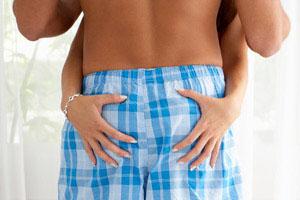 In a recent study from the University of Kansas, 28 percent of men admitted to
faking an orgasm
at least once, while 67 percent of women admitted to the same crime. Which immediately makes me wonder -- how many men aren't 'fessing up to faking it? It's also not clear how many of them were single. My guess is that it's harder to get away with faking it once you're married and (ahem) familiar with
your partner's sack skills
. 
It seems odd, considering our husbands must "rise" to the occasion while women are more likely to get away with an implausible orgasm. Both sexes, however, faked it for similar reasons. Either it was taking too long, they wanted the sex to end (ouch!), they wanted to avoid
hurting their partner's feelings
, or they were no longer in the mood.
Have you ever faked for your husband? Do you think you'd be able to tell if he tried to do the same?
More from The Nest:
Photo Credit: Veer