Are Your Parents Killing Your Sex Drive?
Find out how living with in-laws affects your marriage.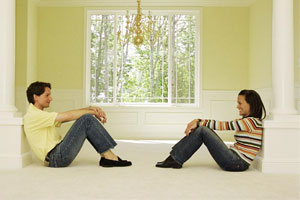 Imagine dealing with a new husband, the postwedding blues and the looming task of tackling your thank-you notes -- all while your mother-in-law lingers over your shoulder. For some, this nightmare is an unfortunate reality.
I recently came across a post on our
Sex and Romance community board
over at TheNest.com detailing the nonexistent sex life of a newlywed. Evidently, the woman and her new husband have been living with her parents for well over a year:
"Everything is going well, except even though we have our own space, my husband often doesn't want to have sex for fear that my parents will hear us, find out, etc. My parents are around the house quite often too, which doesn't help. We'll probably be living with my parents for the next couple of years, and I don't want to continue our sexless life." --
hsundermeyer
Living with your parents (or, worse,
your in-laws
) postwedding can be difficult for both you and your husband. Luckily, I've never been in that position, but I'm curious to hear from those who have. Who deals with dinner? How do you divvy up chores? I don't have the nerve to tell my father-in-law to scrub the toilet, nor could I imagine having to appease the appetites of three other people while grocery shopping for an entire household.
A good friend of my husband's lived with his fiancee in his parents' house for well over a year. In fact, they just moved out last week. Both of them said that while they appreciated his parents' hospitality, the stress of living there got to be too much.
As far as
sex
goes, I'm not sure if anyone feels comfortable with the idea of getting it on in their childhood bedroom. Not only would you feel uncomfortable hooking up knowing your parents are in the next room, but I'm guessing the feeling is mutual. Thin walls and in-laws should never mix.
Did you have to live with your parents (or in-laws) after you got married? What problems did you run into? Would you ever consider moving in with your parents for financial reasons?Plus more from The Nest:
The Biggest Sex Myths -- Busted!
Survive a Weekend With the In-Laws
Simple Savings Tips