How the Other 1 Percent Lives
…in case you care.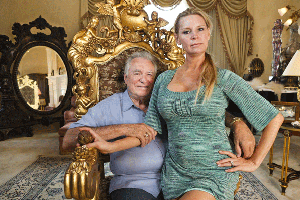 Wondering how the other 1 percent lives? Those people who have so much money even they can't keep track of it? I wasn't wondering either, but my other half dragged me to see The Queen of Versailles this weekend. Instead of being appalled, I was fascinated.
The film follows two Orlando-based billionaires -- resort king David Siegel and his (much-younger) wife, Jackie -- as they embark on a journey to build the biggest house in America.The Siegels envision a palace with two tennis courts, 10 kitchens and a regulation-size baseball field. The house was set to be 90,000 square feet (bigger than the White House!) of pure, unabashed, 1 percent luxury. That is, until the economic crisis hit.
Construction on the house was brought to a halt in 2008, leaving the Siegels with a teetering house of cards. Think Richie Rich meets The Real Housewives. Or better yet, don't think at all -- at least that's what David's wife, who has a degree in engineering, did during the economic downturn. She said, "We don't talk about financial issues.
Must be nice to have that luxury!
The Siegel family isn't at all relatable, to say the least, but I couldn't help but be captivated by their riches-to-rags journey. 
Watch the trailer here and see for yourself if you aren't immediately beguiled with their story of fortune and loss.
Let's imagine we were part of the 1 percent. If money weren't an issue, what would your dream home include?
More from The Nest:
Photo: blog.sundancenow