Do We Marry Our Dads?
Not literally! But I do believe we look for a kind of love that's familiar.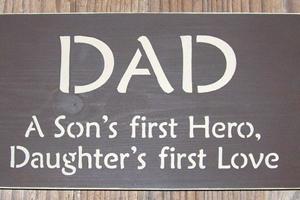 Daddy's girls are born, not made. I mean, am I right, ladies? My mother is the first one to begrudgingly admit that I'm a complete daddy's girl. When and if my husband and I have a daughter, I won't blame her one bit if she's attached to her father's hip.
What is it about the father-daughter bond that's so different than the mother-daughter one? The latter is often fraught with arguments and horn-locking. And though we'll always need our moms, there's something so comforting about a dad's love. He'll go to the store in the middle of the night to get you Advil if you have a headache. He'll come over in a snow storm to help you fix something around the house. He'll happily lend his SUV when you're moving – even if it's in the middle of the World Series.
When the hubs and I started dating, it was his total willingness to be there for me no matter what that sealed the deal for me. Looking back, I don't whether it was the unconditional love I responded to, or the idea that he could be as great of a dad to my kids as my father was to me. I don't think any of it was conscious, though. I think we girls can just scope out guys with great dad potential. It's like a sixth sense.
I found the quote above on Pinterest. Not only is it simple and straightforward, but it sums up almost every girl's (and boy's) feelings for the father figure in her life. To all you amazing dads out there: Happy Father's Day! We love you.
Go ahead, give a shout out to your dad!
More on the Nest:
Things To Do Before You Have Kids
5 Important Things To Do Before Selling Your Home
Simple Ways to Save $1,000
Photo: Daddy Nickell, Pinterest
Are you sure you want to delete this comment?