6 fun ways to break the baby news
Creative ways to tell friends and family that you're expecting.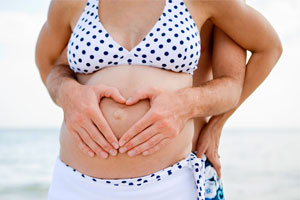 Looking for a fun way to break the
baby news
? Try one of these ideas.
Throw a baby bash
This news definitely calls for a celebration. So why not invite your close
family and friends
over for a "We're having a baby" shindig?
Get all mushy gushy
Come on, hear us out on this one. Go to MushyGushy.com, a hilarious website where you can upload your pictures onto animated figures of your choice that will spread the news for you. It's a fun and light (read: non-
cheesy
) way to share your big news.
Frame it
Scan and copy the pic of your ultrasound. Then frame it, wrap it up and let the gift do all the talking. Hint: You may want to save this one for the future grandmas and grandpas, and maybe your sister. Giving co-workers your framed sonogram might freak them out.
Play it cool
Don't want to make a big fuss? Send an email to friends and family asking, "What are you doing on [insert due date]?" Then when they respond, you can fill them in, without the hugs, tears and pats on the back.

Let the test speak for itself
At a loss for words? Try this simple trick: Snap a photo of your pregnancy test – just be sure to zoom in on the positive result – and send it to close family and friends. No need to explain; we promise they'll catch on.
Make it a photo op
Round up the crew for a picture and instead of asking them to "say cheese," tell them to "say [insert your name]'s pregnant." You'll capture all the "OMG!" reactions and can add them to baby's first album.
More from The Nest:
The Most Practical Relationship Advice, Ever
Tips to Insure Your Future
Healthy Meals for Two
Photo: Thinkstock