The Meet-Cute: How Couples Met
Find out how other couples met and share your own stories of first impressions.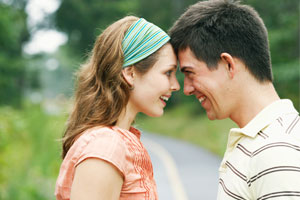 Ah, the meet-cute. That moment when two destined individuals are brought together for the first time, marking the beginning of the rest of their lives. If you prefer the less cheesy version, it's simply the point when you and your partner met, whether it was at a bar, a beach or a birthday party. 
In my case, I met my husband at a birthday celebration that just happened to take place at a pub. I rush to say "birthday" as an attempt to cover up the actual fact that we met at a seedy dive bar. While it's not the most romantic meet-cute, our first interaction was impressionable enough that I immediately called my best friend to tell her that I'd met someone worthwhile (a phone call that I'd never made before). He complimented my eyes, I did the same with his smile, we exchanged numbers, and he
took me out
the following week. 
Most couples love sharing their meet-cutes almost as much as they enjoy hearing about the first interactions among others. We asked readers over on The Nest
message boards
just how they met their significant others. Some of their stories are sweet, some are standard, but all of them mark the unknown beginning to the
path to marriage
. 
"We'd lived within walking distance of each other all our lives, but we never met until we were riding the same bus and it broke down. Considering all of this and that I'd just cleared two deadweight guys out of my life, it certainly felt like fate." --
ReturnOfKuus
"College. We became friends freshman year but didn't start dating until junior/senior year. We were serious quickly, but there was no talk about marriage for a long time. We were too young and ambitious to discuss settling down. Ten years (and a lot of time to grow apart and together) later, we got married!" --
Joy2611
"A blind date that I did NOT want to go on! My family/friends kept bugging me to go on it, so just to get them off my back, I said I'd meet him. We've been married 12 years now." --
Susan H
"He came into the art gallery I work at and was interested enough to leave his number. I'm glad I called him!" --
adventureolive
"Met at age 12 in middle school (had three classes together) but didn't get together until the end of our senior year (hubby had a crush on me all senior year), and we've been together ever since!" --
Alissa2515
"He was my boss's boss. And NO, I was totally not interested. About a year and a half later, after I left the company for another job, we started emailing and it all went from there. Five years later, we're married and couldn't be happier!" --
cari2007
"We met online. He winked at me, so I read his profile. I was so excited that we had so much in common that I emailed him. My roommate thought that was a bad idea since it made me look desperate. After our first date, we were inseparable." --
Malvagia
How did you and your partner meet? When did you know your relationship was headed toward marriage?Plus more from The Nest:
Tips to Insure Your Future
Want to Go Into Business Together? Get Tips Here
Find Fun Anniversary & Date Night Ideas
Photo: Jupiter Images