Love and marriage: The Kardashian way
First comes love, then comes marriage -- well, not always.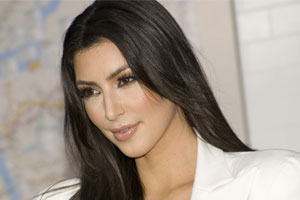 The
New Year
brought about a champagne-induced headache, as well as surprising news of Kim Kardashian's pregnancy -- two things no one wants to wake up to. While I'll begrudgingly admit that I'm actually happy for Kimye, it's clear that others are hung up on the fact that the power couple is (gasp!)
having a baby
out of wedlock. In fact, one of those critics happens to be a member of the Kardashian clan.
While hosting a New Year's Eve countdown in Miami on Monday, brother Rob Kardashian said, "I'm so proud of my sisters, but I'll be married before I have a baby."
Of course, the 25-year-old is referring to Kim and Kourtney (mom to Mason, 3, and Penelope, 7 months), both of whom aren't married to their baby daddies. But even though he's not
planning to start a family
anytime soon, Rob couldn't contain his excitement over his sister's pregnancy. "Kim and Kanye are over-the-moon happy," he said. "I'm so excited to be an uncle again!"
To gain more insight into the whole "first comes love, then comes marriage" debate, I asked readers at TheNest.com if couples should wait until after they're married to start a family. Here are their thoughts:
"I think they should at least wait until they're not married to someone else." --
Tiffany P.
"Everyone is different -- it depends on what works best for that specific couple." --
Michelle G.
"In this day and age, it really doesn't make a difference. I know couples with children who have stayed together longer than most married couples." --
Demetria S.
"In my opinion, yes. That's what we did and what we are instilling in our three kids. It's not our place to judge whether it's the 'right way' or not -- things happen and babies are a blessing." --
Lindsey S.
"I promised myself that I would never have a child before I was married in order to prevent being just a baby mama. I feel that if you 'love' me enough to let me have your child, then you should 'love' me enough to walk me down the aisle." --
Vicky B.
"Marriage isn't for everyone. Nor does it guarantee a healthy home for the child. Everyone has to do what is best for them." --
Natasha C.
"Wait until you are legally divorced from your last husband. That would be a good start." --
Teegan M.
"I don't believe in having a child with someone you aren't positive you will spend your life with." --
Rachael M.
Whether you're purchasing a home or preparing for a baby, I love that the nesting process is different for every couple -- including high-profile celebs. What big move do you think should come first: marriage, baby or cohabitation?More from The Nest:
Tips for Avoiding the Newlywed Nine
Find Out if You're Ready for a Baby
Sex Moves That Will Change Your Life
Photo: Shutterstock

This! is what young girls are looking to as a role model. How horrible this gaggle of money hungry "ladies" even exist in the American life. I have watched their show. It is social driol. Making money for doing crap? Really? Get a job. And don't give us this garbage that you "work" real hard.

I think West is looking for the media attention after what he did to Taylor Swift so he thinks by a lining himself with this popular family that he will be forgiven and accepted again. Both men couldn't be farer from each other one a 5'6" black man the other a 6'5" white man. I don't think Kim is in love with either one of them, I think she like the attention no matter if it is good, bad or indiffer it keeps her in the eye of the public. Fame Whores the whole family. Who care if she is pregnant? What has she done to be news worthy? Definitely not good role models for young women.

Does she realize that once the baby is born, she can't "put it back", that it has to be fed on a daily basis????  Cannot see her staying home taking care of a baby.  I know they can afford to hire a nanny but that is not like having the actual mother taking care of the baby. I'm surprised that kayne, or whatever his name is, isn't pushing her to accept the annulment from her husband so these 2 douchbags can get married.  Kind of sounds like he's not really that crazy about marrying her.  Maybe he just used her to bring more attention to himself.  If you check the numbers, they were only dating for 5 months before she got pregnant.  And with his attitude about women, I cannot see him ever using a condom.  And we all thought we saw enough of the kartrashians before, now they are really going to be annoying.  You know darn well she will pose nude showing her growing stomach.  And I refuse to call it a baby bump!! And stop with the "cutesy" name for those 2.   I still think the best response for a baby name was posted by somebody saying they should call it "Kaching"!!!!
Are you sure you want to delete this comment?