Get him to freshen up his stale style
Because those "Family Guy" boxers have to go.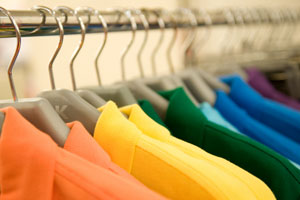 Underwear with holes in them. T-shirts from his days as a [insert name of fuzzy high school mascot here]. Sweatshirts declaring "I survived Dante's Inferno" from his frat party days in college. Ladies, let's face it, some of his style mishaps are enough to make even the
sexiest
significant other less than appealing (OK, almost...he's still pretty hot). Here's how to handle his worst
wardrobe malfunctions
without hurting your
relationship
.
Wardrobe malfunction: Oversized T-shirtsQuick fix:
Ever notice that any sale rack in the guys' section is always stocked with smalls and mediums? That's because for whatever reason, men love to buy extra-large tees — even if the sleeves come down to their elbows. Get your guy to cut down in size by telling him his physique gets "lost" in oversized shirts. If that doesn't work, there's always drying them on high heat. Oops!
Wardrobe malfunction: Sneakers without socksQuick fix:
OK, so nobody is going to argue that smelly feet are sexy — especially when there are puddles of sweat in his Nikes (that you can smell, even with the closet door closed). Instead of complaining, email him a link about athlete's foot, complete with photos, so he knows what he could be facing if he doesn't throw a pair of socks on those suckers.
Wardrobe malfunction: Casual Friday complexQuick fix:
Sure, he owns a suit, but he hasn't worn it since your sister's wedding ... eight months ago. If dressing up for work isn't his thing, don't push it; in some offices, casual is the norm. Instead, invite him on your next shopping trip (you can bribe him with post-shopping brew pub plans) and suggest swinging into stores with
casual-yet-professio​nal
duds. Think something along the lines of dark jeans (no holes!), a fitted blazer, and some fresh T-shirts.
Wardrobe malfunction: Ratty baseball capsQuick fix:
Take advantage of his sports superstitions and remind him that his favorite team hasn't won the [insert World Series, Super Bowl or NBA Championship here] in forever, and that maybe — just maybe — his cap is jinxing them. Then just open the trash can so he can toss it in. Score!
Wardrobe malfunction: Holey underwearQuick fix:
We would never recommend withholding sex as a way to get the upper hand, even when it comes to his nasty skivvies. But come on, a girl has a threshold! Gently remind him that seeing him strip down to reveal those bad boys sort of ruins the mood. Then phase out his less-than-fresh boxer briefs by replacing one pair a week with a few new ones.
Wardrobe malfunction: Blasts from the pastQuick fix:
Call it a guy thing, but men just seem to love wearing shirts and shorts that speak to their athletic achievements, even if that "division championship" happened in the seventh grade ... and he sat the bench most of the time. You can't just toss these oldies but goodies away; these are mementos of his youth and are really important to him. Start planning some new endeavors together like a local road race so he has some new "victory" swag to add to his collection (hey, at least it'll slow down the rotation).
More from The Nest:
How to Be a Better Spouse
Tips to Insure Your Future
Simple Savings Tips
Photo: Shutterstock