Is Friday the 13th Lousy or Lucky for Love?
You be the judge.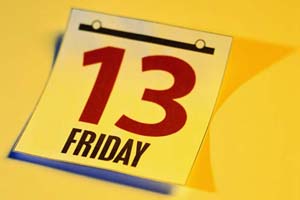 Well, today is that day some of us dread for no reason in particular: Friday the 13th.
There are two schools of thought: One is that this day is spooky and weird (cue the Jason Voorhees music).
Some buildings
 don't have a 13th floor because they consider it a bad omen. 
Other people look forward to this once-in-a-while phenomenon. Certain religions, like Judaism, even celebrate the number 13.
According to our sister site, The Knot, Friday the 13th is "not couples'
wedding date of choice
." But women on our
community boards
 over at The Nest seem to like the day -- even being superstitious in reverse, feeling that it's a lucky day.
So what do you think: When it comes to love, is Friday the 13th a lucky day or a throwaway? 
More from The Nest: 
Photo Credit: HandsOnBlog