How to suck up to your mother-in-law
Tried-and-true ways to help your bond with your partner's mom.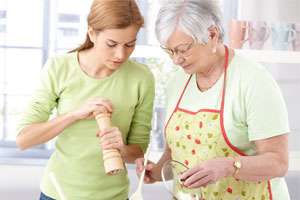 This holiday season, you'll do lots of
cookie decorating
and
gift wrapping
-- and if you're anything like me, you'll spend lots of time with the fam (
especially your mother-in-law
). You really want her to love you, but you're not quite sure how to seal the deal. Follow these pointers from other members of TheNest.com who have been in your shoes and are now tight with their mothers-in-law.
"She came with me to try on and pick out my wedding dress...then she paid for it. She's the best." --
Mai B.
"Went shopping and chatted about things we liked and didn't like, and found we had a lot in common." --
Mandy H.
"We go shopping together and out to lunch. We're even exploring starting a business together!" --
Christen E.
"She taught me how to make pumpkin pie, and I eat/love her cooking (that counts, right?)." --
Jen H.
"She shares short stories with me from her English classes...she is lovely." --
Elizabeth W.
"I bond with my MIL by asking her to teach me some of her recipes. She's Chinese, so it's cool to learn things." --
Carley R.
"We live far from each other, so we don't get to do much in person. I do try to text important things from time to time. It's a good way to let someone know you're thinking about them." --
Meghan N.
"She comes over to help decorate for the holidays and helps make crafts with me." --
Stephanie M.
"Double dates with my husband and in-laws." --
Shauna A.

How do you bond with your mother-in-law?More from The Nest:
Survive a Weekend With the In-Laws
Find Out if You're Ready for a Baby
Tips to Insure Your Future
Are you sure you want to delete this comment?