7 power couples we can't get enough of
Our favorite successful love birds -- from Jay and Bey to Brad and Angie.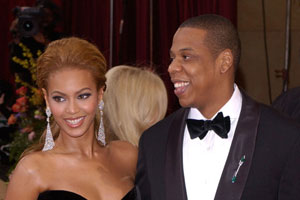 Coming off of Sunday's Superbowl performance, I got to thinking about how flat-out fierce Beyoncé is. From her stage persona to her rock-solid marriage — that woman can only be described as a modern-day Wonder Woman. But as much as I
love
her strong solo presence, I can't get enough of her and husband Jay-Z. Thanks to their fame (and a pretty large fortune) those two have proven themselves to be one of the most
successful
couples in Hollywood. Here, I've rounded up 6 other powerful
celebrity couples
that I just can't seem to get enough of.
Jay-Z & Beyoncé
Face it -- this duo rules the roost when it comes to power couples. From Jay's rapping credentials to Bey's fierce dance moves (did you see her Superbowl performance?!), there's nothing this couple can't do. As long as these two remain 'crazy in love', I'll continue to worship the ground they walk -- and dance -- on.
Brad & Angelina
Despite the way their relationship came together (sorry Jen), I can't help but wonder if there's any room left in the Jolie-Pitt clan so I can join. (Pick me! I'm charitable and cultured!)
Judd Apatow & Leslie Mann
The funniest couple on the list is also one of the cutest. The filmmaker recently admitted to ELLE that when he first met his actress wife of fifteen years, it was love at first sight. "'There goes the future Mrs. Apatow,'" he recalls saying.
Kevin Bacon & Kyra Sedgwick
This Hollywood couple has stood the test of time and two children. When asked about her husband of 24 years, Sedgwick told Good Housekeeping, "He always makes me feel like I'm the most beautiful woman in the room." Cue the tears.
Kurt Russell & Goldie Hawn
What makes me love these glam grandparents is the fact that Hawn and Russell have been together for 30 years -- yet they still haven't tied the knot. As the age-old saying goes: If thou likes it, then thou should have put a ring on it (at least by now).
Ellen DeGeneres & Portia de Rossi
Ellen's recent birthday dedication to her wife, Portia, was perhaps the cutest thing I've seen all year. They're both complete opposites, yet so obviously in love.
Will Smith & Jada Pinkett-Smith
Despite rumoured ups-and-downs, these two are still going strong after over 15 years. The actress told PEOPLE last year, "Usually on our wedding anniversary, we give ourselves a high-five and go, 'We survived another year, homie! Yeah!'". Cute, but I still prefer jewelry over a congratulatory high-five any day.
More from The Nest:
Find Out if You're Ready for a Baby
Tips to Insure Your Future
How to Be a Better Spouse
Photo: Shutterstock
Are you sure you want to delete this comment?