Olympic-Size Crush of the Day: Kevin Love
I love me some Love.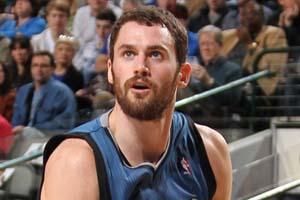 I'm counting down the days to the Olympics  -- and counting my Olympic athlete crushes too (don't tell my husband). The current object of my desire? Kevin Love.
My adoration for this appropriately named ballplayer began well before the Team USA basketball roster was announced. Although he's the youngest on the team (23 years old -- eek! Too young for me?), he'll be playing alongside the likes of Carmelo, Kobe and LeBron for the 2012 Games.
I can't tell if it's his quirky Twitter photos, ever-changing facial hair or that adorable grin, but I do know that Love captured my heart just in time for the Summer Olympics (they start 7/27, for those of you keeping score).
So just how much do I Love thee? Let me count the ways...
1. Love's from Oregon -- which reminds me how much I love men with down-home roots.
2. He's worn the number 42 throughout his entire basketball career; coincidentally, that's my favorite number too (okay, it wasn't before, but it definitely is now!).
3. Who can resist tall men? Standing at 6'10", Love definitely meets my height requirements.
4. His uncle -- Mike Love -- was one of The Beach Boys. (Hopefully that means he can sing just as well as he rebounds!)
5. Despite the basketball fame and fortune, Love proves below that he's still a mama's boy...
Which athlete is at the top of your Olympic crush list?
More on The Nest:
Photo: totalprosports.com