7 fabulous fall date-night ideas
Enjoy the season with your sweetie by trying out any of these fun activities.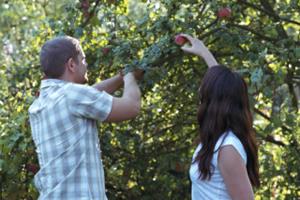 The air is getting crisper, the leaves are changing, and nature has become the perfect backdrop for a romantic get-together. Enjoy the season with your sweetie by trying out any of these great date ideas. A bonus: They're all budget-friendly.
Go apple picking
Fall is the season for
apple picking
. Check out a local orchard or farm and make a day of it. Take a tour, make your own apple butter or cider, and  eat some cider donuts. Then go home to make an apple pie together – adorable and delicious.
Visit a pumpkin patch
Get in touch with your inner child and set out for a day of
picking pumpkins
. Make sure to choose a few good ones and take some pictures. Most pumpkin patches also have fun activities, such as petting zoos, pumpkin tosses and corn mazes, a great excuse to extend your date even longer. (Visit
Pumpkin Patches And More
to find a patch near you.)
Get spooked
Remember when going to the movies with someone meant picking the scariest movie so you could get a bit closer? Same rule applies. There's nothing like visiting a haunted house and getting scared to bring you two
closer together
, literally. Holding hands through creepy hallways while being scared out of your mind – that's the thing of which romantic movies are made. (Visit
HauntWorld.com
 to find a haunted house near you.)
Drink up
What better way to say "cheers" to fall than with some inexpensive drinks? Look up local wineries or bars that offer tastings for a perfect fall night. You'll get to tour the facilities, learn about the different wine or beer, and support local businesses. Plus, many places that host these events serve appetizers, cheese plates or desserts.
Hit up a fall fair or festival
C'mon, you can try to pretend you didn't love the fair scene in "The Notebook," but you can't fool us. Pretend to be a teen again and take a ride on the Ferris wheel, and sit really close. Visit the booths, play the games and enjoy a night out. Did we mention that nothing says true love like winning a stuffed animal for your date – or buying him a funnel cake? We'd take either.
Shop a flea market
Many vendors are trying to get rid of their finds before winter sets in and they have to store their stuff, so you're likely to get a deal. Set off early and grab breakfast first, then spend the day perusing vintage wares.
Go on a hayride
If you've never been on a hayride, you've been missing out. Grab a blanket and cuddle up as you take in nature. Bring a thermos of hot cocoa or (spiked?) cider. Tip: See if you can find one operating at night so you can spend your time together gazing at the stars (plus, riding at night should mean fewer kids).
More from The Nest:
Cool Staycation Ideas
The Most Practical Relationship Advice, Ever
Find Out if You're Ready for a Baby
Photo: Thinkstock