7 fun and affordable winter date ideas
Cheap and easy ways to spend time with your sweetie this season.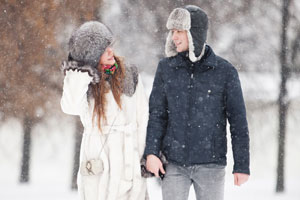 Don't let post-holiday bills and bone-chilling temperatures turn date night into a bore. If you're looking for some fun this season, try one of these wallet- and weather-friendly ideas this weekend!
1. Fire it up
If you're going to stay in on Saturday night, do it right. Open a bottle of wine and whip up a warm, hearty meal together. Need some ideas? Check out TheNest.com
collections of recipes
for just about everything, including plenty of
comfort food
.
2. Act like kids
Get your blood pumping by squishing together on a sled designed for someone half your size and zooming down a hill. Bonus points if you can manage to crash into your neighbor's snowman.
3. Ice dance
Remember the good old days of gliding around the rink, holding hands with your crush? No? Well, then it's time to experience it! Head to your local skating rink (and do your best not to fall). Some relationship experts say that fun is one of the best aphrodisiacs (not to mention that rubbing each other's sore butts afterward could be kinda hot, no?).
4. Catch a show
For a nice break from the old dinner-and-a-movie winter standby, head to the theater to check out a play. If you live in a major city, you can look for discounted tickets at LastMinute.com or TheaterMania.com. If you don't mind taking your chances and waiting a bit, many theaters sell seriously reduced tickets for empty seats on the day of the show. Or, screw Broadway (or the overpriced equivalent) altogether and support your local community theater. You might be surprised by how good it actually is.
5. Make over movie night
Make a standard movie night a little more interesting by adding a theme to the mix: favorite movie couple, favorite movie that's so bad it's good, scariest flicks ever made...you get the idea. Each of you picks your top contender, and then you can flip for whose flick goes first. Bonus: You might learn something new (good or bad!) about your partner.
6. Go for the gold
A little competition can be a
big turn-on
. The good news is you don't even have to leave your warm and cozy home: Hook up the Wii (or PlayStation) and challenge your partner to a game of Rock Band, Grand Slam Tennis or Flight Control. Grab a controller and go at it. (Hey, we're talking about the game here -- dirty mind!) Loser has to warm up the car in the morning -- for a week!
7. Get nostalgic
Learn a bit more about each other by playing the songs you loved throughout your life. Take turns sharing stories about what memories they bring up -- like the eighth-grade dance or your first concert. You'll learn more about each other and revisit some favorite (or perhaps some "What was I thinking?") tunes.
More from The Nest:
How to Look Better Naked
The Biggest Sex Myths -- Busted!
How to Be a Better Spouse

Photo: Thinkstock
What about a #8 and a #9?

8. Break out the board games! <--goes hand in hand with number 6, but sometimes sitting around doing board games together can be just as competitive and fun.

9. Candlelit evening for two. In other words..., let your kid(s) if you have them go to dinner or stay the night at their friend's/relative's house while you rekindle romance at home. Candles, bubble bath, the bedroom...

Great ideas! I'll be sharing this post!


Are you sure you want to delete this comment?