5 wacky TV couples we love to watch
These mismatched duos always know how to keep us coming back for more.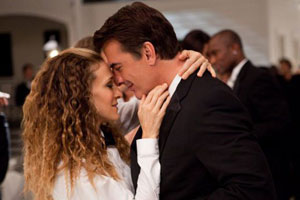 Some made-for-TV
couples
are so sickeningly sweet we can't bear to watch them. And then there are the ones who are so mismatched they make us want to watch them over and over just to see what will happen next. Check out our favorite odd couples of all time:
Peg and Al Bundy, 'Married With Children'
For 11 seasons, the Bundy family's
odd antics
entertained us — but nothing made us laugh, or cringe, more than those epic sparring matches between Peg and Al.
Carrie Bradshaw and Mr. Big, 'Sex and The City'
There were many ups (that closet!) and downs (he left her at the
altar
!), but Mr. Big still made us wish we were Carrie more than once.
Castle and Beckett, 'Castle'
He's an immature writer and she's a disciplined cop who loves playing hard to get. So cliché – and so irresistible.
Gloria and Jay Pritchett, 'Modern Family'
He's her father's age, and we're not even sure he understands what she's saying half the time, but we can't help but love these two together. Or is it just that we adore Ed O'Neill as the oddball hubby?
Jessie Spano and A.C. Slater, 'Saved By the Bell'
A high-strung feminist + a chauvinistic jock = a match made in high-school heaven. What could be better?
More from The Nest:
Watch Other Couples Duke it Out
How to Be a Better Spouse
Sex Moves That'll Change Your Life
Photo: Collider.com

how about  Lucy Stamford and son Jefferson's Bunkers  ect ect they were showing  us  how to beat racism by laughing at  our selves showing us that we could live together  and voice how we  feel  and grow at the same . time why did they all of a sudden disappear  could  it  be  that  the government  did not want us to get along. this government has put us back 50 years  both sides  democrats and republicans.  as long as they keep us fighting with ea other   they can control us

Although considered tasteless, by some, Al Bundy and his not-so-better half had some of the best lines about family life on TV and a man's shrinking worth to his family.  Who can forget his wisoom? ("Women--you can't live with'em and you can't live with'em." "Women--you can't live with'em and you can't ship them all to Cananda.")  He rewrote Dr. Suess' "Gren Eggs and Ham" about Peg, too.  But nothing was better when Peg tried o redecorate the bathroom and Al took them back.  100% comedy with a heart.
Are you sure you want to delete this comment?