Jennie Garth's new approach to love
The actress talks to Health about her new outlook on relationships.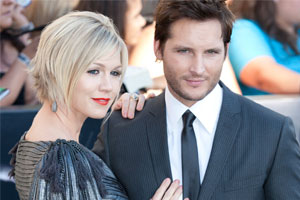 A sense of humor, intelligence, rock-hard abs -- we all have our requirements when it comes to what we look for in a significant other (I prefer blue eyes and a big smile, but hey, that's just me). But as actress Jennie Garth proves, it can take heartbreak to make you realize what
traits are most important
in a partner.
In the January issue of
Health
, the actress admits that after her March split with husband Peter Facinelli, her outlook on
relationships
changed:
"I'm learning to date again," said the 40-year-old mother and recent divorcee, "[and] looks aren't important to me anymore.... I like positive energy."
Although she and her
Twilight
husband went their separate ways after 11 years of marriage, I applaud Garth for her
fresh new take
on love. The optimistic mom of three is a reminder that it's important to search for the positive, both in your relationship and in your partner (even if said partner snores, refuses to take out the garbage and has a tendency to forget where he left his keys).
What's the most important trait you look for in a partner?More from The Nest:
Healthy Meals for Two
Sex Moves That'll Change Your Life
Tips to Insure Your Future
Photo: Shutterstock
Are you sure you want to delete this comment?