Love to Hate Household Chores?
Find out what tiresome tasks drive other wives crazy.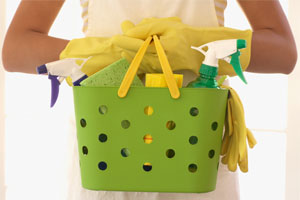 There's been a whole lot of talk about the unavoidable over on The Nest
community boards
. Bills,
arguments
, the inevitable end of summer. You name it, and chances are readers are not looking forward to it. Perhaps the most common dread-worthy task is — you guessed it — 
chores
. From laundry and dishes to sweeping and scrubbing, it's clear that grown adults dread household chores just as much as the 5-year-old who's told to pick up her room.
Truthfully, I'd rather participate in my husband's fantasy football draft than have to clean the bathroom. And that's saying a lot. Here's a peek at what chores peeve The Nest readers most:
"I hate a lot of chores, but the worst one for me is dishes. It's like a never-ending pile. I would change over to paper plates/plastic silverware if I didn't care about ruining the earth." --
babygrl5507
"Ironing! The pile gets bigger and bigger until I give in and do it. The whole idea of it is just awful!" --
boxofdelights
"I don't mind doing laundry; I don't mind folding it, but actually putting it away on shelves/in drawers/on hangers is the WORST!" --
AurorasEnvy
"Cleaning the outside of the toilet. It makes me gag." --
Santorini2011
"I absolutely hate vacuuming! I haven't vacuumed my house myself in years — that's my husband's chore. I don't know why, but ever since I was little, I've been scared of the vacuum. I hate the noise, I guess." --
Knena21
"Laundry or cleaning the shower. I would rather scrub 100 men's toilets. Oddly enough, I don't mind toilets." --
Aussie*s_Mom
"Dishes! I have a dishwasher, but it's all the pots and pans and dishes you have to wash by hand -- it drives me crazy! They're never-ending." --
Skooled917
"I was thinking of hiring someone to do my least favorite chore, but I hate them all so much it's tough to pick."
-- Jenny33
What chore do you despise the most? How do you motivate yourself (and your partner!) to clean up around the house?


Plus more from The Nest:
Simple Savings Tips
How to Make a Small Space Look Bigger
Hundreds of Modern Decor Tips & Tricks

Photo: Getty
Folding and putting away laundry.

We motivate each other to get the chores done as quickly as possible so we can spend time together...we also will fold laundry together and catch up on things on the weekends.

I used to hate cooking, but when I realized that it is a way that I can nurture my husband and family, it became a way to show my love and appreciation. I think half of the battle is in how you perceive the purpose behind what you're doing...I've also learned that for women when we are nurturing ourselves or others without expectations, then we produce our stress-reducing hormone, oxytocin. So if we choose to do things to nurture ourselves and others, and can view household chores as a way of nurturing...then stress/hate goes away, and our stress gets lowered while we do them too. So now I wait until I'm in that state of mind before tackling chores, and then they do get done, I have fun, and I become less stressed out. the neuroscience behind why is what has helped me the most, especially on those days...


Are you sure you want to delete this comment?