Supermarket Sweep: How to Shop Smart for Groceries
Readers share their tips on saving and sensibility.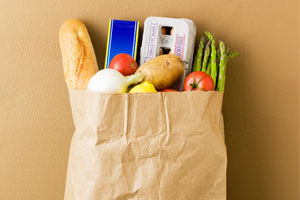 Do you feel like you and your partner are spending way
too much money on groceries
every month? While food is undoubtedly one of the most important items within your monthly budget, it ranks as one of the most expensive. Luckily, there are a few good ways that you can
save at the supermarket
.
Check out these tips on our Money Matters
message board
from other Nesties on how to cut down your grocery bill while still managing to eat healthy:
"Before I go grocery shopping, I look at my coupons. I look at what's on-sale that week and look at what I have in my house that I can use for this week's recipes. Then I make a grocery list of all the things I need and where I will get them." --
rakle99
"We plan out our meals before we go shopping, and it makes it easier. Making a list and sticking to buying just what's on the list is hard, but it helps out a lot in the end." --
Jennifer102011
"I try to buy meat that's close to the 'freeze by' date and still looks good. Our grocery store sells it off super-cheap." --
ToastieSimons
"We've never bought a premade meal (that I can think of) but will generally buy premade ingredients. I don't have the time to make my own sauces, breads, etc., on a regular basis, but on the weekends, I sometimes try something new if I have time." --
hesakeeper
"I make a lot of our meals from scratch. If we have a lot of leftovers, we eat some on 'leftover night,' and any that we don't eat, we freeze." --
blueeyedblossom
"We utilize leftovers for lunches daily and often make a big batch of something (chili, spaghetti sauce, etc.) that we can freeze for later. We also have easy stuff on hand for nights when we don't feel like cooking." --
Kaiene
What ways do you save while shopping? How much do you put toward groceries every week?Plus more from The Nest:
Save Big on Your Next Vacation
Simple Savings Tips
How to Buy Anything
Photo: Thinkstock