Sex & Sunshine: Where You Should Be Hooking Up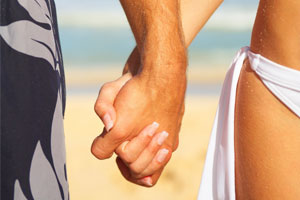 No, we're not suggesting an impromptu romp in a tanning bed. Rather, we're referencing the good ol' outdoors.
Thanks to the hardworking researchers over at
LifeStyles
, we gained some interesting insight into the sex lives -- and locations -- of others. It turns out that 60 percent of women have confessed to hooking up in the great outdoors, while only 55 percent of men admitted to the same dirty deed.
Those numbers immediately made us wonder if the remaining 40 percent of women were fibbing or just seriously need to
step outside of their comfort zones
. So, your to-do for this weekend: sex—outside.
We just so happen to have a how-to guide on
doing the deed outdoors
. Here are the finer points:
• Doing it on the beach is great, but keep it quick and straightforward. The sand will add some spice to your sex life and your beauty routine -- it does a great job of exfoliating knees and elbows!
• Avoid pools and hot tubs. Oddly enough, having sex in the water actually dries out natural lubrication.
• A better option: the lifeguard stand. You and your partner will enjoy the scenery without the drawbacks of scratchy sand.
Tell us, where is your favorite spot to hook up with your hubby? Have you and your spouse ever gotten caught?
4 Secrets to a Hotter Relationship
50 Sex Questions You're Afraid to Ask
Caught In the Act by Your In-Laws!