Magic Mike...and 4 Other Summer Movies to Get You in the Mood
As if Channing Tatum weren't enough.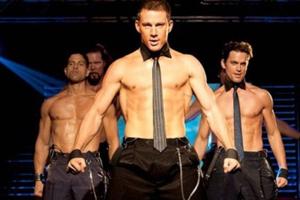 Some of you may be scratching your heads, remembering
my post from last week
 about my male stripper phobia. But I did it -- I went to the movies to see
Magic Mike
this week...and I loved it! 
Not only was it not uncomfortable to watch (okay, maybe the Matthew McConaughey butt scene was a bit much), but it had great acting, an enjoyable plotline, actual humor -- it was legitimately a good movie. And Channing Tatum is hot...
and I was also hot
 when I got home, so my husband ended up very pleased that I'd decided to see it. (Were you thinking I dragged him with me? He would have none of that.) 
In addition to the magical Magic Mike, here are four other sexy summer flicks I'm planning to check out ASAP: 
The Amazing Spider-Man 
I'm not sure why movie execs chose to make yet another Spider-Man movie, but I'm willing to give this one a shot. Not only are Emma Stone and Andrew Garfield
real-life lovebirds
, but the two play onscreen loves as well. I just hope they reenact that upside-down kiss from the 2002 adaptation. That would be perfection. 
Lawless 
Two words: Tom Hardy. If this Englishman isn't already on your radar, I suggest Google and a cold shower. As a bonus, this action drama will appeal to
the man in your life
 too. 
For a Good Time, Call... 
I love that this comedy combines all things awkward and uncomfortable. Not only is phone sex involved, but add broke, squabbling roommates to the mix and you have a recipe for comedic success. The presence of Justin Long doesn't hurt either. 
Red Lights 
As with previous Robert De Niro thrillers, Red Lights will be sure to keep you on the edge of your seat. If you aren't peeking through your hands, chances are you'll be hanging onto your significant other...like I will. 
More from The Nest:

Photo Credit: awardsdaily.com