The sexiest playlist
With the Grammy's set for this month, here are the nominees best sex-worthy songs.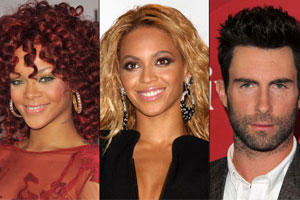 Despite the disappointing fact that
sex doesn't burn nearly as many calories
as we had once hoped, both you and your hubby still need music to
set the mood
. With the Grammy Awards set for Feb. 10, I chose 10 sex-worthy songs — both old and new — from my favorite nominated artists (including my favorite piece of eye-candy, Adam Levine). Whether you're into slow jams or older hits, these music picks will help you
get busy
without stopping to press shuffle.
Maroon 5 -
Best Pop Vocal Album
Secret
Frank Ocean -
Album of the Year/Best New Artist
Thinkin' Bout You
Rihanna
-
Best Pop Solo Performance
S&M
Beyonce
-
Best Traditional R&B Performance
Naughty Girl
John Legend
-
Best Rap/Sung Collaboration
Tonight (Best You Ever Had)
The Black Keys
- Album of the Year
Too Afraid To Love You
Bruce Springsteen
-
Best Rock Album
I'm On Fire
Hunter Hayes
-
Best New Artist
Wanted
Florence and the Machine
-
Best Pop Vocal Album
Bedroom Hymns
Jack White
-
Best Rock Album
Love is Blindness
What songs are on your current sex playlist?More from The Nest:
The Biggest Sex Myths, Busted
How to Stop Being Too Tired for Sex
Tips for Avoiding the Newlywed Nine
Photo: Shutterstock