Your Best Friend's Husband — How Far Is Too Far?
Where do you draw the line when interacting with a friend's spouse?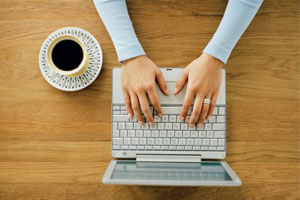 Thanks to the endless forms of social media, you're available at any moment, to just about anyone who wants to reach you — including your creepy uncle and that college ex.
While the benefits of Facebook and Twitter are numerous, there are definite drawbacks when it comes to
communication
. For instance, what happens when you're contacted by a married man?
One reader over on TheNest.com's
Married Life message board
recently posted about an uncomfortable situation she's encountered online:
"My closest friend's husband always chats and messages me on Facebook. My husband totally hates it, even though he likes the guy, but I think it's innocent...I know that he and my friend have communication
issues in their marriage
, and I think he should be talking to her instead of trying to chat with me. Am I being naïve?" --
Pink714
Although it seems innocent enough, this seemingly friendly conversation could result in serious consequences. In this case, where is it appropriate to draw the line? Are you prohibited from communicating with your best friend's husband even if you two are friends as well? When does conversation go from casual to uncomfortable?
Here's how other Nesties responded:
"Yes, you are being a tad naïve. The only person he should be bringing personal issues to is his wife." --
jnjmommy0609
"Tell him you're not comfortable with him always coming to you before going to his wife." --
toothpastechica
"I would stay in the offline mode if I were you. If nothing else, this will prevent any drama." --
MiniMugLinton
"I'm friendly with some of my friends' significant others and would definitely make online small talk with them. Your husband sounds creepy jealous." --
kellbell1919
If I were on the receiving end of a married man's messages, I wouldn't bother responding. That way, a possible confrontation is avoided and no one's feelings get hurt. Plus, I doubt that a friend's husband would get all
Mean Girls
with, "Why didn't you write me back?" If so, politely tell him you don't have time for small talk.
How would you react if your best friend's husband constantly tried to communicate? What would you do if you found out a friend was reaching out to your husband?Plus more from The Nest:
6 Signs Your Spouse is Lying
Watch Other Couples Duke it Out
Need a Love Fix Now? Get Relationship Tips
Photo: Getty Images