How to split the holidays without going crazy
Stay sane with these tips for splitting the holiday from The Nest readers.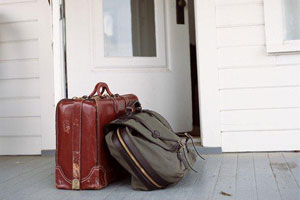 Now that the snow is falling and your Mariah Carey Christmas album is on repeat (regrettably so), the
holiday season
is officially in full swing. But unless your family resembles that of a Norman Rockwell painting, odds are that the holidays are a stressful time.
Even if you and your partner aren't married, tensions can run high when it comes to splitting time with families during the holiday season. Between distant cousins, new nephews and impatient mothers-in-law, choosing where to spend the holiday can bring out the inner Grinch in both you and your partner.
Unless you've figured out how to be in two places at once, how should you determine where to spend your time? While you wouldn't want to hurt anyone's feelings (or anger your grandmother), it's nearly
impossible to pick sides
without slighting at least one person.
Over on
The Nest message boards
, readers chimed in about what they do when a travel dilemma pops up during the most wonderful time of the year:
"We split the day in half. If my husband's family gets two hours more than mine, oh well. I've never kept track of things like that because it's silly to keep score." --
alithebride
"A friend of mine hosts a 'leftover' Thanksgiving day. They do a potluck of leftovers, play games and drink beer with the family that wasn't visited on the actual day. Her family loves it and actually prefers to attend that day." --
CaitS07
"I won't do the two families on one day, as I find it too stressful. To me, it's better to focus on one family a day instead of splitting time." --
GreenMonkey1
"I would never split the day of the holiday, because what's the point of going to spend time with family, mine or his, if we're just going to pack up to go to the other side and then miss half the event with both sides?" --
toothpastechica
"We rotated holidays until we had a kid. Now we just stay home and do our own thing, and anyone who wants to come is welcome. We do try to make an effort to see both sides of the family around the holidays but not necessarily on them." --
Kimbus22
How do you determine which family to spend time with during the holiday season?More from The Nest:
Survive a Weekend With the In-Laws
Travel Like a VIP
Got In-Law Issues? Get Advice Here
Photo: Veer