First-year fights, solved
Pros weigh in on common arguments all newlyweds encounter.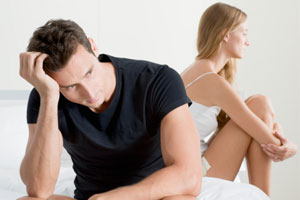 Ever wonder what other newlyweds
bicker about
, besides whose turn it is to take
the dog
for a walk? Below, we asked relationship pros to weigh in on three common couples' arguments.


Aimee and Jeff

With Aimee and Jeff, the problem wasn't a fight but a loaded issue: Which family's home should they go to for their
first holiday
?


He said:
"I really just don't want to insult or hurt either set of parents. I know how sensitive my parents can be, and I'm wondering if my in-laws could possibly be a bit more understanding."
She said:
"I suppose we could spend the morning with his parents and the afternoon with mine, just to keep everybody happy. I don't know how they'd feel about that. I do know how important the whole tradition is in our home, especially for my dad."
Marriage pro's fix-it:
Ready for a shocker? Sometimes the best solution is the one that leaves each side with a little less than they wanted. It's called compromise. For Aimee and Jeff, this means that both of them need to give a little ground here. One person should step up and say, "OK, I'll give in on Thanksgiving if we can do Christmas with my family," and the other may want to follow with, "Or we could do your family this year and mine next year." The larger lesson they can learn is that it's not so hard to give in if they see their mate is willing to do the same.
Lisa and Mike
When Lisa and Mike got hitched, he had no problem with the furnishings she brought with her when she moved in — until she put out an old college spring-break photograph that included, among other people, Lisa's old boyfriend.
He said:
"I made it pretty clear that the picture would look best buried somewhere deep in the back of Lisa's closet."
She said:
"What's the big deal? When I look at the photograph, it takes me back to a really special time in my life. I get that feeling from seeing all of my friends with me in the photo, not because of my ex."
Marriage pro's fix-it:
Lisa and Mike should go back to an old grade-school solution: time-out. It can be so easy to make a big issue out of something small when couples insist on solving it immediately. Instead, they should state their feelings — the pic is important to her; it's threatening to him — and give it a rest. Yep — don't breathe a word about it at all. After a couple of weeks, their emotions should subside and their logic will kick in. Either she'll realize that it's not worth it to display the photo, or he'll stop seeing it as a threat to their rock-solid relationship.
Michelle and Dave
After Michelle and Dave got married, Dave still wanted to go to his weekly poker game with "the guys." What surprised him was the fact that she resented him for going.
He said:
"She never mentioned that going to my game was a problem before, so why is everything suddenly so different? It's not like I'm going to a strip club."
She said:
"I figured that after we got married, Dave would somehow magically lose interest in outside activities that didn't include me. Sometimes it makes me feel like he's less invested in our relationship."
Marriage pro's fix-it:
For this one, Michelle and Dave should try role playing. It sounds strange, but if they step back and articulate what their partner is saying, it's the best way to hear each other. Dave should pretend he's Michelle — no sarcasm allowed here — and make a case, as compellingly as possible, for why he shouldn't go off and play poker with the guys. Then Michelle should voice why poker night is so important from Dave's point of view. This will give them perspective on where they're each coming from and make it easier to reach a resolution.
More from The Nest:
Tips for Avoiding the Newlywed Nine
Watch Other Couples Duke it Out
Tips to Insure Your Future
Photo: Getty

These kinds of problems usually arise when one partner has no other friends or interests. If your spouse is your only person in your life you resent it when they want to spend time with others. Try making friends or developing other interests of your own. There seems to be a very fine line between neglecting your mate or smothering them, And the line is constantly moving so that your partner never knows exactly where it is.
Are you sure you want to delete this comment?