Playfulness: The Key to Getting a Man to Fall for You?
At the end of the day, is romantic happiness all about being childlike?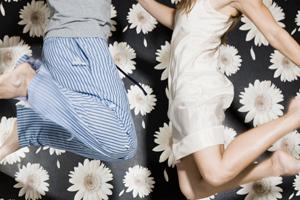 When I met my husband
, I was no kid, but I acted like one (still do). I'm silly. It's part of my charm. And for him, it worked.
According to a new study by the researchers at Penn State, women have evolved to use playfulness as a strategy to attract mates, and men have likewise evolved to recognize playfulness as a sign of fertility. I mentioned this to a single male friend of mine just to get his take, and he apparently feels the opposite. Sophistication, he says, is the most attractive quality in a potential girlfriend.
In fact, as we get older, women are encouraged to "grow up" (something I refuse to do), be more serious, be more responsible. Fine, you can be responsible without being boring. You can be sophisticated without being dry. Look at Drew Barrymore!
So I'm on board with this playfulness-as-the-k​ey-to-attraction philosophy.
Who's with me?
More from The Nest:
Photo: Getty Images
Are you sure you want to delete this comment?