Can We Break Our TV-in-Bed Habit?
My husband and I love to watch TV in bed, and new research shows it leads to depression. But what about Jimmy Kimmel?!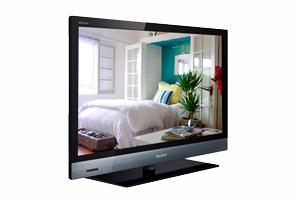 Okay, I just got some of the worst news today. Apparently, watching TV in bed -- one of my and my husband's
shared bad habits
…er, I mean enjoyments -- could be contributing to depression. How depressing, right?
It's not like we're glued to the tube ordinarily, but at night we like to wind down watching stuff we DVRed or late-night talk shows. A lot of times we fall asleep with the TV on, and whoever happens to wake up in the middle of the night shuts it off. But now, a doctoral student from Ohio State University, who recently conducted a study, suggests watching TV in bed is bumming us all out, mainly because of the artificial light.
It's true that after a while of living with someone, you can establish unhealthy shared habits, and we know that having a TV in the room is not necessarily conducive to sleep, but we didn't know it was this bad! Next we're going to find out that sharing a pint of ice cream while we watch TV in bed is bad for us too! (What? It is bad for us? Great.)
When I read studies like this, I start thinking that maybe we should adopt healthier habits. But then again, which of these studies am I supposed to believe, and which are bogus or just not totally valid? If I listened to everything I read online and in magazines, I'd be doing a lot of crazy stuff. And now I have to be concerned that catching up on Breaking Bad is giving me and my man the sads. What's a girl to do?
What's your opinion of watching TV in bed: Bad for your health or just a harmless diversion?
Photo: Sony Bravia

My husband and I watch TV every night before bed. It's our 'bonding time'. We usually watch one show he likes and one show I like. Most of which are mutually liked shows anyway. I think having your phone in bed or next to the bed is worse. My husband is constantly on his phone 'surfing' the net, he may be texting as well, I don't like to think about that stuff.

Are you sure you want to delete this comment?