Chick-fil-A 'Kiss In' Protest Begins
Same-sex couples plan their latest peaceful protest—smooching.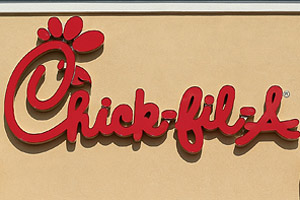 Over the past few weeks, the name "Chick-fil-A" has been tossed around enough for college kids to make a drinking game out of it. Supporters of the franchise took the restaurants by storm on Wednesday, what was dubbed "Chick-fil-A Appreciation Day," to support CEO Dan Cathy's view against same-sex marriage.
Now, the gay community and its supporters are organizing another protest: a kiss-in.
Activists have planned a "National Same-Sex Kiss Day at Chick-fil-A" on Friday, August 3. Couples are encouraged to photograph themselves kissing at any one of the franchise's locations. A few people got an early start, already posting photos on the "Kiss Day" website Thursday evening.
The idea was started by Carly McGehee, a political activist from New York who told the LA Times that she encourages participants to be "polite and tasteful" with their PDA:
"This is about us showing our love…We're not encouraging people to be outrageous or lewd."
According to McGehee, 15,000 people nationwide have agreed to participate in the kiss-in. After a record-breaking turnout on Wednesday's Appreciation Day, Chick-fil-A says they've got their sandwiches ready and are fully prepared for Friday's protest:
"We understand from news reports that Friday may present yet another opportunity for us to serve with genuine hospitality, superior service and great food."
Arkansas Governor Mike Huckabee originally called for the Appreciation Day, rallying Christians with this statement:
"Too often, those on the left make corporate statements to show support for same sex marriage, abortion, or profanity, but if Christians affirm traditional values, we're considered homophobic, fundamentalists, hate-mongers, and intolerant."
And the public obliged. As one woman told the LA Times:
 "The ability for a company to be able to believe what they want to believe and still have their doors open to whoever wants to or chooses to give their business -- that's why I'm here."
But the counterargument is that it's nothing to do with changing the first amendment and everything to do with Chick-fil-A's donations to "anti-gay" groups. Hernon Graddick, president of the Gay & Lesbian Alliance Against Defamation, said in a statement:
"Without question, Dan Cathy has every right to voice his opinions and beliefs. But he should meet and get to know the people ... harmed by his company's multimillion-dollar donations."
But what seems obvious to me is—that's what protest and boycott is all about: withdrawing from an establishment because you object to what they stand for. It is, in fact, democracy in action, as polls show more people support gay marriage (54 percent) than oppose it (42 percent). Dan Cathy is allowed to believe what he wants and to vocalize it, but it's simply becoming an increasingly unpopular opinion. The protest is not against freedom of speech or freedom of religion; it's in support of gay marriage.
But, that being said, what added fuel to the fire was Boston mayor Tom Menino's recent open letter to Dan Cathy, in which he proclaimed: "Chick-fil-A doesn't belong in Boston."
The Daily Show host Jon Stewart responded best:
"[I'm] pretty sure you can't outlaw a company with perfectly legal business practices because you find their CEO's views repellant. Not sure which amendment covers that, but it's probably in the top 1."
Meanwhile, the masses are still rallying against the franchise, hoping to raise awareness about the issue of same-sex marriage. But not everyone on the side of equality is behind the kiss-in. Steven Goldstein, chairman of Garden State Equality, said that while his organization is in the debate "for the longer haul," he's not sure the kiss-in will be terribly effective. He told NorthJersey.com:
"Same sex couples do a lot more than kissing. Our relationships are every bit as real, loving, multi-faceted, deep and sometimes challenging as every straight couple's relationship. The notion of a kiss in felt a bit shallow, at least to me personally."
Photo: Alex Wong/Getty Images
More Love & Sex from MSN Living:
10 Things You Must Do After a Breakup
What He Really Wants to Do on Vacation
Men's Secret Bedroom Fears
love: friendships, dating, sex & marriage
The typical wedding: A white dress, tiered cake, floral centerpieces and a cute flower girl -- you know the drill. Every once in a while, though, a couple trades in tradition for a quirky, never-seen-that-before idea. Here are a few of the most out-there wedding photos that made us do a double take.

There's a lot to love about weddings this fall, like cocktails served in copper Moscow mule mugs, industrial-inspired lighting and pheasant feather details. See what's new!

Do you have to be engaged to sport a ring with bling?

124.6 million haven't gotten hitched.

Even though the national average wedding is $29,858, that's just an average. If you live in a smaller state like Idaho where the average wedding costs $16,159, you may find yourself saving a little more than half of the national spend! Check out some of the other least expensive cities to get married in below:

Summer is winding down, but the ubiquitous summer romance lives on.

For those times when nothing big and horrible happened--but nothing is feeling right either.

He's confident, distinguished and anywhere from 4 to 20 years older than you. Age is just a number, but there's something about older men that we love. Here are eight reasons why being in a relationship with an older man is tops.

While a younger man may have less life experience, that doesn't mean he's not emotionally mature. Here are the eight reasons why being in a relationship with a younger man is tops.

Have you ever wondered what the 'other woman' was thinking?

So fall is coming and you need some romantic inspiration now that long walks on the beach are out of the question. Well look no further! From apple picking to pumpkin carving, these are some great fall date ideas from girls just like you!

Getting bored of the same dinner and movie date night? Take an adorable cue from your favorite celebs and try something new! From dancing to boxing you can't go wrong with these awesome date ideas.