New app will 'burn' your sext messages
Sext safely with BurnNote.
Texting offers us a way to feel closer to the people far away from us. However, sometimes the person that you're texting wants to take it to the next level so that you can feel even closer, and as much as you might want to do so, the prospect of sexting can seem totally terrifying.
Your mind tends to start racing with the possible consequences of indulging — What if someone reads what I write? What if he saves them and shows them to his friends? What if eventually these get leaked and my conservative family completely disowns me?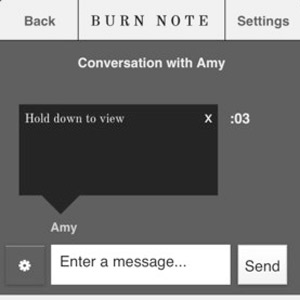 A new app called BurnNote eliminates those negative possibilities! Just like SnapChat made it easy to send embarrassing (and even dirty) photos that disappear without a trace, BurnNote makes sure that the raunchy message you sent is "burned" after reading. BurnNote automatically deletes messages from your iPhone, Android or computer after the timer runs out. The app also uses special technology to make the content "resistant to copying, capture via screenshots, and the glances of curious bystanders." 
Of course, this app isn't meant to encourage you to send out explicit content. Even with this technology, you should proceed with caution if you decide to send something that you normally wouldn't. Even if the app promises that no one other than the intended viewer will ever see what you send, you should never do anything that makes you feel uncomfortable! 
More on MSN Living: Funniest save the dates from Pinterest
Beyond that, BurnNote is useful even if you're not interested in sexting anytime soon. You can safely talk to your best friend about issues you're having in your relationship or other friendships, ask someone in the class before yours what was on a big exam, or rant to your boyfriend about your evil roommate — without fear of retribution! Once you send your message and the recipient reads it, it's permanently deleted and gone forever. 
Whether you need to vent, gossip or send some steamy messages, BurnNote is definitely the way to go if you're sending out any messages you'd label "viewer discretion advised." 
More from HerCampus.com:
Quiz: What's your flirting style and what do guys think of it?
7 scientifically proven ways to make him fall for you
5 signs you're in an unhealthy relationship
Love content like this? Friend us on Facebook, follow us on Twitter and find us on Pinterest.
Photo: BurnNote app / Courtesy of iTunes App Store
love: friendships, dating, sex & marriage
How to flag her little fibs. By Laura Tedesco

A new study on attraction may help explain why fashions change.

As a general rule, any island that offers great weather year-round is going to attract the most visitors in the winter (high season) when we're all trying to escape the snow. Once summer rolls around, many islands see a sharp drop-off in tourism since many people have beach weather right in their own backyards.

And how you can attack the issues together.

A wedding is an exceptionally special day. Sometimes, an opportune photo flub makes the occasion even more memorable. Here are 25 awesome wedding photo bombs.

Somewhere between the first few butterfly-inducing dates and the committed-for-life stage, there's the period of wondering if you're both on the same page about how serious you feel about a future together. If you're not quite at the point of "that talk" but you're looking for a few clues you're heading in that direction, here are some signs he's in it for the long haul as your relationship progresses.

What's that sound? It's white noise blocking out the well-meaning person proclaiming groundbreaking news about where you can meet someone, asking why you're still single, or bugging you about when you're getting married already. Don't be that person. Here are 15 annoying things all single people don't want to hear.

With just a few days left before the big day, you already have a mile-long checklist of to-dos—now meet the don'ts! From impromptu skin treatments to all-night movie marathons, here are 11 things to avoid at all costs.

A new study shows that watching and discussing romantic films can drastically reduce your chance of divorce. These flicks more than fit the bill.

These seemingly innocent phrases still have the power to wound… big time.

Making "I do" last forever is one of the biggest challenges you'll ever face—and it's normal to worry about how you'll do it. But, if your connection involves any of these things, rest assured that you're in it for the long run.

Ultimately, as hard as it may seem at the beginning, a marital affair can be a turning point.