New app will 'burn' your sext messages
Sext safely with BurnNote.
Texting offers us a way to feel closer to the people far away from us. However, sometimes the person that you're texting wants to take it to the next level so that you can feel even closer, and as much as you might want to do so, the prospect of sexting can seem totally terrifying.
Your mind tends to start racing with the possible consequences of indulging — What if someone reads what I write? What if he saves them and shows them to his friends? What if eventually these get leaked and my conservative family completely disowns me?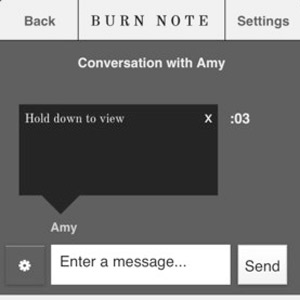 A new app called BurnNote eliminates those negative possibilities! Just like SnapChat made it easy to send embarrassing (and even dirty) photos that disappear without a trace, BurnNote makes sure that the raunchy message you sent is "burned" after reading. BurnNote automatically deletes messages from your iPhone, Android or computer after the timer runs out. The app also uses special technology to make the content "resistant to copying, capture via screenshots, and the glances of curious bystanders." 
Of course, this app isn't meant to encourage you to send out explicit content. Even with this technology, you should proceed with caution if you decide to send something that you normally wouldn't. Even if the app promises that no one other than the intended viewer will ever see what you send, you should never do anything that makes you feel uncomfortable! 
More on MSN Living: Funniest save the dates from Pinterest
Beyond that, BurnNote is useful even if you're not interested in sexting anytime soon. You can safely talk to your best friend about issues you're having in your relationship or other friendships, ask someone in the class before yours what was on a big exam, or rant to your boyfriend about your evil roommate — without fear of retribution! Once you send your message and the recipient reads it, it's permanently deleted and gone forever. 
Whether you need to vent, gossip or send some steamy messages, BurnNote is definitely the way to go if you're sending out any messages you'd label "viewer discretion advised." 
More from HerCampus.com:
Quiz: What's your flirting style and what do guys think of it?
7 scientifically proven ways to make him fall for you
5 signs you're in an unhealthy relationship
Love content like this? Friend us on Facebook, follow us on Twitter and find us on Pinterest.
Photo: BurnNote app / Courtesy of iTunes App Store
love: friendships, dating, sex & marriage
Here's why dudes without hair make the best boyfriends.

What do you wish you appreciated more when you were flying solo?

"If you're so busy tweeting and Instagraming, you're not paying attention," New York wedding planner Marcy Blum said. "It's almost a cosmic faux pas. People want your energy with them and focused on what they're doing."

The wedding favor, that little thank-you-for-coming gift, has risen to new heights with the bride and groom giving guests a wide range of favors that are meaningful to them.

Generations ago, planning a wedding was 100 percent the bride's job, but in today's age of gender equity, it's a mere 99 percent.

For all the self-help books and advice columns out there (um, keeping reading my advice anyway, please!), there's one tool we all already have in our arsenal for picking a partner that will keep us happy: our gut instincts.

According to a new study from the University of Texas and the University of California, Los Angeles, both men and women have regrets when it comes to sex, but the genders vary greatly when it comes to what they regret specifically.

Spending time alone with your guy is easy, but going public with your plus-one is another thing entirely. Whether it's your crazy relatives at Thanksgiving dinner or awkward convos with your boss at the holiday party, possible pitfalls are everywhere. Keep reading for tips on how to make his grand entrance into your social life a good thing.

Match.com survey reveals the day you're least likely to get spruced up for a date.

Drinking and relationships seem to go hand in hand in a lot of ways. But only in moderation!

Many men will tell you that they have no clue what their wives are thinking.

Spending the holidays with your guy's family for the first time is a huge relationship milestone. But between your nerves, the usual family tension, and your weird Uncle Sal's inappropriate stories, it's also a prime opportunity for total disaster. Read on for 10 of our readers' most embarrassing meet-the-parents moments.