New app will 'burn' your sext messages
Sext safely with BurnNote.
Texting offers us a way to feel closer to the people far away from us. However, sometimes the person that you're texting wants to take it to the next level so that you can feel even closer, and as much as you might want to do so, the prospect of sexting can seem totally terrifying.
Your mind tends to start racing with the possible consequences of indulging — What if someone reads what I write? What if he saves them and shows them to his friends? What if eventually these get leaked and my conservative family completely disowns me?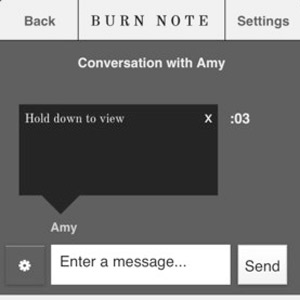 A new app called BurnNote eliminates those negative possibilities! Just like SnapChat made it easy to send embarrassing (and even dirty) photos that disappear without a trace, BurnNote makes sure that the raunchy message you sent is "burned" after reading. BurnNote automatically deletes messages from your iPhone, Android or computer after the timer runs out. The app also uses special technology to make the content "resistant to copying, capture via screenshots, and the glances of curious bystanders." 
Of course, this app isn't meant to encourage you to send out explicit content. Even with this technology, you should proceed with caution if you decide to send something that you normally wouldn't. Even if the app promises that no one other than the intended viewer will ever see what you send, you should never do anything that makes you feel uncomfortable! 
More on MSN Living: Funniest save the dates from Pinterest
Beyond that, BurnNote is useful even if you're not interested in sexting anytime soon. You can safely talk to your best friend about issues you're having in your relationship or other friendships, ask someone in the class before yours what was on a big exam, or rant to your boyfriend about your evil roommate — without fear of retribution! Once you send your message and the recipient reads it, it's permanently deleted and gone forever. 
Whether you need to vent, gossip or send some steamy messages, BurnNote is definitely the way to go if you're sending out any messages you'd label "viewer discretion advised." 
More from HerCampus.com:
Quiz: What's your flirting style and what do guys think of it?
7 scientifically proven ways to make him fall for you
5 signs you're in an unhealthy relationship
Love content like this? Friend us on Facebook, follow us on Twitter and find us on Pinterest.
Photo: BurnNote app / Courtesy of iTunes App Store
love: friendships, dating, sex & marriage
Or how to tell if you've reached THAT point in your bond.

Dating doesn't have to be a daunting task, promise. Here's how to make it fun for you and him.

This just in: A new study shows girls are warriors in the womb.

You can make a pros and cons list...but ultimately you know what works best for you.

Maggie Reyes is a life coach, writer, and the founder of ModernMarried.com. She helps newlyweds re-think what married life can be. Here, she's revealing tricks every newlywed couple needs to know.

Government-supported Vietnamese classes teach women Korean language, customs.

Whether you're into creative artists or uber-preppy bankers, there's something to be said for trying something new.

Sometimes two characters on a TV show or movie can portray being a happy couple effortlessly, or can have lots of fun playing former spouses — especially if they're married to each other in real life! Keep scrolling for six celebrity costars you probably didn't know tied the knot, even after the bloodiest and craziest story lines.

Some couples want nothing more than a laid-back, by-the-book proposal. Then there are the other couples, where the proposal not only needs to be personalized, it also has to be unique and entirely different than the typical restaurant, bended-knee idea. Sound like you? Then get inspired by some of the most creative proposal ideas we've ever seen. If you find something you like, steal it and then modify it to make your proposal something totally unforgettable.

From Nantucket all the way to Cayo Espanto, we've rounded up some of the prettiest beaches to travel to for your honeymoon.

Researchers studied the age-old stereotype that women really are more talkative than men.

'There is a science behind attraction,' SingldOut says.