New app will 'burn' your sext messages
Sext safely with BurnNote.
Texting offers us a way to feel closer to the people far away from us. However, sometimes the person that you're texting wants to take it to the next level so that you can feel even closer, and as much as you might want to do so, the prospect of sexting can seem totally terrifying.
Your mind tends to start racing with the possible consequences of indulging — What if someone reads what I write? What if he saves them and shows them to his friends? What if eventually these get leaked and my conservative family completely disowns me?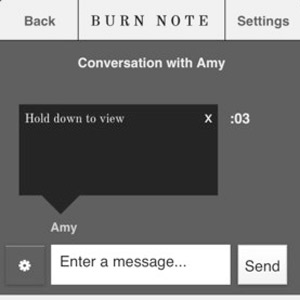 A new app called BurnNote eliminates those negative possibilities! Just like SnapChat made it easy to send embarrassing (and even dirty) photos that disappear without a trace, BurnNote makes sure that the raunchy message you sent is "burned" after reading. BurnNote automatically deletes messages from your iPhone, Android or computer after the timer runs out. The app also uses special technology to make the content "resistant to copying, capture via screenshots, and the glances of curious bystanders." 
Of course, this app isn't meant to encourage you to send out explicit content. Even with this technology, you should proceed with caution if you decide to send something that you normally wouldn't. Even if the app promises that no one other than the intended viewer will ever see what you send, you should never do anything that makes you feel uncomfortable! 
More on MSN Living: Funniest save the dates from Pinterest
Beyond that, BurnNote is useful even if you're not interested in sexting anytime soon. You can safely talk to your best friend about issues you're having in your relationship or other friendships, ask someone in the class before yours what was on a big exam, or rant to your boyfriend about your evil roommate — without fear of retribution! Once you send your message and the recipient reads it, it's permanently deleted and gone forever. 
Whether you need to vent, gossip or send some steamy messages, BurnNote is definitely the way to go if you're sending out any messages you'd label "viewer discretion advised." 
More from HerCampus.com:
Quiz: What's your flirting style and what do guys think of it?
7 scientifically proven ways to make him fall for you
5 signs you're in an unhealthy relationship
Love content like this? Friend us on Facebook, follow us on Twitter and find us on Pinterest.
Photo: BurnNote app / Courtesy of iTunes App Store
love: friendships, dating, sex & marriage
Love it or hate it, the selfie wields much power.

Talk about some blurred lines.

Come on people, it's not that hard to mind your own business.

No sense in wasting your time on someone who will never commit.

There he is, the man of your dreams. He's sitting across from you at the coffee shop or standing at the opposite side of the bar. His eyes meet yours, a quick glance, and then it's back to his drink. Was he giving you a signal?

Remember that time on "30 Rock" when Liz Lemon and her eventual-husband Criss went shopping at Ikea, only to end up in a major fight? We know it couldn't be closer to the truth because we've all been there. In honor of the irritation that can be Ikea, here are the top fights you'll likely encounter.

Dating doesn't have to be a daunting task, promise. Here's how to make it fun for you and him.

One woman's honest journey to divorce will break your heart and inspire you at the same time.

Want to send your date running? Try one these moves.

Two guests arrested in New Jersey.

Celebrities certainly know how to travel in style, so if you're struggling to select a honeymoon destination, look no further than these star-approved hotspots. To make it even easier, we're providing you with hotel recommendations, packing essentials, and tips on what to do and see! So channel your inner celeb at one of these U.S. destinations for an unforgettable vacation!

Tall Twitter users named Wayne, we're on to you!