Couple marries at uncle's funeral
A nephew and his bride help uncle keep his promise posthumously.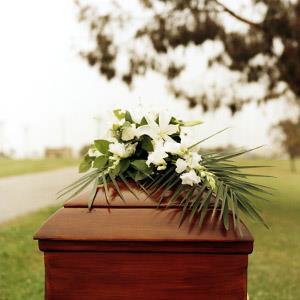 "This is going to be one for the books," the Rev. Caleb Johnson announced at a funeral on March 28. The deceased was Gregory "Chops" Scott, and 2,000 people gathered for his procession. Only 850 of them could fit into First Corinthian Baptist Church in Philadelphia. But those 850 were in for a surprise. That day, Scott's nephew Reggie Wade, 39, wed Monique McMillan, 29, in an unannounced ceremony that took place at the funeral.
More on MSN Living: 18 biggest things married couples complain about

Before his death, Wade's uncle promised to walk McMillan down the aisle. Her father had died years ago, the Philadelphia Daily News reported.
Scott was gunned down outside his home on Feb. 27. He was a leader in his community and drill master of West Philadelphia's Gold Coast Buccaneers drill team. At the funeral, Wade and McMillan both wore Buccaneers-colored T-shirts that featured Scott's picture.
"This was the last time his presence was gonna be here with us, and he promised me," Wade said. "It's like I got to live up to my word. We never lie to each other."
More on MSN Living: 16 phrases all guys love to hear

Johnson told the crowd, "If you came to this looking for a funeral as usual, you're in the wrong place." He then announced the surprise wedding.
"You had some gasps and you had some laughter because folks knew, who else would do this?" he said.
Bing: Strange wedding photos
Johnson then married Wade and McMillan as they stood in front of the casket.
"We keep our promises, and he promised to give her away," said Scott's widow, Alfreda Johnson-Scott. "And he was dressed for the occasion."
More from The Heart Beat:
love: friendships, dating, sex & marriage
This winter, it's all about mixing unexpected seasonal elements with elegant neutral details and a hint of sparkle and sequins. Take a look.

Here's why dudes without hair make the best boyfriends.

What do you wish you appreciated more when you were flying solo?

"If you're so busy tweeting and Instagraming, you're not paying attention," New York wedding planner Marcy Blum said. "It's almost a cosmic faux pas. People want your energy with them and focused on what they're doing."

The wedding favor, that little thank-you-for-coming gift, has risen to new heights with the bride and groom giving guests a wide range of favors that are meaningful to them.

Generations ago, planning a wedding was 100 percent the bride's job, but in today's age of gender equity, it's a mere 99 percent.

For all the self-help books and advice columns out there (um, keeping reading my advice anyway, please!), there's one tool we all already have in our arsenal for picking a partner that will keep us happy: our gut instincts.

According to a new study from the University of Texas and the University of California, Los Angeles, both men and women have regrets when it comes to sex, but the genders vary greatly when it comes to what they regret specifically.

Spending time alone with your guy is easy, but going public with your plus-one is another thing entirely. Whether it's your crazy relatives at Thanksgiving dinner or awkward convos with your boss at the holiday party, possible pitfalls are everywhere. Keep reading for tips on how to make his grand entrance into your social life a good thing.

Match.com survey reveals the day you're least likely to get spruced up for a date.

Drinking and relationships seem to go hand in hand in a lot of ways. But only in moderation!

Many men will tell you that they have no clue what their wives are thinking.