Couple marries at uncle's funeral
A nephew and his bride help uncle keep his promise posthumously.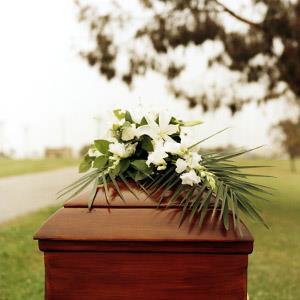 "This is going to be one for the books," the Rev. Caleb Johnson announced at a funeral on March 28. The deceased was Gregory "Chops" Scott, and 2,000 people gathered for his procession. Only 850 of them could fit into First Corinthian Baptist Church in Philadelphia. But those 850 were in for a surprise. That day, Scott's nephew Reggie Wade, 39, wed Monique McMillan, 29, in an unannounced ceremony that took place at the funeral.
More on MSN Living: 18 biggest things married couples complain about

Before his death, Wade's uncle promised to walk McMillan down the aisle. Her father had died years ago, the Philadelphia Daily News reported.
Scott was gunned down outside his home on Feb. 27. He was a leader in his community and drill master of West Philadelphia's Gold Coast Buccaneers drill team. At the funeral, Wade and McMillan both wore Buccaneers-colored T-shirts that featured Scott's picture.
"This was the last time his presence was gonna be here with us, and he promised me," Wade said. "It's like I got to live up to my word. We never lie to each other."
More on MSN Living: 16 phrases all guys love to hear

Johnson told the crowd, "If you came to this looking for a funeral as usual, you're in the wrong place." He then announced the surprise wedding.
"You had some gasps and you had some laughter because folks knew, who else would do this?" he said.
Bing: Strange wedding photos
Johnson then married Wade and McMillan as they stood in front of the casket.
"We keep our promises, and he promised to give her away," said Scott's widow, Alfreda Johnson-Scott. "And he was dressed for the occasion."
More from The Heart Beat:
love: friendships, dating, sex & marriage
You'd think brides and grooms who celebrate their nuptials with 50 guests have an equal shot at wedded bliss as those who invite 500, but apparently not.

Because some things are just better with a buddy (whom you happen to be dating).

They're smart, funny, and adorable, but are you a good match?

Fight the urge to sign her up for OkCupid and read this instead.

We know you have good intentions, but...please...stop.

You can't say we didn't warn you. Every month is Movember when you're dating a guy with a beard. And while the scruffy look can be hot, there are some very real, err, challenges that come with the territory. Don't believe us? Well…

Follow these steps to slash your wedding budget—not your fun—in half.

It won't all be cake and flowers, but it can be the best year of your life together so far.

Expert tips on moving past those oh-so-familiar arguments.

Grow as a couple by sharing adventures.

For many married couples, falling in love and saying "I do" was the easy part. Living happily ever after is the part that takes a whole lot of work.