Couple marries at uncle's funeral
A nephew and his bride help uncle keep his promise posthumously.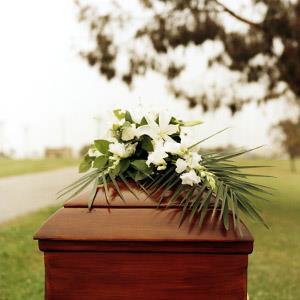 "This is going to be one for the books," the Rev. Caleb Johnson announced at a funeral on March 28. The deceased was Gregory "Chops" Scott, and 2,000 people gathered for his procession. Only 850 of them could fit into First Corinthian Baptist Church in Philadelphia. But those 850 were in for a surprise. That day, Scott's nephew Reggie Wade, 39, wed Monique McMillan, 29, in an unannounced ceremony that took place at the funeral.
More on MSN Living: 18 biggest things married couples complain about

Before his death, Wade's uncle promised to walk McMillan down the aisle. Her father had died years ago, the Philadelphia Daily News reported.
Scott was gunned down outside his home on Feb. 27. He was a leader in his community and drill master of West Philadelphia's Gold Coast Buccaneers drill team. At the funeral, Wade and McMillan both wore Buccaneers-colored T-shirts that featured Scott's picture.
"This was the last time his presence was gonna be here with us, and he promised me," Wade said. "It's like I got to live up to my word. We never lie to each other."
More on MSN Living: 16 phrases all guys love to hear

Johnson told the crowd, "If you came to this looking for a funeral as usual, you're in the wrong place." He then announced the surprise wedding.
"You had some gasps and you had some laughter because folks knew, who else would do this?" he said.
Bing: Strange wedding photos
Johnson then married Wade and McMillan as they stood in front of the casket.
"We keep our promises, and he promised to give her away," said Scott's widow, Alfreda Johnson-Scott. "And he was dressed for the occasion."
More from The Heart Beat:
love: friendships, dating, sex & marriage
Forgotten what love is all about? Read this note, and remember.

And a few that aren't so shocking.

If you find yourself doing any of these things, consider changing your behavior or counseling.

From pineapple sculptures made out of sunflowers to bold graphic printed tablecloths, ten trendsetters in the wedding industry shared 100 days' worth of inspiring new wedding details. See The Knot editors' top picks for the coolest and most awe-worthy ideas from the wedding experts.

Those Facebook friends who seem to have perfect lives with flawless mates whom they adore at all times? Even they face tough times like these.

How to flag her little fibs. By Laura Tedesco

A new study on attraction may help explain why fashions change.

As a general rule, any island that offers great weather year-round is going to attract the most visitors in the winter (high season) when we're all trying to escape the snow. Once summer rolls around, many islands see a sharp drop-off in tourism since many people have beach weather right in their own backyards.

And how you can attack the issues together.

A wedding is an exceptionally special day. Sometimes, an opportune photo flub makes the occasion even more memorable. Here are 25 awesome wedding photo bombs.

Somewhere between the first few butterfly-inducing dates and the committed-for-life stage, there's the period of wondering if you're both on the same page about how serious you feel about a future together. If you're not quite at the point of "that talk" but you're looking for a few clues you're heading in that direction, here are some signs he's in it for the long haul as your relationship progresses.

What's that sound? It's white noise blocking out the well-meaning person proclaiming groundbreaking news about where you can meet someone, asking why you're still single, or bugging you about when you're getting married already. Don't be that person. Here are 15 annoying things all single people don't want to hear.