Couple marries at uncle's funeral
A nephew and his bride help uncle keep his promise posthumously.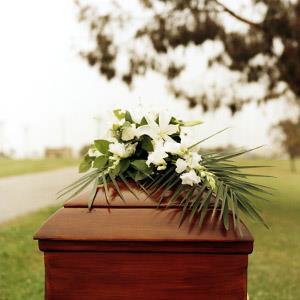 "This is going to be one for the books," the Rev. Caleb Johnson announced at a funeral on March 28. The deceased was Gregory "Chops" Scott, and 2,000 people gathered for his procession. Only 850 of them could fit into First Corinthian Baptist Church in Philadelphia. But those 850 were in for a surprise. That day, Scott's nephew Reggie Wade, 39, wed Monique McMillan, 29, in an unannounced ceremony that took place at the funeral.
More on MSN Living: 18 biggest things married couples complain about

Before his death, Wade's uncle promised to walk McMillan down the aisle. Her father had died years ago, the Philadelphia Daily News reported.
Scott was gunned down outside his home on Feb. 27. He was a leader in his community and drill master of West Philadelphia's Gold Coast Buccaneers drill team. At the funeral, Wade and McMillan both wore Buccaneers-colored T-shirts that featured Scott's picture.
"This was the last time his presence was gonna be here with us, and he promised me," Wade said. "It's like I got to live up to my word. We never lie to each other."
More on MSN Living: 16 phrases all guys love to hear

Johnson told the crowd, "If you came to this looking for a funeral as usual, you're in the wrong place." He then announced the surprise wedding.
"You had some gasps and you had some laughter because folks knew, who else would do this?" he said.
Bing: Strange wedding photos
Johnson then married Wade and McMillan as they stood in front of the casket.
"We keep our promises, and he promised to give her away," said Scott's widow, Alfreda Johnson-Scott. "And he was dressed for the occasion."
More from The Heart Beat:
love: friendships, dating, sex & marriage
Government-supported Vietnamese classes teach women Korean language, customs.

Whether you're into creative artists or uber-preppy bankers, there's something to be said for trying something new.

Sometimes two characters on a TV show or movie can portray being a happy couple effortlessly, or can have lots of fun playing former spouses — especially if they're married to each other in real life! Keep scrolling for six celebrity costars you probably didn't know tied the knot, even after the bloodiest and craziest story lines.

Some couples want nothing more than a laid-back, by-the-book proposal. Then there are the other couples, where the proposal not only needs to be personalized, it also has to be unique and entirely different than the typical restaurant, bended-knee idea. Sound like you? Then get inspired by some of the most creative proposal ideas we've ever seen. If you find something you like, steal it and then modify it to make your proposal something totally unforgettable.

From Nantucket all the way to Cayo Espanto, we've rounded up some of the prettiest beaches to travel to for your honeymoon.

Researchers studied the age-old stereotype that women really are more talkative than men.

'There is a science behind attraction,' SingldOut says.

One minute you're happy and in love, the next he's delivering the "It's not you, it's me" speech. Why? We have the scoop on the real reasons most couples split up.

Want to keep your wedding budget in check? Start by checking out this list of the 10 things that could end up costing you a lot more than you anticipated.

Brace yourself, this is uncomfortable.

The proposal-filled site How He Asked has shared its top 10 most emotional proposal photos with us, so have your tissues handy. We're suckers for a good proposal story, and these ones are truly tear-worthy. Check them out now, and watch your heart grow (at least) three sizes!

How to do weddings: Yet another foreign (and expensive) aspect of adulthood that you have to learn the hard way. But have no fear! Click through for some must-have wedding tips.