Couple marries at uncle's funeral
A nephew and his bride help uncle keep his promise posthumously.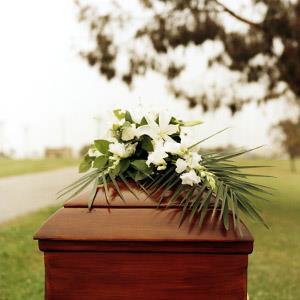 "This is going to be one for the books," the Rev. Caleb Johnson announced at a funeral on March 28. The deceased was Gregory "Chops" Scott, and 2,000 people gathered for his procession. Only 850 of them could fit into First Corinthian Baptist Church in Philadelphia. But those 850 were in for a surprise. That day, Scott's nephew Reggie Wade, 39, wed Monique McMillan, 29, in an unannounced ceremony that took place at the funeral.
More on MSN Living: 18 biggest things married couples complain about

Before his death, Wade's uncle promised to walk McMillan down the aisle. Her father had died years ago, the Philadelphia Daily News reported.
Scott was gunned down outside his home on Feb. 27. He was a leader in his community and drill master of West Philadelphia's Gold Coast Buccaneers drill team. At the funeral, Wade and McMillan both wore Buccaneers-colored T-shirts that featured Scott's picture.
"This was the last time his presence was gonna be here with us, and he promised me," Wade said. "It's like I got to live up to my word. We never lie to each other."
More on MSN Living: 16 phrases all guys love to hear

Johnson told the crowd, "If you came to this looking for a funeral as usual, you're in the wrong place." He then announced the surprise wedding.
"You had some gasps and you had some laughter because folks knew, who else would do this?" he said.
Bing: Strange wedding photos
Johnson then married Wade and McMillan as they stood in front of the casket.
"We keep our promises, and he promised to give her away," said Scott's widow, Alfreda Johnson-Scott. "And he was dressed for the occasion."
More from The Heart Beat:
love: friendships, dating, sex & marriage
There's a lot to love about weddings this fall, like cocktails served in copper Moscow mule mugs, industrial-inspired lighting and pheasant feather details. See what's new!

Do you have to be engaged to sport a ring with bling?

124.6 million haven't gotten hitched.

Even though the national average wedding is $29,858, that's just an average. If you live in a smaller state like Idaho where the average wedding costs $16,159, you may find yourself saving a little more than half of the national spend! Check out some of the other least expensive cities to get married in below:

Summer is winding down, but the ubiquitous summer romance lives on.

For those times when nothing big and horrible happened--but nothing is feeling right either.

He's confident, distinguished and anywhere from 4 to 20 years older than you. Age is just a number, but there's something about older men that we love. Here are eight reasons why being in a relationship with an older man is tops.

While a younger man may have less life experience, that doesn't mean he's not emotionally mature. Here are the eight reasons why being in a relationship with a younger man is tops.

Have you ever wondered what the 'other woman' was thinking?

So fall is coming and you need some romantic inspiration now that long walks on the beach are out of the question. Well look no further! From apple picking to pumpkin carving, these are some great fall date ideas from girls just like you!

Getting bored of the same dinner and movie date night? Take an adorable cue from your favorite celebs and try something new! From dancing to boxing you can't go wrong with these awesome date ideas.

New research shows they get divorced at vastly lower rates.