True love stories: Soldier remarries old flame
A couple revisits romance 23 years later.
The Heart Beat is excited to introduce our new weekly feature, "True love stories." Each week, a couple with a truly amazing love story will be profiled. If you know a couple with a story worth sharing, please email us at msnlivingmail@micros​​​oft.com for a chance to be featured.
In 1984, 19-year-old Victor Santiago married his high school sweetheart, Helen. The two had known each other since Victor was 13. But despite their childhood romance, they divorced four years later.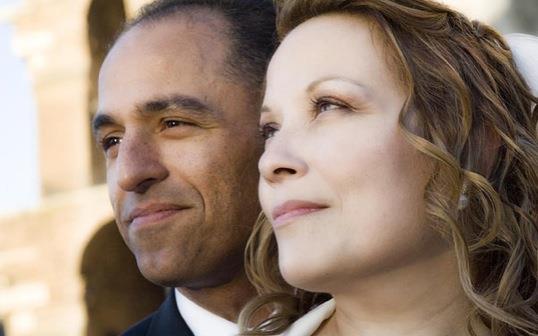 "I believe I really did not know anything about relationships," Victor told MSN's The Heart Beat. "She was my first love…the stress of outside influences and all—there were just a lot of things."
Time passed, and two decades later, Victor was serving in Iraq. He found himself thinking about Helen often.
More on MSN Living: Craziest dating trends
"We had not seen or spoken to each other for over 20 years. But, truth be told, I thought of her often. Almost every day."
One day, Victor found Helen on Facebook. He decided to reach out and send his old flame a message, despite the looming fear of rejection in the back of his mind.
More on MSN Living: 8 most common reasons for divorce
"I was with my unit on a mission…[I] decided that if Iraq can't hurt me, then neither can a simple rejection."
After Helen replied, the two began communicating daily, via phone and Skype.
"We quickly fell in love, once again," Victor said.
Due to distance and circumstance, the two didn't have a traditional dating relationship. They did, however, know that it was time to meet again, face-to-face.
They decided Rome was as good a place as any to reunite. Upon seeing each other at the airport, Victor and Helen were overcome with emotion:
"When we saw each other, we hugged and cried for about ten minutes," Victor recalled.
It was in Italy that they decided to tie the knot again—this time in a small church near the Roman Colosseum. In fact, their wedding was so beautiful that it was featured on the blog Italianromewedding.c​om:
"Helen was simply gorgeous, with her elegant bridal dress and a white bouquet with just some spots of red. The weather was incredibly warm and sunny that didn't seem to be mid January…. it couldn't have been better! The sun was low and golden… just perfect."
Victor's take on the breathtaking Roman backdrop:
"Rome was beautiful, but what made it more so was to once again have my wife, my friend, by my side."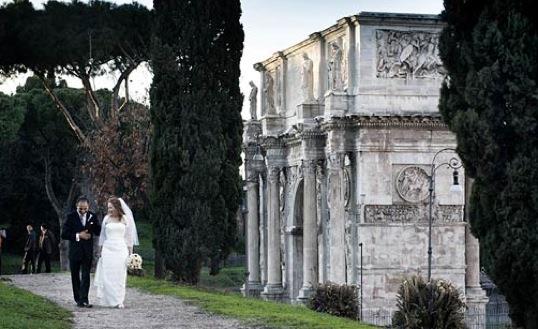 Victor is currently stationed in Arizona while Helen lives and works as a nurse in New York. He sent his story to The Heart Beat, writing:
"I would like to have our true love story told so that I may show the world how much I did, do and will love her."
He also shared their key to a happy marriage:
"For me, age and time have taught me...you must trust in yourself and in your partner. You must love each other unconditionally and you must be friends. But above all, and this is most important, whether angry or not, always kiss goodnight!"
Photos: courtesy of Victor Santiago

More from The Heart Beat:
True love stories: Doctor diagnoses tumor, marries patient
Couple finds lost wedding photos after earthquake
Women want two hours of romance per day
love: friendships, dating, sex & marriage
The outlandish things we do for love have no limits; just ask these guys. Who's hugged the longest? Kissed the longest? Been on the most expensive date? Take a look below as we count down the world's most loving record-breakers.

If you just got engaged, congrats! This is seriously exciting news that deserves lots of congratulatory hugs, "oohing" and "ahhing" over the ring and plenty of bubbly. To make sure you get the right response from friends, family and coworkers, avoid announcing your engagement like this…

Ladies, give yourself the best gift of all this season: The NYC Taxi Driver 2014 Calendar. By Michelle Toglia

Pheromones may be the key to finding your perfect match.

Her partner? Wine? Downtime? Find out where it all ranks.

This time of year, we dust off our holiday traditions of special songs, stories, events and food to make our season bright. Here's a look into the traditional, unique and quirky holiday traditions of some famous couples.

Look, I looooove engagement season for obvious reasons, but even I can admit I'm like, "Really, AGAIN?" when yet ANOTHER engagement ring pops up in my news feed. Seriously, there were two this weekend. (Congrats, Gemma and Danny!)

We asked real men and women (and a few first-base experts, too) to give us the cardinal rules of kissing, tell us what makes someone a good kisser and more. So whether you're leaning in for kiss No. 1 or 1,000, read on.by Devin Tomb

Not quite sure which diamond shape suits your personality? We're here to help.

Dating can lead to all kinds of tricky situations. To help you navigate even the most awkward moments, we've compiled our 50 best dating tips—some new, some old—given to us by experts, moms, women like you, and even Justin Timberlake.

Customers as Madison's new Snuggle House can snuggle with professional cuddlers for $60 an hour.

Can you believe it was only about 15 years ago that engagement ring shopping meant a time-consuming slog from jewelry boutique to jewelry boutique? Thank goodness for the internet; nowadays, it's easy to do all that legwork online.