True love stories: Soldier remarries old flame
A couple revisits romance 23 years later.
The Heart Beat is excited to introduce our new weekly feature, "True love stories." Each week, a couple with a truly amazing love story will be profiled. If you know a couple with a story worth sharing, please email us at msnlivingmail@micros​​​oft.com for a chance to be featured.
In 1984, 19-year-old Victor Santiago married his high school sweetheart, Helen. The two had known each other since Victor was 13. But despite their childhood romance, they divorced four years later.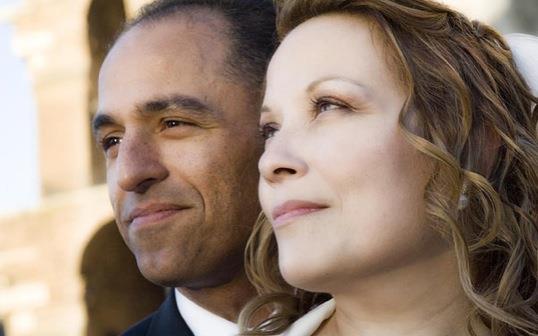 "I believe I really did not know anything about relationships," Victor told MSN's The Heart Beat. "She was my first love…the stress of outside influences and all—there were just a lot of things."
Time passed, and two decades later, Victor was serving in Iraq. He found himself thinking about Helen often.
More on MSN Living: Craziest dating trends
"We had not seen or spoken to each other for over 20 years. But, truth be told, I thought of her often. Almost every day."
One day, Victor found Helen on Facebook. He decided to reach out and send his old flame a message, despite the looming fear of rejection in the back of his mind.
More on MSN Living: 8 most common reasons for divorce
"I was with my unit on a mission…[I] decided that if Iraq can't hurt me, then neither can a simple rejection."
After Helen replied, the two began communicating daily, via phone and Skype.
"We quickly fell in love, once again," Victor said.
Due to distance and circumstance, the two didn't have a traditional dating relationship. They did, however, know that it was time to meet again, face-to-face.
They decided Rome was as good a place as any to reunite. Upon seeing each other at the airport, Victor and Helen were overcome with emotion:
"When we saw each other, we hugged and cried for about ten minutes," Victor recalled.
It was in Italy that they decided to tie the knot again—this time in a small church near the Roman Colosseum. In fact, their wedding was so beautiful that it was featured on the blog Italianromewedding.c​om:
"Helen was simply gorgeous, with her elegant bridal dress and a white bouquet with just some spots of red. The weather was incredibly warm and sunny that didn't seem to be mid January…. it couldn't have been better! The sun was low and golden… just perfect."
Victor's take on the breathtaking Roman backdrop:
"Rome was beautiful, but what made it more so was to once again have my wife, my friend, by my side."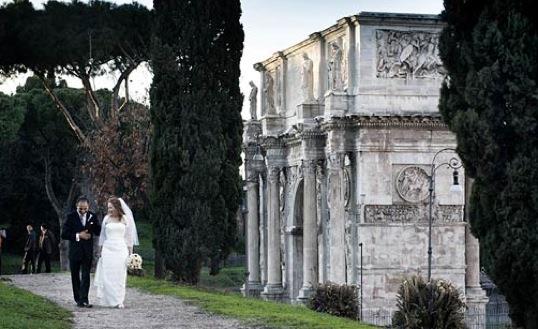 Victor is currently stationed in Arizona while Helen lives and works as a nurse in New York. He sent his story to The Heart Beat, writing:
"I would like to have our true love story told so that I may show the world how much I did, do and will love her."
He also shared their key to a happy marriage:
"For me, age and time have taught me...you must trust in yourself and in your partner. You must love each other unconditionally and you must be friends. But above all, and this is most important, whether angry or not, always kiss goodnight!"
Photos: courtesy of Victor Santiago

More from The Heart Beat:
True love stories: Doctor diagnoses tumor, marries patient
Couple finds lost wedding photos after earthquake
Women want two hours of romance per day
love: friendships, dating, sex & marriage
A wedding is an exceptionally special day. Sometimes, an opportune photo flub makes the occasion even more memorable. Here are 25 awesome wedding photo bombs.

Somewhere between the first few butterfly-inducing dates and the committed-for-life stage, there's the period of wondering if you're both on the same page about how serious you feel about a future together. If you're not quite at the point of "that talk" but you're looking for a few clues you're heading in that direction, here are some signs he's in it for the long haul as your relationship progresses.

What's that sound? It's white noise blocking out the well-meaning person proclaiming groundbreaking news about where you can meet someone, asking why you're still single, or bugging you about when you're getting married already. Don't be that person. Here are 15 annoying things all single people don't want to hear.

With just a few days left before the big day, you already have a mile-long checklist of to-dos—now meet the don'ts! From impromptu skin treatments to all-night movie marathons, here are 11 things to avoid at all costs.

A new study shows that watching and discussing romantic films can drastically reduce your chance of divorce. These flicks more than fit the bill.

These seemingly innocent phrases still have the power to wound… big time.

Making "I do" last forever is one of the biggest challenges you'll ever face—and it's normal to worry about how you'll do it. But, if your connection involves any of these things, rest assured that you're in it for the long run.

Ultimately, as hard as it may seem at the beginning, a marital affair can be a turning point.

Five months after the Boston Marathon bombing, The Knot reached out to Rebekah Gregory and Pete DiMartino and offered to throw them a dream wedding. They said yes, and on April 4, 2014, the two married at the Biltmore Estate in Asheville, North Carolina. Rebekah and Pete exchanged vows on the tennis lawn amidst the cherry tree blossoms and then celebrated with all of their friends and family at a beautiful reception tent right in front of the estate. All of the details were perfectly executed by a team of talented and generous wedding industry pros, including celebrity wedding planner Marcy Blum. Here, a few highlights from Rebekah and Pete's wedding day.

Your wedding is your special day, but you want to keep your guests happy, too. Here are 20 typical wedding guest complaints and what you can do about them.

Study finds that early birds get the long-term relationships.

Receptions would take place near where raw sewage is processed.