Do women make men better people?
Men need women, like, a lot, according to some.
A recent article in The New York Times took the old phrase, "Behind every great man stands a great woman" and updated it to "Inside every great man is a selfish dude who won't do nice things for other people until he gets some ladies in his life who make him want to be a better man."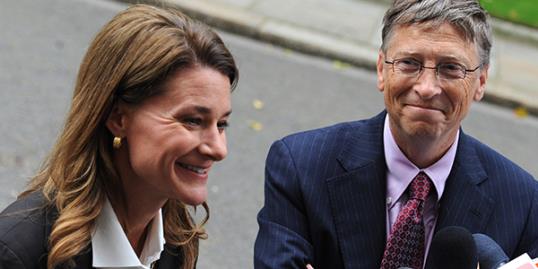 I'm exaggerating, but not that much. The article, entitled "Why Men Need Women," examined what makes some super-rich men, like Bill Gates, extremely philanthropic while others are basically swimming in their own money like Scrooge McDuck. And as you may have guessed from the title, the proposed answer is female presence in these men's lives.
More from Glamour: 53 Swimsuits that Make You Look 10 Pounds Thinner
A new study examined the habits of male chief executives at thousands of Danish companies and found that after men became fathers, on average they actually paid their employees less. The exception: Men who had daughters didn't reduce their employees' wages. And it's not the first research of its kind. Previous studies have shown that men with daughters vote more liberally, and that people with more sisters are more likely to make choices to be generous to others, even at their own expense.
More from Glamour: 35 Truths About Marriage--From a Guy's Point of View
Coming back to Bill Gates, the shining example of philanthropy used here, evidently he originally resisted setting up a charitable foundation, but three years later was ranked the third most generous philanthropist in America. He credits his mother and his wife as inspiration for his charitable giving, and he also had a daughter during that three-year period.
More from Glamour: 10 Hot Date-Night Outfits (According to Guys)
While I'm all for men and women — or just, people generally — learning from each other and becoming better people, I had to ask the Smitten team if I was being unfair if my knee-jerk reaction was annoyance that men need to feel an emotional tie to a woman to be compassionate people. A peek at the comments revealed that I wasn't the only one who took issue with it, and for a variety of reasons: Why does this seem to suppose all women are soft and nurturing? Is this generalization about men harmful? (I don't actually think all men are selfish misers! And for the record, I think plenty of men are good influences on others themselves.) And why should women be used as a good influence on men when men still get to be the ones in control of almost everything? (Are there even women chief executives at 10,000 Danish companies? I hope so, but I'm not so sure.) All good points.
The old "You make me want to be a better man" thing has been used time and again in the world of romantic stories, and it's nice to think you could be an inspiration for good in someone's life. But is it really flattering, or would it just be better if a guy wanted to be better of his own accord, whether or not he had sisters or daughters or you, the perfect girlfriend? You decide and tell me what you think!
Does your guy have sisters/daughters/ot​her close relationships with women in his life? Do you think it's made him a more compassionate person? What do you think about the studies on men's increased generosity when influenced by women? Do you think you've made your guy a better man, or has he made you better ... or both?
More from Glamour:
25 Celebrity Hairstyles That Will Make You Want Bangs
10 Wardrobe Essentials Every Woman Should Own
15 Hair-Color Makeover Ideas to Try in 2013
More from The Heart Beat:
Facebook PDA linked to happier marriages
Map shows where all the single people live
Coffee shop lets customers pay with a kiss
love: friendships, dating, sex & marriage
A wedding is an exceptionally special day. Sometimes, an opportune photo flub makes the occasion even more memorable. Here are 25 awesome wedding photo bombs.

Somewhere between the first few butterfly-inducing dates and the committed-for-life stage, there's the period of wondering if you're both on the same page about how serious you feel about a future together. If you're not quite at the point of "that talk" but you're looking for a few clues you're heading in that direction, here are some signs he's in it for the long haul as your relationship progresses.

What's that sound? It's white noise blocking out the well-meaning person proclaiming groundbreaking news about where you can meet someone, asking why you're still single, or bugging you about when you're getting married already. Don't be that person. Here are 15 annoying things all single people don't want to hear.

With just a few days left before the big day, you already have a mile-long checklist of to-dos—now meet the don'ts! From impromptu skin treatments to all-night movie marathons, here are 11 things to avoid at all costs.

A new study shows that watching and discussing romantic films can drastically reduce your chance of divorce. These flicks more than fit the bill.

These seemingly innocent phrases still have the power to wound… big time.

Making "I do" last forever is one of the biggest challenges you'll ever face—and it's normal to worry about how you'll do it. But, if your connection involves any of these things, rest assured that you're in it for the long run.

Ultimately, as hard as it may seem at the beginning, a marital affair can be a turning point.

Five months after the Boston Marathon bombing, The Knot reached out to Rebekah Gregory and Pete DiMartino and offered to throw them a dream wedding. They said yes, and on April 4, 2014, the two married at the Biltmore Estate in Asheville, North Carolina. Rebekah and Pete exchanged vows on the tennis lawn amidst the cherry tree blossoms and then celebrated with all of their friends and family at a beautiful reception tent right in front of the estate. All of the details were perfectly executed by a team of talented and generous wedding industry pros, including celebrity wedding planner Marcy Blum. Here, a few highlights from Rebekah and Pete's wedding day.

Your wedding is your special day, but you want to keep your guests happy, too. Here are 20 typical wedding guest complaints and what you can do about them.

Study finds that early birds get the long-term relationships.

Receptions would take place near where raw sewage is processed.