Can You 'Trick' Yourself Into Falling in Love?
One study finds that faking romance can lead to the real deal.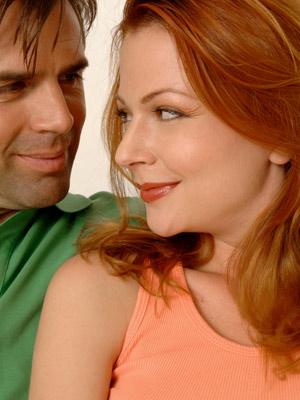 According to the theory behind the facial feedback hypothesis, one can upgrade one's mood from sad to happy simply by forcing a smile. Similarly, a new study suggests people may be able to fall in love simply by faking it.
Richard Wiseman, a psychologist and professor at the University of Hertfordshire, led a study that found behavior can influence emotions just as well as emotions can influence behavior. Wiseman held a speed-dating event for 100 volunteers, and some of the participants were asked to pretend like they were already in love. This included gazing into each other's eyes, holding hands, and whispering secrets.
At the end of the event, Wiseman asked the subjects how they felt about their dates. Under normal circumstances, only 20 percent of volunteers reported hitting it off with their match. However, that number shot to 45 percent for participants who faked feelings of romance.
"This is a remarkable finding," said Wiseman, according to the Telegraph. "Behaving like you are in love can lead to actually falling in love. People are always going [on] about positive thinking when this suggests positive action is just as valid."
The study could explain why celebrities often end up falling for each other after playing onscreen love interests. In Wiseman's experiment, the forced action was so powerful that at the end of the event, researchers actually had a hard time putting an end to all the lovey-dovey behavior.
"We had to go around pulling couples apart," he said.
While the idea of "forcing" love is a bit cringeworthy, Wiseman's theory of positive action could be a helpful starting point for couples dealing with relationship issues. He advises:
"Actions are the quickest, easiest and most powerful way to instantly change how you think and feel."
Photo: Fotosearch, Getty Images
More on love & sex from MSN Living:
13 Signs You're Ready to Move In Together
His 10 Biggest Love Lies
10 Non-Traditional Celebrity Engagement Rings
love: friendship, dating, sex & marriage
We've made picking your palette a breeze! Just find your favorite hue and choose one of the cool combos below.

Get inspired with these twelve ideas for a fantastic, fun summer wedding!

What's worse than getting snubbed while proposing? Having your heart broken in front of countless strangers.

Want your I do's to be totally you? From pre-wedding cocktails to Mad Lib vows, here are 25 ways to make your ceremony as unforgettable as your reception.

Summer love can be sweet. But it tends to be fast, feverish and often fleeting. In a season where emotions run hot, here are some rules to help avoid heartbreak.

We asked brides on TheKnot.com to tell all -- and they did. Here, five of the most likely culprits and advice for how to deal with your drama-causing guests along the way.

This short course in flirting will not only teach you how to flirt better but also how to tell when someone is flirting with you—and how to respond. Have fun.

Gatsby glamour doesn't have to just live on the big screen! Embrace the trendy (yet timeless) art deco style with sequins, pearls, feathers and geometric patterns. Check out these art deco ideas and achieve the feel of 1920s decadence. By the way, all of these are affordable, except for the $600 hairpiece which is a splurge, but a knockout. Shop the look!

Wondering if your summer love will last? Here are 15 signs if your seasonal love is fleeting or for real.

Sixteen years after "Titanic's" release—and 101 years after the historic ship's notorious sinking—our hearts still go on for star-crossed lovers Rose DeWitt Bukater (Kate Winslet) and Jack Dawson (Leonardo DiCaprio). We rounded up some of our favorite ill-fated, but oh-so-romantic affairs on film, from "Gone with the Wind" to "Moulin Rouge!".

Flirting shouldn't be retired once you've got the ring. We asked relationship expert Harlan Cohen, as well as real husbands, the best way to keep the sparks flying.

When we're annoyed by male behavior, we turn to columnist Aaron Traister. His logic may be strange, but we have to admit, it's pretty helpful. Here, he answers our many questions for guys.