Can You 'Trick' Yourself Into Falling in Love?
One study finds that faking romance can lead to the real deal.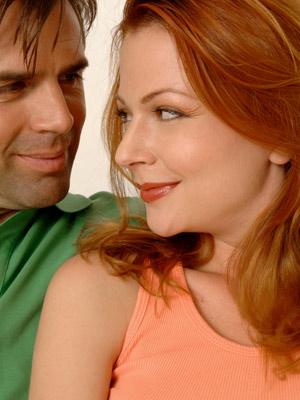 According to the theory behind the facial feedback hypothesis, one can upgrade one's mood from sad to happy simply by forcing a smile. Similarly, a new study suggests people may be able to fall in love simply by faking it.
Richard Wiseman, a psychologist and professor at the University of Hertfordshire, led a study that found behavior can influence emotions just as well as emotions can influence behavior. Wiseman held a speed-dating event for 100 volunteers, and some of the participants were asked to pretend like they were already in love. This included gazing into each other's eyes, holding hands, and whispering secrets.
At the end of the event, Wiseman asked the subjects how they felt about their dates. Under normal circumstances, only 20 percent of volunteers reported hitting it off with their match. However, that number shot to 45 percent for participants who faked feelings of romance.
"This is a remarkable finding," said Wiseman, according to the Telegraph. "Behaving like you are in love can lead to actually falling in love. People are always going [on] about positive thinking when this suggests positive action is just as valid."
The study could explain why celebrities often end up falling for each other after playing onscreen love interests. In Wiseman's experiment, the forced action was so powerful that at the end of the event, researchers actually had a hard time putting an end to all the lovey-dovey behavior.
"We had to go around pulling couples apart," he said.
While the idea of "forcing" love is a bit cringeworthy, Wiseman's theory of positive action could be a helpful starting point for couples dealing with relationship issues. He advises:
"Actions are the quickest, easiest and most powerful way to instantly change how you think and feel."
Photo: Fotosearch, Getty Images
More on love & sex from MSN Living:
13 Signs You're Ready to Move In Together
His 10 Biggest Love Lies
10 Non-Traditional Celebrity Engagement Rings
love: friendships, dating, sex & marriage
The typical wedding: A white dress, tiered cake, floral centerpieces and a cute flower girl -- you know the drill. Every once in a while, though, a couple trades in tradition for a quirky, never-seen-that-before idea. Here are a few of the most out-there wedding photos that made us do a double take.

There's a lot to love about weddings this fall, like cocktails served in copper Moscow mule mugs, industrial-inspired lighting and pheasant feather details. See what's new!

Do you have to be engaged to sport a ring with bling?

124.6 million haven't gotten hitched.

Even though the national average wedding is $29,858, that's just an average. If you live in a smaller state like Idaho where the average wedding costs $16,159, you may find yourself saving a little more than half of the national spend! Check out some of the other least expensive cities to get married in below:

Summer is winding down, but the ubiquitous summer romance lives on.

For those times when nothing big and horrible happened--but nothing is feeling right either.

He's confident, distinguished and anywhere from 4 to 20 years older than you. Age is just a number, but there's something about older men that we love. Here are eight reasons why being in a relationship with an older man is tops.

While a younger man may have less life experience, that doesn't mean he's not emotionally mature. Here are the eight reasons why being in a relationship with a younger man is tops.

Have you ever wondered what the 'other woman' was thinking?

So fall is coming and you need some romantic inspiration now that long walks on the beach are out of the question. Well look no further! From apple picking to pumpkin carving, these are some great fall date ideas from girls just like you!

Getting bored of the same dinner and movie date night? Take an adorable cue from your favorite celebs and try something new! From dancing to boxing you can't go wrong with these awesome date ideas.