Can You 'Trick' Yourself Into Falling in Love?
One study finds that faking romance can lead to the real deal.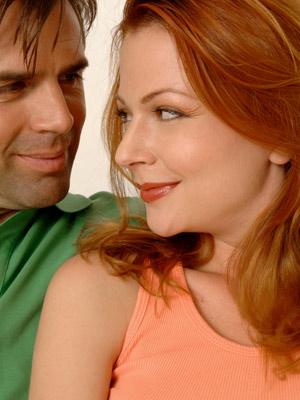 According to the theory behind the facial feedback hypothesis, one can upgrade one's mood from sad to happy simply by forcing a smile. Similarly, a new study suggests people may be able to fall in love simply by faking it.
Richard Wiseman, a psychologist and professor at the University of Hertfordshire, led a study that found behavior can influence emotions just as well as emotions can influence behavior. Wiseman held a speed-dating event for 100 volunteers, and some of the participants were asked to pretend like they were already in love. This included gazing into each other's eyes, holding hands, and whispering secrets.
At the end of the event, Wiseman asked the subjects how they felt about their dates. Under normal circumstances, only 20 percent of volunteers reported hitting it off with their match. However, that number shot to 45 percent for participants who faked feelings of romance.
"This is a remarkable finding," said Wiseman, according to the Telegraph. "Behaving like you are in love can lead to actually falling in love. People are always going [on] about positive thinking when this suggests positive action is just as valid."
The study could explain why celebrities often end up falling for each other after playing onscreen love interests. In Wiseman's experiment, the forced action was so powerful that at the end of the event, researchers actually had a hard time putting an end to all the lovey-dovey behavior.
"We had to go around pulling couples apart," he said.
While the idea of "forcing" love is a bit cringeworthy, Wiseman's theory of positive action could be a helpful starting point for couples dealing with relationship issues. He advises:
"Actions are the quickest, easiest and most powerful way to instantly change how you think and feel."
Photo: Fotosearch, Getty Images
More on love & sex from MSN Living:
13 Signs You're Ready to Move In Together
His 10 Biggest Love Lies
10 Non-Traditional Celebrity Engagement Rings
love: friendships, dating, sex & marriage
Brad Pitt and Angelina Jolie finally took the plunge, but marriage isn't always a good choice for everyone.

Learn how these surprising tactics can really improve your relationship.

Use these tips to up your chances of finding love.

Find out how paired-off ladies might feel lacking—and how you can make your relationship satisfying.

These signals are seriously subtle, but they can give you real insight into what's going through your husband's mind.

Check which changes are necessary to stay happy together.

We know some of this may sound obvious, but these simple statements can make both of you happier.

Making your relationship more secure, connected, and intimate doesn't have to feel overwhelming. Try these expert tips and reap the rewards now—and in the long run.

For those times when nothing big and horrible happened--but nothing is feeling right either.

What's more fun than animals in weddings? We've rounded up eight of the cutest.

Your puppy is all over your Instagram, Facebook and fridge, so there's no reason not to include him in your engagement pictures too. The best engagement photos give viewers a peek into your life. If you're a dog owner, take this opportunity to show off your pooch, like these 22 couples did! And we can't thank them enough.

Our married blogger gets real about checking out other guys when you're taken.