Can You 'Trick' Yourself Into Falling in Love?
One study finds that faking romance can lead to the real deal.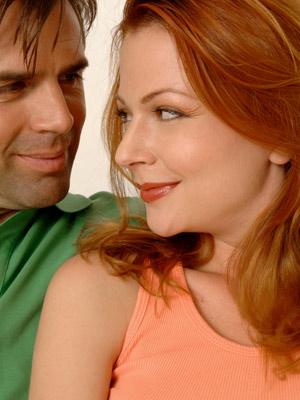 According to the theory behind the facial feedback hypothesis, one can upgrade one's mood from sad to happy simply by forcing a smile. Similarly, a new study suggests people may be able to fall in love simply by faking it.
Richard Wiseman, a psychologist and professor at the University of Hertfordshire, led a study that found behavior can influence emotions just as well as emotions can influence behavior. Wiseman held a speed-dating event for 100 volunteers, and some of the participants were asked to pretend like they were already in love. This included gazing into each other's eyes, holding hands, and whispering secrets.
At the end of the event, Wiseman asked the subjects how they felt about their dates. Under normal circumstances, only 20 percent of volunteers reported hitting it off with their match. However, that number shot to 45 percent for participants who faked feelings of romance.
"This is a remarkable finding," said Wiseman, according to the Telegraph. "Behaving like you are in love can lead to actually falling in love. People are always going [on] about positive thinking when this suggests positive action is just as valid."
The study could explain why celebrities often end up falling for each other after playing onscreen love interests. In Wiseman's experiment, the forced action was so powerful that at the end of the event, researchers actually had a hard time putting an end to all the lovey-dovey behavior.
"We had to go around pulling couples apart," he said.
While the idea of "forcing" love is a bit cringeworthy, Wiseman's theory of positive action could be a helpful starting point for couples dealing with relationship issues. He advises:
"Actions are the quickest, easiest and most powerful way to instantly change how you think and feel."
Photo: Fotosearch, Getty Images
More on love & sex from MSN Living:
13 Signs You're Ready to Move In Together
His 10 Biggest Love Lies
10 Non-Traditional Celebrity Engagement Rings
love: friendships, dating, sex & marriage
Her partner? Wine? Downtime? Find out where it all ranks.

Pheromones *may* be the key to finding your perfect match.

This time of year, we dust off our holiday traditions of special songs, stories, events and food to make our season bright. Here's a look into the traditional, unique and quirky holiday traditions of some famous couples.

Look, I looooove engagement season for obvious reasons, but even I can admit I'm like, "Really, AGAIN?" when yet ANOTHER engagement ring pops up in my news feed. Seriously, there were two this weekend. (Congrats, Gemma and Danny!)

We asked real men and women (and a few first-base experts, too) to give us the cardinal rules of kissing, tell us what makes someone a good kisser and more. So whether you're leaning in for kiss No. 1 or 1,000, read on.by Devin Tomb

Not quite sure which diamond shape suits your personality? We're here to help.

Dating can lead to all kinds of tricky situations. To help you navigate even the most awkward moments, we've compiled our 50 best dating tips—some new, some old—given to us by experts, moms, women like you, and even Justin Timberlake.

Customers as Madison's new Snuggle House can snuggle with professional cuddlers for $60 an hour.

Can you believe it was only about 15 years ago that engagement ring shopping meant a time-consuming slog from jewelry boutique to jewelry boutique? Thank goodness for the internet; nowadays, it's easy to do all that legwork online.

The holiday season, with all its twinkly lights and fireplaces and cold nights perfect for snuggling, is most definitely for lovers—but "The Single Woman" author Mandy Hale is here to remind you that it's also for singles, too.

Studies show that being satisfied with your romantic relationship is one of the best predictors of happiness -- even more important than education, income, or having a high-status job. Resolve to make 2014 your happiest year yet with these bond-strengthening pledges.

This winter, it's all about mixing unexpected seasonal elements with elegant neutral details and a hint of sparkle and sequins. Take a look.