Can You 'Trick' Yourself Into Falling in Love?
One study finds that faking romance can lead to the real deal.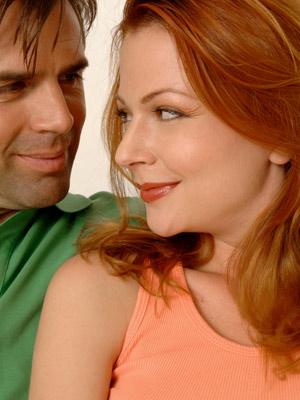 According to the theory behind the facial feedback hypothesis, one can upgrade one's mood from sad to happy simply by forcing a smile. Similarly, a new study suggests people may be able to fall in love simply by faking it.
Richard Wiseman, a psychologist and professor at the University of Hertfordshire, led a study that found behavior can influence emotions just as well as emotions can influence behavior. Wiseman held a speed-dating event for 100 volunteers, and some of the participants were asked to pretend like they were already in love. This included gazing into each other's eyes, holding hands, and whispering secrets.
At the end of the event, Wiseman asked the subjects how they felt about their dates. Under normal circumstances, only 20 percent of volunteers reported hitting it off with their match. However, that number shot to 45 percent for participants who faked feelings of romance.
"This is a remarkable finding," said Wiseman, according to the Telegraph. "Behaving like you are in love can lead to actually falling in love. People are always going [on] about positive thinking when this suggests positive action is just as valid."
The study could explain why celebrities often end up falling for each other after playing onscreen love interests. In Wiseman's experiment, the forced action was so powerful that at the end of the event, researchers actually had a hard time putting an end to all the lovey-dovey behavior.
"We had to go around pulling couples apart," he said.
While the idea of "forcing" love is a bit cringeworthy, Wiseman's theory of positive action could be a helpful starting point for couples dealing with relationship issues. He advises:
"Actions are the quickest, easiest and most powerful way to instantly change how you think and feel."
Photo: Fotosearch, Getty Images
More on love & sex from MSN Living:
13 Signs You're Ready to Move In Together
His 10 Biggest Love Lies
10 Non-Traditional Celebrity Engagement Rings
love: friendships, dating, sex & marriage
No sense in wasting your time on someone who will never commit.

There he is, the man of your dreams. He's sitting across from you at the coffee shop or standing at the opposite side of the bar. His eyes meet yours, a quick glance, and then it's back to his drink. Was he giving you a signal?

Remember that time on "30 Rock" when Liz Lemon and her eventual-husband Criss went shopping at Ikea, only to end up in a major fight? We know it couldn't be closer to the truth because we've all been there. In honor of the irritation that can be Ikea, here are the top fights you'll likely encounter.

Love it or hate it, the selfie wields much power.

Dating doesn't have to be a daunting task, promise. Here's how to make it fun for you and him.

One woman's honest journey to divorce will break your heart and inspire you at the same time.

Want to send your date running? Try one these moves.

Two guests arrested in New Jersey.

Celebrities certainly know how to travel in style, so if you're struggling to select a honeymoon destination, look no further than these star-approved hotspots. To make it even easier, we're providing you with hotel recommendations, packing essentials, and tips on what to do and see! So channel your inner celeb at one of these U.S. destinations for an unforgettable vacation!

Tall Twitter users named Wayne, we're on to you!

Should little girls be dreaming of a different kind of "I do"?

Need a reason to pack your bags and get the hell out of here?