The 3 best new dating apps
Forget online dating sites - finding your next love is as easy as turning on your smartphone!
Dating is no longer the conventional "boy-meets-girl" rom-com that it used to be. Mobile and online dating mean that we don't have to wait around for Mr. Right to make his appearance; we can search for him ourselves! But this way of finding your man isn't always easy to navigate, so we've rounded up the best new dating apps and how to use them. Don't sit around waiting for Prince Charming this fall; be sure to take the first step by trying to find him online with one of these hot new apps!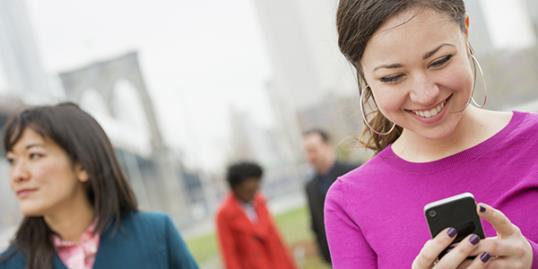 Her Campus: What guys think of your sexy Halloween costume
Hinge
How it Works
Let's be honest: we all Facebook stalk our friends (and their cute friends). Hinge is a "friends-of-friends"​ dating app that gives you the possibility of meeting that boy you've already Facebook stalked (twice!). Hinge will send you a new set of potential matches from your friends' friends, and all you have to do is "favorite" the guys you would be interested in. Then, you will appear in his next set of potential matches, and if you're both interested in each other, Hinge will set up an introduction via email or even allow you to message each other on the app itself.
You don't even need to worry about rejection, since all of your favorites will remain totally anonymous unless you favorite each other. Unfortunately, this app is only available in the D.C. area, where it was launched earlier this year, and in New York.
Her Campus: 50 lessons in love from 'Fifty Shades of Grey'
OkCupid Dating
How it Works
Cupid had to come into it somewhere, didn't he? The successful online dating site has developed an app version, which is already proving to be just as successful. Patti Feinstein, America's Dating Coach, loves this app because she thinks it's "innovative, smart, interactive and fun."
Bing: Best-ranked online dating sites
OkCupid takes a more scientific approach to finding your next partner, using math to find your matches. Essentially, the app asks you to answer about 25 questions (such as, "How important is it for you to make physical contact when showing affection for someone?" or, "Would you ever consider dating someone who doesn't like children?"), rate how important these questions are to you and how you would like a potential partner to answer the same questions. You'll need to create your own profile with a little bit of information about yourself. Then it gets technical: Cupid gets his calculator out and does the math to come up with your potential matches.
The best part about the app is that it has a "locals" feature that allows you to check out who's around you who might want to meet up for a quick coffee or a drink. You just need to send out a broadcast saying where you are and how long you have, and local singles will be alerted: all you have to do is wait! Even better, when you leave your app on and you're out and about, you will receive live notifications if there are any good matches for you nearby.
HowAboutWe Dating
How it Works
Instead of building a profile or searching through other peoples' profiles, you post a date idea using the format "How about we…" and simply wait for a response! You can describe your ideal first date, or if you don't want to put yourself out there, you can search through other people's date ideas until you find one that you would enjoy.
This app puts dating back in the spotlight as the main focus of a relationship: it's all about amazing first dates that might lead to second dates (or even third, fourth or fifth dates). We think this is a really cute idea because it allows you to choose your match based on something you enjoy, rather than a guy's physical appearance or answers to a specific set of questions.
To read about another new dating app and for more love advice, check out HerCampus.com!
More from Her Campus:
Best new dating apps
5 contradicting dating rules and how to deal with them
5 places to fall in love this year
Subscribe to The Heart Beat | Friend us on Facebook, follow us on Twitter and find us on Pinterest
Photo: Mint Images,Tim Robbins /Getty Images
love: friendships, dating, sex & marriage
The outlandish things we do for love have no limits; just ask these guys. Love makes us do some pretty crazy things. And sometimes, we feel the need to prove it to the entire world. And no, we don't mean getting a tattoo of your partner's name on your leg or proposing on the big screen at the Yankee game. We mean renewing your marriage vows 101 times or making out for 58 hours. Who would go to such extremes you ask? Meet the Guinness World Record-holders in all-things love. They gave up sleep, food and even going to the bathroom alone, all in the name of loving longer than anyone else. Who's hugged the longest? Kissed the longest? Been on the most expensive date? Take a look below as we count down the world's most loving record-breakers.

Her partner? Wine? Downtime? Find out where it all ranks.

Pheromones *may* be the key to finding your perfect match.

This time of year, we dust off our holiday traditions of special songs, stories, events and food to make our season bright. Here's a look into the traditional, unique and quirky holiday traditions of some famous couples.

Look, I looooove engagement season for obvious reasons, but even I can admit I'm like, "Really, AGAIN?" when yet ANOTHER engagement ring pops up in my news feed. Seriously, there were two this weekend. (Congrats, Gemma and Danny!)

We asked real men and women (and a few first-base experts, too) to give us the cardinal rules of kissing, tell us what makes someone a good kisser and more. So whether you're leaning in for kiss No. 1 or 1,000, read on.by Devin Tomb

Not quite sure which diamond shape suits your personality? We're here to help.

Dating can lead to all kinds of tricky situations. To help you navigate even the most awkward moments, we've compiled our 50 best dating tips—some new, some old—given to us by experts, moms, women like you, and even Justin Timberlake.

Customers as Madison's new Snuggle House can snuggle with professional cuddlers for $60 an hour.

Can you believe it was only about 15 years ago that engagement ring shopping meant a time-consuming slog from jewelry boutique to jewelry boutique? Thank goodness for the internet; nowadays, it's easy to do all that legwork online.

The holiday season, with all its twinkly lights and fireplaces and cold nights perfect for snuggling, is most definitely for lovers—but "The Single Woman" author Mandy Hale is here to remind you that it's also for singles, too.

Studies show that being satisfied with your romantic relationship is one of the best predictors of happiness -- even more important than education, income, or having a high-status job. Resolve to make 2014 your happiest year yet with these bond-strengthening pledges.