1 in 10 Couples Stay Married Only for the Kids, Poll Finds
But is it healthy to lie about being in love?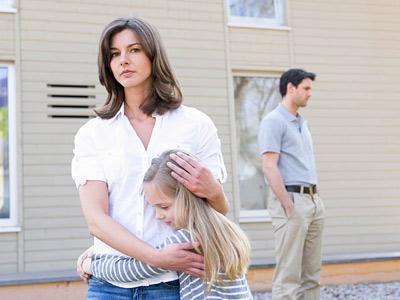 We all know it happens—couples want to get divorced, maybe even already consider themselves separated, but decide to keep up with the illusion of marriage for the sake of their children. A recent poll has found out just how many married couples do this.
According to the survey, from Healbee.com, one of every 10 married couples stays together "just for the kids."
The site, which helps its members cope with the grief of a divorce or breakup, says it's seen a 40 percent surge in users now that summer is coming to a close. Their theory is that parents play nice during the summer, when children spend more time at home. But once school starts, the estranged couples resume battle. Healbee has dubbed it a "summer cease-fire."
Of those married couples that say they're staying together only for the kids, 72 percent admit they already consider themselves separated in spite of the facade. Six out of 10 say they plan to wait until their children turn 18 and go off to college before they announce their decision to split.
Bad idea, says a spokesperson for Healbee:
"Aside from the very real possibility of children blaming themselves for their parents' unhappiness should they choose to stay together, but then separate when they're older, these children might also follow their parents' patterns in their own relationships. If you grow up in an environment where everyone around you speaks with a certain accent you simply don't notice it until you are outside of that environment."
Staying together for the kids, generally, seems to be counterproductive. Of the estranged couples, only 5 percent say they resolved their issues while "playing nice" in front of the kids.
Related video: 5 Ways to Strengthen Your Relationship
Marriage counselor and psychotherapist Mel Schwartz would agree with Healbee's take on the matter. He told The Heart Beat:
"Staying together for the sake of the children may make little sense. To expose children to unhappiness and perhaps conflict is a terrible modeling for them and would likely incline them to have similar marriages for themselves."
If it has been decided that the marriage is indeed finished, honesty may be the best policy when dealing with children. But once parents decide to be open about their plans for separation, where do they go from there? The Heart Beat asked Healbee how parents should go about breaking the news:
"It's very much up to the parent as to know how their child will react. Unnecessarily destabilizing a child is obviously something that any parent would want to avoid. That said, depending on the child's maturity and whether they are already in a state of insecurity, then in some cases honesty may actually provide more security by informing them what is happening."
Photo: Echo/Getty Images
More love and sex on MSN Living:
Crazy Marriage Proposals
Weird Wild World of Modern Love
Most Romantic Date Destinations in America
25 Reasons Why Married Sex Is Better
Are you sure you want to delete this comment?
love: friendships, dating, sex & marriage
Two guests arrested in New Jersey.

Celebrities certainly know how to travel in style, so if you're struggling to select a honeymoon destination, look no further than these star-approved hotspots. To make it even easier, we're providing you with hotel recommendations, packing essentials, and tips on what to do and see! So channel your inner celeb at one of these U.S. destinations for an unforgettable vacation!

Tall Twitter users named Wayne, we're on to you!

Should little girls be dreaming of a different kind of "I do"?

Need a reason to pack your bags and get the hell out of here?

After your return from your honeymoon, your marriage officially starts and with that come some changes. It's not to say that the honeymoon phase is over, but you'll have to get some things situated in order to have your marriage start off on the right foot. We tapped the expert advice of wedding planner and reality TV star David Tutera and love and career coach Charreah Jackson to dish on six things you must do to have a successful first month of marriage — from wedding-related logistics to wrap up to relationship rules to set.

Owner of Weddings in Vieques, a destination-wedding planning company off the coast of Puerto Rico, Sandy Malone has helped countless couples plan their big day since 2007. Here, the veteran planner is sharing some expert advice for free: She's sharing the top eight things you have to do right after you get engaged.

Is the idea of a big bridal bash just not your thing? Or perhaps you and your fiancé are just the super spontaneous type, so why not make your next beach vacation your nuptials as well? If you're thinking of eloping but have questions on the mind, we're here to help. We tapped elopement and wedding planner Lindsey Nickel, founder of Events, Etc., for her top dos and don'ts for getting hitched on the sly.

Easy everyday ways to keep the love alive.

Expert tips on moving past those oh-so-familiar arguments.

Sometimes you have to do things you don't want to do, like hang out with his lame friends. You're not always in the mood to nurse a beer silently while he and his boys argue about who's going to die next on "Game of Thrones" — but tomorrow he's sitting through a seven-girl brunch. So.

Why holding on to your partner's mistakes will end up hurting you.