1 in 10 Couples Stay Married Only for the Kids, Poll Finds
But is it healthy to lie about being in love?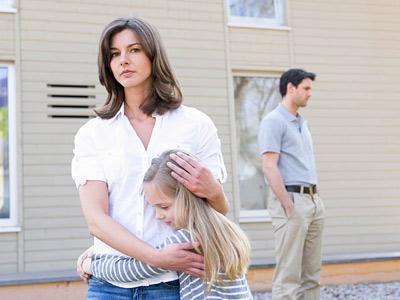 We all know it happens—couples want to get divorced, maybe even already consider themselves separated, but decide to keep up with the illusion of marriage for the sake of their children. A recent poll has found out just how many married couples do this.
According to the survey, from Healbee.com, one of every 10 married couples stays together "just for the kids."
The site, which helps its members cope with the grief of a divorce or breakup, says it's seen a 40 percent surge in users now that summer is coming to a close. Their theory is that parents play nice during the summer, when children spend more time at home. But once school starts, the estranged couples resume battle. Healbee has dubbed it a "summer cease-fire."
Of those married couples that say they're staying together only for the kids, 72 percent admit they already consider themselves separated in spite of the facade. Six out of 10 say they plan to wait until their children turn 18 and go off to college before they announce their decision to split.
Bad idea, says a spokesperson for Healbee:
"Aside from the very real possibility of children blaming themselves for their parents' unhappiness should they choose to stay together, but then separate when they're older, these children might also follow their parents' patterns in their own relationships. If you grow up in an environment where everyone around you speaks with a certain accent you simply don't notice it until you are outside of that environment."
Staying together for the kids, generally, seems to be counterproductive. Of the estranged couples, only 5 percent say they resolved their issues while "playing nice" in front of the kids.
Related video: 5 Ways to Strengthen Your Relationship
Marriage counselor and psychotherapist Mel Schwartz would agree with Healbee's take on the matter. He told The Heart Beat:
"Staying together for the sake of the children may make little sense. To expose children to unhappiness and perhaps conflict is a terrible modeling for them and would likely incline them to have similar marriages for themselves."
If it has been decided that the marriage is indeed finished, honesty may be the best policy when dealing with children. But once parents decide to be open about their plans for separation, where do they go from there? The Heart Beat asked Healbee how parents should go about breaking the news:
"It's very much up to the parent as to know how their child will react. Unnecessarily destabilizing a child is obviously something that any parent would want to avoid. That said, depending on the child's maturity and whether they are already in a state of insecurity, then in some cases honesty may actually provide more security by informing them what is happening."
Photo: Echo/Getty Images
More love and sex on MSN Living:
Crazy Marriage Proposals
Weird Wild World of Modern Love
Most Romantic Date Destinations in America
25 Reasons Why Married Sex Is Better
Are you sure you want to delete this comment?
love: friendships, dating, sex & marriage
If you've been hiding any of this stuff, it's time to fess up.

The outlandish things we do for love have no limits; just ask these guys. Who's hugged the longest? Kissed the longest? Been on the most expensive date? Take a look below as we count down the world's most loving record-breakers.

If you just got engaged, congrats! This is seriously exciting news that deserves lots of congratulatory hugs, "oohing" and "ahhing" over the ring and plenty of bubbly. To make sure you get the right response from friends, family and coworkers, avoid announcing your engagement like this…

Ladies, give yourself the best gift of all this season: The NYC Taxi Driver 2014 Calendar. By Michelle Toglia

Pheromones may be the key to finding your perfect match.

Her partner? Wine? Downtime? Find out where it all ranks.

This time of year, we dust off our holiday traditions of special songs, stories, events and food to make our season bright. Here's a look into the traditional, unique and quirky holiday traditions of some famous couples.

Look, I looooove engagement season for obvious reasons, but even I can admit I'm like, "Really, AGAIN?" when yet ANOTHER engagement ring pops up in my news feed. Seriously, there were two this weekend. (Congrats, Gemma and Danny!)

We asked real men and women (and a few first-base experts, too) to give us the cardinal rules of kissing, tell us what makes someone a good kisser and more. So whether you're leaning in for kiss No. 1 or 1,000, read on.by Devin Tomb

Not quite sure which diamond shape suits your personality? We're here to help.

Dating can lead to all kinds of tricky situations. To help you navigate even the most awkward moments, we've compiled our 50 best dating tips—some new, some old—given to us by experts, moms, women like you, and even Justin Timberlake.

Customers as Madison's new Snuggle House can snuggle with professional cuddlers for $60 an hour.