1 in 10 Couples Stay Married Only for the Kids, Poll Finds
But is it healthy to lie about being in love?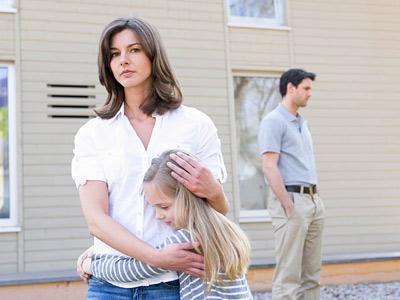 We all know it happens—couples want to get divorced, maybe even already consider themselves separated, but decide to keep up with the illusion of marriage for the sake of their children. A recent poll has found out just how many married couples do this.
According to the survey, from Healbee.com, one of every 10 married couples stays together "just for the kids."
The site, which helps its members cope with the grief of a divorce or breakup, says it's seen a 40 percent surge in users now that summer is coming to a close. Their theory is that parents play nice during the summer, when children spend more time at home. But once school starts, the estranged couples resume battle. Healbee has dubbed it a "summer cease-fire."
Of those married couples that say they're staying together only for the kids, 72 percent admit they already consider themselves separated in spite of the facade. Six out of 10 say they plan to wait until their children turn 18 and go off to college before they announce their decision to split.
Bad idea, says a spokesperson for Healbee:
"Aside from the very real possibility of children blaming themselves for their parents' unhappiness should they choose to stay together, but then separate when they're older, these children might also follow their parents' patterns in their own relationships. If you grow up in an environment where everyone around you speaks with a certain accent you simply don't notice it until you are outside of that environment."
Staying together for the kids, generally, seems to be counterproductive. Of the estranged couples, only 5 percent say they resolved their issues while "playing nice" in front of the kids.
Related video: 5 Ways to Strengthen Your Relationship
Marriage counselor and psychotherapist Mel Schwartz would agree with Healbee's take on the matter. He told The Heart Beat:
"Staying together for the sake of the children may make little sense. To expose children to unhappiness and perhaps conflict is a terrible modeling for them and would likely incline them to have similar marriages for themselves."
If it has been decided that the marriage is indeed finished, honesty may be the best policy when dealing with children. But once parents decide to be open about their plans for separation, where do they go from there? The Heart Beat asked Healbee how parents should go about breaking the news:
"It's very much up to the parent as to know how their child will react. Unnecessarily destabilizing a child is obviously something that any parent would want to avoid. That said, depending on the child's maturity and whether they are already in a state of insecurity, then in some cases honesty may actually provide more security by informing them what is happening."
Photo: Echo/Getty Images
More love and sex on MSN Living:
Crazy Marriage Proposals
Weird Wild World of Modern Love
Most Romantic Date Destinations in America
25 Reasons Why Married Sex Is Better
Are you sure you want to delete this comment?
love: friendships, dating, sex & marriage
Spending the holidays with your guy's family for the first time is a huge relationship milestone. But between your nerves, the usual family tension, and your weird Uncle Sal's inappropriate stories, it's also a prime opportunity for total disaster. Read on for 10 of our readers' most embarrassing meet-the-parents moments.

Want a classic round stone but an extra special setting? These stunning rings are not your average solitaire.

If you just got engaged, congrats! This is seriously exciting news that deserves lots of congratulatory hugs, "oohing" and "ahhing" over the ring and plenty of bubbly. To make sure you get the right response from friends, family and coworkers, avoid announcing your engagement like this…

All year long we laugh and cry along to some of the cutest, funniest and most creative proposals on the Internet. We've seen it all -- from marching bands to every kind of flash mob you can imagine. Here, we've narrowed down our favorites from this year.

John F. Kennedy reigned with his wife Jackie in the Washington golden age known as Camelot. They were young, beautiful and seemingly the perfect couple. But behind the scenes, it was a totally different story. JFK's affairs were as legendary as some of his conquests.

Persistent nagging could cause an avalanche of distrust the way an affair can.

Try these tried-and-true tricks from dating experts to detach the stage-five clinger in your life without being a heartbreaker.

We know that the winter doldrums can leave you lacking the spirit and inspiration needed to come up with steamy Saturday night plans, so we did it for you. Happy (early) holidays!

A guide to getting by and creating a productive and memorable experience.

Plus, the No. 1 reason for divorce.

Taking forever to get ready? Nagging him? See where it all ranks on the tolerable spectrum.

Looking for an afternoon delight? A dating service lists the most desirable locations for sex at work.