True love stories: Couple remarries 30 years after divorce
If at first you don't succeed…
The Heart Beat is excited to introduce our new weekly feature, "True love stories." Each week, a couple with a truly amazing love story will be profiled. If you know a couple with a story worth sharing, please email us at msnlivingmail@micros​oft.com for a chance to be featured.
Divorce is usually the last chapter in a love story gone wrong. But that wasn't true for Robert Worthington and Bev Worsnop, a couple who decided to remarry 30 years after calling it quits.
The couple originally married when Bev was just sixteen years old. Although they were childhood sweethearts, the union only lasted five years.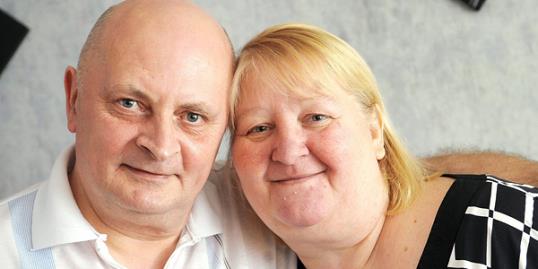 More on MSN Living: 12 things we learned about love in 2012
"We were married at the old Bolton Register Office in the town center and stayed together for five years," Bev told the Daily Mail. "I was only 16 and was pregnant, but we both felt we had been too young to get married. We wanted some freedom."
In the years that followed, Bev married again, and then divorced again. It was the couple's daughter, Kelly Worthington, who facilitated their reunion thirty years later.
More on MSN Living: 12 things that change about sex when you get married
"She'd grown up living with me, but wanted to make contact with [her father]. So I left a note at his home just under two years ago, saying Kelly wanted to get in touch with him."
Bev and Robert lived near each other in Greater Manchester, United Kingdom. After Kelly decided she wanted to meet her father, the spark that first brought the childhood sweethearts together was reignited. The two decided to remarry earlier this month, and their daughter, now 32, was a bridesmaid.
Bing: All sorts of love in the news.
"Kelly is now over the moon," Bev said. "There's a lot of catching up for us all to do."
Here's wishing the couple all the best on their second time around.
Photo: Nigel Taggart/Cascade News
More from The Heart Beat:
Childhood romance rekindled 40 years later
Is online dating causing divorce rates to rise?
Couple marries amid monsoon
love: friendships, dating, sex & marriage
We know some of this may sound obvious, but these simple statements can make both of you happier.

Making your relationship more secure, connected, and intimate doesn't have to feel overwhelming. Try these expert tips and reap the rewards now—and in the long run.

For those times when nothing big and horrible happened--but nothing is feeling right either.

What's more fun than animals in weddings? We've rounded up eight of the cutest.

Your puppy is all over your Instagram, Facebook and fridge, so there's no reason not to include him in your engagement pictures too. The best engagement photos give viewers a peek into your life. If you're a dog owner, take this opportunity to show off your pooch, like these 22 couples did! And we can't thank them enough.

Our married blogger gets real about checking out other guys when you're taken.

He's confident, distinguished and anywhere from 4 to 20 years older than you. Age is just a number, but there's something about older men that we love. Here are eight reasons why being in a relationship with an older man is tops.

While a younger man may have less life experience, that doesn't mean he's not emotionally mature. Here are the eight reasons why being in a relationship with a younger man is tops.

While we do love crazy, funny and over-the-top engagements, sometimes there's just nothing like a proposal with a heartfelt story behind it (warning: you might need some tissues). We've rounded up some of the most romantic wedding proposals from couples across the country, so keep scrolling for seven of our favorites:

As much as you'd like to think your guests will love every single aspect of your wedding, the truth is you really can't please everyone. However, you can try to avoid ticking them off. Here's how.

You'd think brides and grooms who celebrate their nuptials with 50 guests have an equal shot at wedded bliss as those who invite 500, but apparently not.

Because some things are just better with a buddy (whom you happen to be dating).