True love stories: Couple remarries 30 years after divorce
If at first you don't succeed…
The Heart Beat is excited to introduce our new weekly feature, "True love stories." Each week, a couple with a truly amazing love story will be profiled. If you know a couple with a story worth sharing, please email us at msnlivingmail@micros​oft.com for a chance to be featured.
Divorce is usually the last chapter in a love story gone wrong. But that wasn't true for Robert Worthington and Bev Worsnop, a couple who decided to remarry 30 years after calling it quits.
The couple originally married when Bev was just sixteen years old. Although they were childhood sweethearts, the union only lasted five years.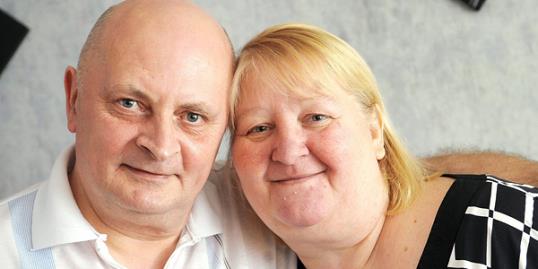 More on MSN Living: 12 things we learned about love in 2012
"We were married at the old Bolton Register Office in the town center and stayed together for five years," Bev told the Daily Mail. "I was only 16 and was pregnant, but we both felt we had been too young to get married. We wanted some freedom."
In the years that followed, Bev married again, and then divorced again. It was the couple's daughter, Kelly Worthington, who facilitated their reunion thirty years later.
More on MSN Living: 12 things that change about sex when you get married
"She'd grown up living with me, but wanted to make contact with [her father]. So I left a note at his home just under two years ago, saying Kelly wanted to get in touch with him."
Bev and Robert lived near each other in Greater Manchester, United Kingdom. After Kelly decided she wanted to meet her father, the spark that first brought the childhood sweethearts together was reignited. The two decided to remarry earlier this month, and their daughter, now 32, was a bridesmaid.
Bing: All sorts of love in the news.
"Kelly is now over the moon," Bev said. "There's a lot of catching up for us all to do."
Here's wishing the couple all the best on their second time around.
Photo: Nigel Taggart/Cascade News
More from The Heart Beat:
Childhood romance rekindled 40 years later
Is online dating causing divorce rates to rise?
Couple marries amid monsoon
love: friendships, dating, sex & marriage
The outlandish things we do for love have no limits; just ask these guys. Who's hugged the longest? Kissed the longest? Been on the most expensive date? Take a look below as we count down the world's most loving record-breakers.

If you just got engaged, congrats! This is seriously exciting news that deserves lots of congratulatory hugs, "oohing" and "ahhing" over the ring and plenty of bubbly. To make sure you get the right response from friends, family and coworkers, avoid announcing your engagement like this…

Ladies, give yourself the best gift of all this season: The NYC Taxi Driver 2014 Calendar. By Michelle Toglia

Pheromones may be the key to finding your perfect match.

Her partner? Wine? Downtime? Find out where it all ranks.

This time of year, we dust off our holiday traditions of special songs, stories, events and food to make our season bright. Here's a look into the traditional, unique and quirky holiday traditions of some famous couples.

Look, I looooove engagement season for obvious reasons, but even I can admit I'm like, "Really, AGAIN?" when yet ANOTHER engagement ring pops up in my news feed. Seriously, there were two this weekend. (Congrats, Gemma and Danny!)

We asked real men and women (and a few first-base experts, too) to give us the cardinal rules of kissing, tell us what makes someone a good kisser and more. So whether you're leaning in for kiss No. 1 or 1,000, read on.by Devin Tomb

Not quite sure which diamond shape suits your personality? We're here to help.

Dating can lead to all kinds of tricky situations. To help you navigate even the most awkward moments, we've compiled our 50 best dating tips—some new, some old—given to us by experts, moms, women like you, and even Justin Timberlake.

Customers as Madison's new Snuggle House can snuggle with professional cuddlers for $60 an hour.

Can you believe it was only about 15 years ago that engagement ring shopping meant a time-consuming slog from jewelry boutique to jewelry boutique? Thank goodness for the internet; nowadays, it's easy to do all that legwork online.