True love stories: Couple remarries 30 years after divorce
If at first you don't succeed…
The Heart Beat is excited to introduce our new weekly feature, "True love stories." Each week, a couple with a truly amazing love story will be profiled. If you know a couple with a story worth sharing, please email us at msnlivingmail@micros​oft.com for a chance to be featured.
Divorce is usually the last chapter in a love story gone wrong. But that wasn't true for Robert Worthington and Bev Worsnop, a couple who decided to remarry 30 years after calling it quits.
The couple originally married when Bev was just sixteen years old. Although they were childhood sweethearts, the union only lasted five years.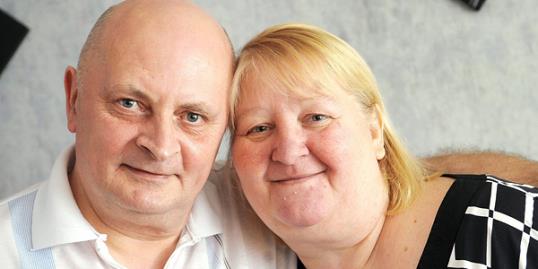 More on MSN Living: 12 things we learned about love in 2012
"We were married at the old Bolton Register Office in the town center and stayed together for five years," Bev told the Daily Mail. "I was only 16 and was pregnant, but we both felt we had been too young to get married. We wanted some freedom."
In the years that followed, Bev married again, and then divorced again. It was the couple's daughter, Kelly Worthington, who facilitated their reunion thirty years later.
More on MSN Living: 12 things that change about sex when you get married
"She'd grown up living with me, but wanted to make contact with [her father]. So I left a note at his home just under two years ago, saying Kelly wanted to get in touch with him."
Bev and Robert lived near each other in Greater Manchester, United Kingdom. After Kelly decided she wanted to meet her father, the spark that first brought the childhood sweethearts together was reignited. The two decided to remarry earlier this month, and their daughter, now 32, was a bridesmaid.
Bing: All sorts of love in the news.
"Kelly is now over the moon," Bev said. "There's a lot of catching up for us all to do."
Here's wishing the couple all the best on their second time around.
Photo: Nigel Taggart/Cascade News
More from The Heart Beat:
Childhood romance rekindled 40 years later
Is online dating causing divorce rates to rise?
Couple marries amid monsoon
love: friendship, dating, sex & marriage
As chore wars rage in the media, we couldn't help but wonder: Can little things like vacuuming actually make or break a relationship?

Are you dealing with an unavailable partner? While distance can be a relationship red flag, it doesn't have to mean that the state of your union is shaky. Here, Harriet Lerner, Ph.D., relationship expert and bestselling author of Marriage Rules: A Manual For the Married and Coupled Up, offers 10 simple steps to reconnection, guaranteed to bring you closer.

Between soccer practices and school plays, it's easy to put romance on the back burner. Show some appreciation for your man with these tips straight from real guys yearning for a little TLC. By Alexa Tucker

Spring has sprung, and it's once again time to clean out the closets, wipe down the walls and refresh and renew your space. After you've knocked out your usual cleaning checklist, here's a new challenge to consider: Are you up for spring-cleaning your sex life? It's the perfect time to revitalize your bedroom mojo and let newer, more exciting lovemaking bloom. Ready to get started? Here's how.

Same old, same old? Put the fire back into your date nights with these tips from relationship guru Rachel DeAlto.

Psst, want to know a secret? Men love spontaneity. It's sexy, it's fun, and it ensures there's never a dull moment when you're together. If your plan is to catch him off guard and drive him wild, we know just the tricks to try. (Grab those notebooks!) Turn the heat up at home with one of these seven sexy ideas.