True love stories: Couple remarries 30 years after divorce
If at first you don't succeed…
The Heart Beat is excited to introduce our new weekly feature, "True love stories." Each week, a couple with a truly amazing love story will be profiled. If you know a couple with a story worth sharing, please email us at msnlivingmail@micros​oft.com for a chance to be featured.
Divorce is usually the last chapter in a love story gone wrong. But that wasn't true for Robert Worthington and Bev Worsnop, a couple who decided to remarry 30 years after calling it quits.
The couple originally married when Bev was just sixteen years old. Although they were childhood sweethearts, the union only lasted five years.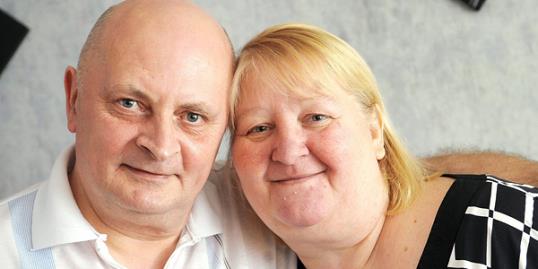 More on MSN Living: 12 things we learned about love in 2012
"We were married at the old Bolton Register Office in the town center and stayed together for five years," Bev told the Daily Mail. "I was only 16 and was pregnant, but we both felt we had been too young to get married. We wanted some freedom."
In the years that followed, Bev married again, and then divorced again. It was the couple's daughter, Kelly Worthington, who facilitated their reunion thirty years later.
More on MSN Living: 12 things that change about sex when you get married
"She'd grown up living with me, but wanted to make contact with [her father]. So I left a note at his home just under two years ago, saying Kelly wanted to get in touch with him."
Bev and Robert lived near each other in Greater Manchester, United Kingdom. After Kelly decided she wanted to meet her father, the spark that first brought the childhood sweethearts together was reignited. The two decided to remarry earlier this month, and their daughter, now 32, was a bridesmaid.
Bing: All sorts of love in the news.
"Kelly is now over the moon," Bev said. "There's a lot of catching up for us all to do."
Here's wishing the couple all the best on their second time around.
Photo: Nigel Taggart/Cascade News
More from The Heart Beat:
Childhood romance rekindled 40 years later
Is online dating causing divorce rates to rise?
Couple marries amid monsoon
love: friendships, dating, sex & marriage
After your return from your honeymoon, your marriage officially starts and with that come some changes. It's not to say that the honeymoon phase is over, but you'll have to get some things situated in order to have your marriage start off on the right foot. We tapped the expert advice of wedding planner and reality TV star David Tutera and love and career coach Charreah Jackson to dish on six things you must do to have a successful first month of marriage — from wedding-related logistics to wrap up to relationship rules to set.

Owner of Weddings in Vieques, a destination-wedding planning company off the coast of Puerto Rico, Sandy Malone has helped countless couples plan their big day since 2007. Here, the veteran planner is sharing some expert advice for free: She's sharing the top eight things you have to do right after you get engaged.

Is the idea of a big bridal bash just not your thing? Or perhaps you and your fiancé are just the super spontaneous type, so why not make your next beach vacation your nuptials as well? If you're thinking of eloping but have questions on the mind, we're here to help. We tapped elopement and wedding planner Lindsey Nickel, founder of Events, Etc., for her top dos and don'ts for getting hitched on the sly.

Easy everyday ways to keep the love alive.

Expert tips on moving past those oh-so-familiar arguments.

Sometimes you have to do things you don't want to do, like hang out with his lame friends. You're not always in the mood to nurse a beer silently while he and his boys argue about who's going to die next on "Game of Thrones" — but tomorrow he's sitting through a seven-girl brunch. So.

Why holding on to your partner's mistakes will end up hurting you.

A little extra effort, will power and research can help your marriage bloom well into old age.

These are the conversations all betrothed couples should take the time to have before they get hitched.

Brace yourself, this is uncomfortable.

There's nothing wrong with grabbing Italian food and alternating between watching action films and romantic comedies, but shaking up your going-out routine with an extreme date night can be the ultimate turn on and the best way to keep your relationship exciting.

This just in: Guys over 5'10" are twice as likely to stray.