True love stories: Couple remarries 30 years after divorce
If at first you don't succeed…
The Heart Beat is excited to introduce our new weekly feature, "True love stories." Each week, a couple with a truly amazing love story will be profiled. If you know a couple with a story worth sharing, please email us at msnlivingmail@micros​oft.com for a chance to be featured.
Divorce is usually the last chapter in a love story gone wrong. But that wasn't true for Robert Worthington and Bev Worsnop, a couple who decided to remarry 30 years after calling it quits.
The couple originally married when Bev was just sixteen years old. Although they were childhood sweethearts, the union only lasted five years.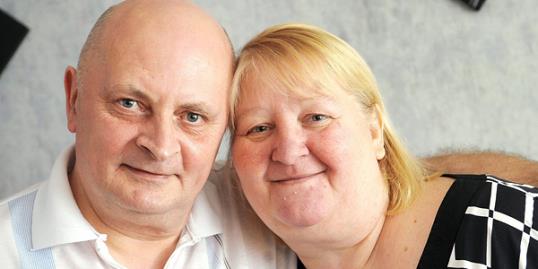 More on MSN Living: 12 things we learned about love in 2012
"We were married at the old Bolton Register Office in the town center and stayed together for five years," Bev told the Daily Mail. "I was only 16 and was pregnant, but we both felt we had been too young to get married. We wanted some freedom."
In the years that followed, Bev married again, and then divorced again. It was the couple's daughter, Kelly Worthington, who facilitated their reunion thirty years later.
More on MSN Living: 12 things that change about sex when you get married
"She'd grown up living with me, but wanted to make contact with [her father]. So I left a note at his home just under two years ago, saying Kelly wanted to get in touch with him."
Bev and Robert lived near each other in Greater Manchester, United Kingdom. After Kelly decided she wanted to meet her father, the spark that first brought the childhood sweethearts together was reignited. The two decided to remarry earlier this month, and their daughter, now 32, was a bridesmaid.
Bing: All sorts of love in the news.
"Kelly is now over the moon," Bev said. "There's a lot of catching up for us all to do."
Here's wishing the couple all the best on their second time around.
Photo: Nigel Taggart/Cascade News
More from The Heart Beat:
Childhood romance rekindled 40 years later
Is online dating causing divorce rates to rise?
Couple marries amid monsoon
love: friendships, dating, sex & marriage
The holiday season, with all its twinkly lights and fireplaces and cold nights perfect for snuggling, is most definitely for lovers—but "The Single Woman" author Mandy Hale is here to remind you that it's also for singles, too.

Studies show that being satisfied with your romantic relationship is one of the best predictors of happiness -- even more important than education, income, or having a high-status job. Resolve to make 2014 your happiest year yet with these bond-strengthening pledges.

This winter, it's all about mixing unexpected seasonal elements with elegant neutral details and a hint of sparkle and sequins. Take a look.

Here's why dudes without hair make the best boyfriends.

What do you wish you appreciated more when you were flying solo?

"If you're so busy tweeting and Instagraming, you're not paying attention," New York wedding planner Marcy Blum said. "It's almost a cosmic faux pas. People want your energy with them and focused on what they're doing."

The wedding favor, that little thank-you-for-coming gift, has risen to new heights with the bride and groom giving guests a wide range of favors that are meaningful to them.

Generations ago, planning a wedding was 100 percent the bride's job, but in today's age of gender equity, it's a mere 99 percent.

For all the self-help books and advice columns out there (um, keeping reading my advice anyway, please!), there's one tool we all already have in our arsenal for picking a partner that will keep us happy: our gut instincts.

According to a new study from the University of Texas and the University of California, Los Angeles, both men and women have regrets when it comes to sex, but the genders vary greatly when it comes to what they regret specifically.

Spending time alone with your guy is easy, but going public with your plus-one is another thing entirely. Whether it's your crazy relatives at Thanksgiving dinner or awkward convos with your boss at the holiday party, possible pitfalls are everywhere. Keep reading for tips on how to make his grand entrance into your social life a good thing.

Match.com survey reveals the day you're least likely to get spruced up for a date.