Heavy stubble is most attractive to women
Scruff? Goatees? Soul patch?! We asked ladies for their input on the subject.
Even though we don't have it, women certainly have some very strong opinions about facial hair. So strong, in fact, that certain facial hair can make or break a guy's shot at even a first date with a woman. Personally, unless it's Walter White, of course, I think goatees should be banned. Yes, they were cool once, but that was for a hot minute in the '90s and, if we've learned anything from the '90s, it was a bad time for style — even for facial hair.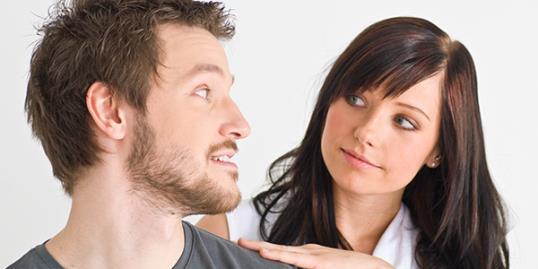 More from Your Tango: 25 Date Night Ideas That Aren't Cheesy
Although the full-beard trend is currently alive and well, research covered in the journal "Evolution & Human Behavior" found that it's actually stubble, or more specifically heavy stubble (which takes 10 days of living a razor-free life), that has women swooning the most. We're not talking about a mere five o'clock shadow, but rather a six o'clock one, and maybe even a six-forty-five one.
While science may have its version of things, it doesn't speak for all women. From scruff to goatees, to mustaches, to the oh-so passé soul patch, to thick chops, to a full beard, to even the chinstrap which, in my humble opinion should be outlawed, we asked ladies for their input on the hot (and hairy) topic.
More from Your Tango: Beauty Secrets: The Tricks Celebrities Don't Want You To Know
The solo mustache, sans a beard to go with it, is likely to put you in the molester category, FYI:
"Very, VERY few men can rock a mustache without looking [creepy]. Actually, no man can at all," says Tamara, 36.
"Mustaches make me think of two things: hipsters trying to be cool, and Terry Richardson," says Jo, 29.
However, despite the popularity of beards on boys lately, ladies also seem to have some standards for the "perfect" beards:
"A beard done well is excellent. A bad beard is worse than no beard at all. Unfortunately, my husband is Irish and grows this patchy thing. It can be groomed into a nice goatee thing, but will never be a full, luxurious beard," says Lena, 29.
"I like a good beard. That's it. Everything else should go," says Fallon, 24.
"My preference for a full beard is it not being styled AT ALL. I even like when it grows down to the neck. So, a homeless beard basically? I'm into homeless guys?" says Amanda, 27.
But what about goatees, soul patches and chin straps? It wasn't pretty, as you'll see:
Amanda, from above, continued her input on the matter: "No to goatee, NO to soul patch, NO to chin strap!"
As did Tamara: "No goatee, no soul patch, no chin strap. If you are too lazy to shave and look presentable, then why should I shave my arm pits and legs?"
"Can we say snake oil salesman? No thanks!" says Sharon, 39.
And as for that heavy stubble that scientists claim we love so much?
"He needs to look rough and tough, but I don't want rough and tough my face," says Stephanie, 24.
"It's hard to say. I love the look of being recently ravaged, but I definitely don't want it to look like I just had a chemical peel," says Tricia, 33.
What do you think of facial hair? Tell us your thoughts in the comments below.
More from Your Tango:
15 Funny Quotes About Sex From Famous Women We Love
Your Most Embarrassing Hair Removal Questions -- Answered!
Hair Color Ideas: Is A New Hue The Way To His Heart?
Subscribe to The Heart Beat | Friend us on Facebook, follow us on Twitter and find us on Pinterest

Photo: ​TheBiggles/Getty Images

Wow "Unknown Infidel".. I think you just stereotyped us females into one category!
I, myself, am a 46 yr old single mom.  I raised my daughter, who is now 20, and also my nephew who is now 26 (because his dad, my brother, passed when he was 8 and his mom not "mom materiel") by myself. (By the way, my nephew will graduate soon as a Physician's Assistant.)  I lost my daughter's dad when she was 15 mths old and waited 5 years to remarry a man much older than myself, only to divorce 3 years later because he could seem to comprehend the concept of marriage but wanted to practice the consumation part with his longtime hairdresser (petite, blonde).  I have worked my primary job for 25+ years and at times have worked up to 3 jobs in order to provide a place for my children as well as food in their stomachs.  I have also put myself thru college for two degrees.  So, do I want a 25-35 year old, chiseled body, 6 figure income, huge house, hot sports car guy?  Not only no, but HELL no!  Why would I want to raise another child that most likely has an ego the size of Texas and has no concept of personal accountability as well as no logical sense or ability to carry on an intelligent conversation at anytime?  Why would I want THAT?   I was raised with 3 older brothers and a dad that believed that all both girls and boys should have interchangeable male/female life skills (change a tire; cook; clean; iron; change the oil; wire an electrical outlet, etc.)  I can do what I need to do or, if I can't, I do know how to find someone, or call someone, or  pay someone a reasonable price, to get it done.  WHY do I need a man to cause me stress if he can't add intrinsic/practical value to the relationship?  An individual should be in a relationship because they WANT to be, not because they NEED to be, whether it be physically or emotionally.
A relationship is give and take, yes, but, from both sides -- THAT is called compromise.
It doesn't matter what I do with my facial hair. No woman wants a battle scarred old veteran. They all seem to want a 25-35 year old, chiseled body, 6 figure income, huge house, hot sports car.

What do they bring to the game....100 or more pounds overweight, working minimum wage at best, mostly unemployed, 2 or more kids from different daddys that "are her whole life"...translate that into " I can wedge you in 10 minutes to spoil me a few times a month." But they aren't bringing anything really to the relationship. It's all take take, but no give.

Are you sure you want to delete this comment?
love: friendships, dating, sex & marriage
This time of year, we dust off our holiday traditions of special songs, stories, events and food to make our season bright. Here's a look into the traditional, unique and quirky holiday traditions of some famous couples.

Look, I looooove engagement season for obvious reasons, but even I can admit I'm like, "Really, AGAIN?" when yet ANOTHER engagement ring pops up in my news feed. Seriously, there were two this weekend. (Congrats, Gemma and Danny!)

We asked real men and women (and a few first-base experts, too) to give us the cardinal rules of kissing, tell us what makes someone a good kisser and more. So whether you're leaning in for kiss No. 1 or 1,000, read on.by Devin Tomb

Not quite sure which diamond shape suits your personality? We're here to help.

Dating can lead to all kinds of tricky situations. To help you navigate even the most awkward moments, we've compiled our 50 best dating tips—some new, some old—given to us by experts, moms, women like you, and even Justin Timberlake.

Customers as Madison's new Snuggle House can snuggle with professional cuddlers for $60 an hour.

Can you believe it was only about 15 years ago that engagement ring shopping meant a time-consuming slog from jewelry boutique to jewelry boutique? Thank goodness for the internet; nowadays, it's easy to do all that legwork online.

The holiday season, with all its twinkly lights and fireplaces and cold nights perfect for snuggling, is most definitely for lovers—but "The Single Woman" author Mandy Hale is here to remind you that it's also for singles, too.

Studies show that being satisfied with your romantic relationship is one of the best predictors of happiness -- even more important than education, income, or having a high-status job. Resolve to make 2014 your happiest year yet with these bond-strengthening pledges.

This winter, it's all about mixing unexpected seasonal elements with elegant neutral details and a hint of sparkle and sequins. Take a look.

Here's why dudes without hair make the best boyfriends.

What do you wish you appreciated more when you were flying solo?