Kissing Robot Lets Long Distance Lovers Virtually Make Out
It's a brave new world—pucker up!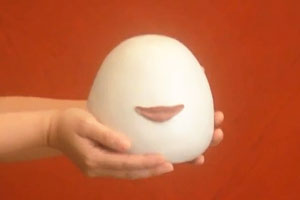 Long distance relationships aren't the complicated predictors of heartbreak they used to be. Thanks to online innovation, more couples than ever are having remote romances, where they can connect in real time, play games together, and even chat face-to-face. But these romances lack one big relationship advantage: physical intimacy.
That may be changing, however. Researchers recently revealed a new device that allows couples to engage in virtual make out sessions with each other. Sort of.
Dubbed "Kissenger," the device was unveiled at the Designing Interactive Systems conference in Newcastle, UK last month. Resembling a giant egg with lips, the prototype was created by Lovotics, a group of researchers studying human-to-robot relationships.
Here's how it works. Kissenger's lips contain pressure sensors that, when kissed, transmit your lip movements in real time over the web to your partner's device. Your partner then puckers up to his or her own Kissenger, and, voilá—you've gotten to first base. You didn't even have to leave the room—or the country!
A video describing the mechanics of Kissenger further explains:
"[Kissenger] is a mobile device consisting of artificial lips with highly sensitive sensors and actuators to control the lip's shape. This biodirectional, real time system replicates the physical lip pressure, position, shape and movement of both users' lips on the partner's device."
"People have found it a very positive way to improve intimacy in communications with their partners when they are apart," Dr. Hooman Samani of Lovotics told NewScientist.com.
There is, of course, the discomfort and potential creepiness of kissing a giant egg with a mouth. In the video, people take their eggs to coffee shops, where they engage in PDA with Kissenger. The extras in the video don't seem to notice, but I'm quite certain that in real life, this would draw some attention.
So where can you get one? Samani has no plans to commercialize Kissenger until "all the ethical and technical considerations are covered." He added, "I am not interested in sexual uses for it."
Good to know.
What do you think of Kissenger? Is it creepy or cool?
Photo: hmnasmn via YouTube, http://aka.ms/kissen​ger
More on love & sex from MSN Living:
25 Secrets Men Keep From Women
25 Secrets Women Keep From Men
The DOs and DON'Ts of Dating More Than One Guy at a Time
Are you sure you want to delete this comment?
love: friendships, dating, sex & marriage
After your return from your honeymoon, your marriage officially starts and with that come some changes. It's not to say that the honeymoon phase is over, but you'll have to get some things situated in order to have your marriage start off on the right foot. We tapped the expert advice of wedding planner and reality TV star David Tutera and love and career coach Charreah Jackson to dish on six things you must do to have a successful first month of marriage — from wedding-related logistics to wrap up to relationship rules to set.

Owner of Weddings in Vieques, a destination-wedding planning company off the coast of Puerto Rico, Sandy Malone has helped countless couples plan their big day since 2007. Here, the veteran planner is sharing some expert advice for free: She's sharing the top eight things you have to do right after you get engaged.

Is the idea of a big bridal bash just not your thing? Or perhaps you and your fiancé are just the super spontaneous type, so why not make your next beach vacation your nuptials as well? If you're thinking of eloping but have questions on the mind, we're here to help. We tapped elopement and wedding planner Lindsey Nickel, founder of Events, Etc., for her top dos and don'ts for getting hitched on the sly.

Easy everyday ways to keep the love alive.

Expert tips on moving past those oh-so-familiar arguments.

Sometimes you have to do things you don't want to do, like hang out with his lame friends. You're not always in the mood to nurse a beer silently while he and his boys argue about who's going to die next on "Game of Thrones" — but tomorrow he's sitting through a seven-girl brunch. So.

Why holding on to your partner's mistakes will end up hurting you.

A little extra effort, will power and research can help your marriage bloom well into old age.

These are the conversations all betrothed couples should take the time to have before they get hitched.

Brace yourself, this is uncomfortable.

There's nothing wrong with grabbing Italian food and alternating between watching action films and romantic comedies, but shaking up your going-out routine with an extreme date night can be the ultimate turn on and the best way to keep your relationship exciting.

This just in: Guys over 5'10" are twice as likely to stray.