Kissing Robot Lets Long Distance Lovers Virtually Make Out
It's a brave new world—pucker up!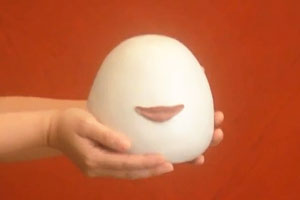 Long distance relationships aren't the complicated predictors of heartbreak they used to be. Thanks to online innovation, more couples than ever are having remote romances, where they can connect in real time, play games together, and even chat face-to-face. But these romances lack one big relationship advantage: physical intimacy.
That may be changing, however. Researchers recently revealed a new device that allows couples to engage in virtual make out sessions with each other. Sort of.
Dubbed "Kissenger," the device was unveiled at the Designing Interactive Systems conference in Newcastle, UK last month. Resembling a giant egg with lips, the prototype was created by Lovotics, a group of researchers studying human-to-robot relationships.
Here's how it works. Kissenger's lips contain pressure sensors that, when kissed, transmit your lip movements in real time over the web to your partner's device. Your partner then puckers up to his or her own Kissenger, and, voilá—you've gotten to first base. You didn't even have to leave the room—or the country!
A video describing the mechanics of Kissenger further explains:
"[Kissenger] is a mobile device consisting of artificial lips with highly sensitive sensors and actuators to control the lip's shape. This biodirectional, real time system replicates the physical lip pressure, position, shape and movement of both users' lips on the partner's device."
"People have found it a very positive way to improve intimacy in communications with their partners when they are apart," Dr. Hooman Samani of Lovotics told NewScientist.com.
There is, of course, the discomfort and potential creepiness of kissing a giant egg with a mouth. In the video, people take their eggs to coffee shops, where they engage in PDA with Kissenger. The extras in the video don't seem to notice, but I'm quite certain that in real life, this would draw some attention.
So where can you get one? Samani has no plans to commercialize Kissenger until "all the ethical and technical considerations are covered." He added, "I am not interested in sexual uses for it."
Good to know.
What do you think of Kissenger? Is it creepy or cool?
Photo: hmnasmn via YouTube, http://aka.ms/kissen​ger
More on love & sex from MSN Living:
25 Secrets Men Keep From Women
25 Secrets Women Keep From Men
The DOs and DON'Ts of Dating More Than One Guy at a Time
Are you sure you want to delete this comment?
love: friendships, dating, sex & marriage
A new study says we're more open to consensual non-monogamy now than ever before — but does it work?

5 steps to being happy together in the long run.

There has been an exponential increase in the number of people who are questioning their marriage.

We're willing to bet that if you're not already grappling with these wedding-related snags, you will be soon.

Pull out the tissues for these personalized wedding vows.

Forgotten what love is all about? Read this note, and remember.

And a few that aren't so shocking.

If you find yourself doing any of these things, consider changing your behavior or counseling.

From pineapple sculptures made out of sunflowers to bold graphic printed tablecloths, ten trendsetters in the wedding industry shared 100 days' worth of inspiring new wedding details. See The Knot editors' top picks for the coolest and most awe-worthy ideas from the wedding experts.

Those Facebook friends who seem to have perfect lives with flawless mates whom they adore at all times? Even they face tough times like these.

How to flag her little fibs. By Laura Tedesco

A new study on attraction may help explain why fashions change.