Kissing Robot Lets Long Distance Lovers Virtually Make Out
It's a brave new world—pucker up!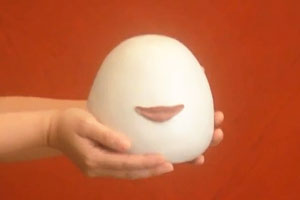 Long distance relationships aren't the complicated predictors of heartbreak they used to be. Thanks to online innovation, more couples than ever are having remote romances, where they can connect in real time, play games together, and even chat face-to-face. But these romances lack one big relationship advantage: physical intimacy.
That may be changing, however. Researchers recently revealed a new device that allows couples to engage in virtual make out sessions with each other. Sort of.
Dubbed "Kissenger," the device was unveiled at the Designing Interactive Systems conference in Newcastle, UK last month. Resembling a giant egg with lips, the prototype was created by Lovotics, a group of researchers studying human-to-robot relationships.
Here's how it works. Kissenger's lips contain pressure sensors that, when kissed, transmit your lip movements in real time over the web to your partner's device. Your partner then puckers up to his or her own Kissenger, and, voilá—you've gotten to first base. You didn't even have to leave the room—or the country!
A video describing the mechanics of Kissenger further explains:
"[Kissenger] is a mobile device consisting of artificial lips with highly sensitive sensors and actuators to control the lip's shape. This biodirectional, real time system replicates the physical lip pressure, position, shape and movement of both users' lips on the partner's device."
"People have found it a very positive way to improve intimacy in communications with their partners when they are apart," Dr. Hooman Samani of Lovotics told NewScientist.com.
There is, of course, the discomfort and potential creepiness of kissing a giant egg with a mouth. In the video, people take their eggs to coffee shops, where they engage in PDA with Kissenger. The extras in the video don't seem to notice, but I'm quite certain that in real life, this would draw some attention.
So where can you get one? Samani has no plans to commercialize Kissenger until "all the ethical and technical considerations are covered." He added, "I am not interested in sexual uses for it."
Good to know.
What do you think of Kissenger? Is it creepy or cool?
Photo: hmnasmn via YouTube, http://aka.ms/kissen​ger
More on love & sex from MSN Living:
25 Secrets Men Keep From Women
25 Secrets Women Keep From Men
The DOs and DON'Ts of Dating More Than One Guy at a Time
love: friendship, dating, sex & marriage
We've made picking your palette a breeze! Just find your favorite hue and choose one of the cool combos below.

Get inspired with these twelve ideas for a fantastic, fun summer wedding!

What's worse than getting snubbed while proposing? Having your heart broken in front of countless strangers.

Want your I do's to be totally you? From pre-wedding cocktails to Mad Lib vows, here are 25 ways to make your ceremony as unforgettable as your reception.

Summer love can be sweet. But it tends to be fast, feverish and often fleeting. In a season where emotions run hot, here are some rules to help avoid heartbreak.

We asked brides on TheKnot.com to tell all -- and they did. Here, five of the most likely culprits and advice for how to deal with your drama-causing guests along the way.

This short course in flirting will not only teach you how to flirt better but also how to tell when someone is flirting with you—and how to respond. Have fun.

Gatsby glamour doesn't have to just live on the big screen! Embrace the trendy (yet timeless) art deco style with sequins, pearls, feathers and geometric patterns. Check out these art deco ideas and achieve the feel of 1920s decadence. By the way, all of these are affordable, except for the $600 hairpiece which is a splurge, but a knockout. Shop the look!

Wondering if your summer love will last? Here are 15 signs if your seasonal love is fleeting or for real.

Sixteen years after "Titanic's" release—and 101 years after the historic ship's notorious sinking—our hearts still go on for star-crossed lovers Rose DeWitt Bukater (Kate Winslet) and Jack Dawson (Leonardo DiCaprio). We rounded up some of our favorite ill-fated, but oh-so-romantic affairs on film, from "Gone with the Wind" to "Moulin Rouge!".

Flirting shouldn't be retired once you've got the ring. We asked relationship expert Harlan Cohen, as well as real husbands, the best way to keep the sparks flying.

When we're annoyed by male behavior, we turn to columnist Aaron Traister. His logic may be strange, but we have to admit, it's pretty helpful. Here, he answers our many questions for guys.