Kissing Robot Lets Long Distance Lovers Virtually Make Out
It's a brave new world—pucker up!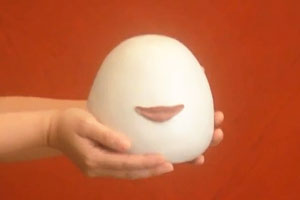 Long distance relationships aren't the complicated predictors of heartbreak they used to be. Thanks to online innovation, more couples than ever are having remote romances, where they can connect in real time, play games together, and even chat face-to-face. But these romances lack one big relationship advantage: physical intimacy.
That may be changing, however. Researchers recently revealed a new device that allows couples to engage in virtual make out sessions with each other. Sort of.
Dubbed "Kissenger," the device was unveiled at the Designing Interactive Systems conference in Newcastle, UK last month. Resembling a giant egg with lips, the prototype was created by Lovotics, a group of researchers studying human-to-robot relationships.
Here's how it works. Kissenger's lips contain pressure sensors that, when kissed, transmit your lip movements in real time over the web to your partner's device. Your partner then puckers up to his or her own Kissenger, and, voilá—you've gotten to first base. You didn't even have to leave the room—or the country!
A video describing the mechanics of Kissenger further explains:
"[Kissenger] is a mobile device consisting of artificial lips with highly sensitive sensors and actuators to control the lip's shape. This biodirectional, real time system replicates the physical lip pressure, position, shape and movement of both users' lips on the partner's device."
"People have found it a very positive way to improve intimacy in communications with their partners when they are apart," Dr. Hooman Samani of Lovotics told NewScientist.com.
There is, of course, the discomfort and potential creepiness of kissing a giant egg with a mouth. In the video, people take their eggs to coffee shops, where they engage in PDA with Kissenger. The extras in the video don't seem to notice, but I'm quite certain that in real life, this would draw some attention.
So where can you get one? Samani has no plans to commercialize Kissenger until "all the ethical and technical considerations are covered." He added, "I am not interested in sexual uses for it."
Good to know.
What do you think of Kissenger? Is it creepy or cool?
Photo: hmnasmn via YouTube, http://aka.ms/kissen​ger
More on love & sex from MSN Living:
25 Secrets Men Keep From Women
25 Secrets Women Keep From Men
The DOs and DON'Ts of Dating More Than One Guy at a Time
Are you sure you want to delete this comment?
love: friendships, dating, sex & marriage
This winter, it's all about mixing unexpected seasonal elements with elegant neutral details and a hint of sparkle and sequins. Take a look.

Here's why dudes without hair make the best boyfriends.

What do you wish you appreciated more when you were flying solo?

"If you're so busy tweeting and Instagraming, you're not paying attention," New York wedding planner Marcy Blum said. "It's almost a cosmic faux pas. People want your energy with them and focused on what they're doing."

The wedding favor, that little thank-you-for-coming gift, has risen to new heights with the bride and groom giving guests a wide range of favors that are meaningful to them.

Generations ago, planning a wedding was 100 percent the bride's job, but in today's age of gender equity, it's a mere 99 percent.

For all the self-help books and advice columns out there (um, keeping reading my advice anyway, please!), there's one tool we all already have in our arsenal for picking a partner that will keep us happy: our gut instincts.

According to a new study from the University of Texas and the University of California, Los Angeles, both men and women have regrets when it comes to sex, but the genders vary greatly when it comes to what they regret specifically.

Spending time alone with your guy is easy, but going public with your plus-one is another thing entirely. Whether it's your crazy relatives at Thanksgiving dinner or awkward convos with your boss at the holiday party, possible pitfalls are everywhere. Keep reading for tips on how to make his grand entrance into your social life a good thing.

Match.com survey reveals the day you're least likely to get spruced up for a date.

Drinking and relationships seem to go hand in hand in a lot of ways. But only in moderation!

Many men will tell you that they have no clue what their wives are thinking.