Restaurant leaves kind words for heartbroken customer
After her breakup, this woman received some inspiring words—on her takeout box.
Reddit user Icanteven721, real name Sam, was heartbroken. She placed an online to-go order at Los Angeles restaurant Truly Vegan, and in the "special instructions" section, she typed: "Please write something uplifting on the container, I just got dumped."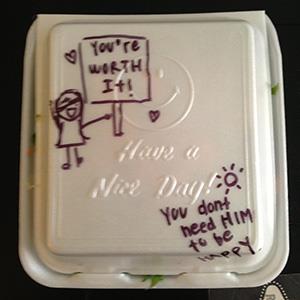 Gallery: 10 things you must do after a breakup
The restaurant responded by drawing a cartoon on Sam's takeout box, along with the words:
"You're worth it! You don't need him to be happy!"
Gallery: 20 ways to survive (and feel better) after a breakup
We foresee a good Yelp review. 
Sam told The Huffington Post:
"I was very very pleased with the result. I've kept the container. I look at it when I feel particularly down about this relationship, or when some other dude does some other stupid dude thing."
More from The Heart Beat: 
Facebook PDA linked to happier marriages
Map shows where all the single people live
Coffee shop lets customers pay with a kiss
love: friendships, dating, sex & marriage
The typical wedding: A white dress, tiered cake, floral centerpieces and a cute flower girl -- you know the drill. Every once in a while, though, a couple trades in tradition for a quirky, never-seen-that-before idea. Here are a few of the most out-there wedding photos that made us do a double take.

There's a lot to love about weddings this fall, like cocktails served in copper Moscow mule mugs, industrial-inspired lighting and pheasant feather details. See what's new!

Do you have to be engaged to sport a ring with bling?

124.6 million haven't gotten hitched.

Even though the national average wedding is $29,858, that's just an average. If you live in a smaller state like Idaho where the average wedding costs $16,159, you may find yourself saving a little more than half of the national spend! Check out some of the other least expensive cities to get married in below:

Summer is winding down, but the ubiquitous summer romance lives on.

For those times when nothing big and horrible happened--but nothing is feeling right either.

He's confident, distinguished and anywhere from 4 to 20 years older than you. Age is just a number, but there's something about older men that we love. Here are eight reasons why being in a relationship with an older man is tops.

While a younger man may have less life experience, that doesn't mean he's not emotionally mature. Here are the eight reasons why being in a relationship with a younger man is tops.

Have you ever wondered what the 'other woman' was thinking?

So fall is coming and you need some romantic inspiration now that long walks on the beach are out of the question. Well look no further! From apple picking to pumpkin carving, these are some great fall date ideas from girls just like you!

Getting bored of the same dinner and movie date night? Take an adorable cue from your favorite celebs and try something new! From dancing to boxing you can't go wrong with these awesome date ideas.