Restaurant leaves kind words for heartbroken customer
After her breakup, this woman received some inspiring words—on her takeout box.
Reddit user Icanteven721, real name Sam, was heartbroken. She placed an online to-go order at Los Angeles restaurant Truly Vegan, and in the "special instructions" section, she typed: "Please write something uplifting on the container, I just got dumped."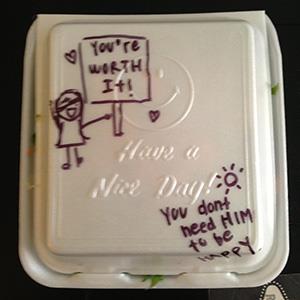 Gallery: 10 things you must do after a breakup
The restaurant responded by drawing a cartoon on Sam's takeout box, along with the words:
"You're worth it! You don't need him to be happy!"
Gallery: 20 ways to survive (and feel better) after a breakup
We foresee a good Yelp review. 
Sam told The Huffington Post:
"I was very very pleased with the result. I've kept the container. I look at it when I feel particularly down about this relationship, or when some other dude does some other stupid dude thing."
More from The Heart Beat: 
Facebook PDA linked to happier marriages
Map shows where all the single people live
Coffee shop lets customers pay with a kiss
love: friendships, dating, sex & marriage
While we do love crazy, funny and over-the-top engagements, sometimes there's just nothing like a proposal with a heartfelt story behind it (warning: you might need some tissues). We've rounded up some of the most romantic wedding proposals from couples across the country, so keep scrolling for seven of our favorites:

As much as you'd like to think your guests will love every single aspect of your wedding, the truth is you really can't please everyone. However, you can try to avoid ticking them off. Here's how.

You'd think brides and grooms who celebrate their nuptials with 50 guests have an equal shot at wedded bliss as those who invite 500, but apparently not.

Because some things are just better with a buddy (whom you happen to be dating).

They're smart, funny, and adorable, but are you a good match?

Fight the urge to sign her up for OkCupid and read this instead.

We know you have good intentions, but...please...stop.

You can't say we didn't warn you. Every month is Movember when you're dating a guy with a beard. And while the scruffy look can be hot, there are some very real, err, challenges that come with the territory. Don't believe us? Well…

Follow these steps to slash your wedding budget—not your fun—in half.

It won't all be cake and flowers, but it can be the best year of your life together so far.

Expert tips on moving past those oh-so-familiar arguments.