Op-ed: You don't need to find your husband in college
One woman's take on why university is not the only place to meet the man of your dreams.
Most girls dream of getting married. Some dedicate an entire Pinterest board to their future wedding before they even have a boyfriend (guilty as charged); others daydream about the day they'll meet their husband. But according to some, our days to have that fateful encounter are numbered.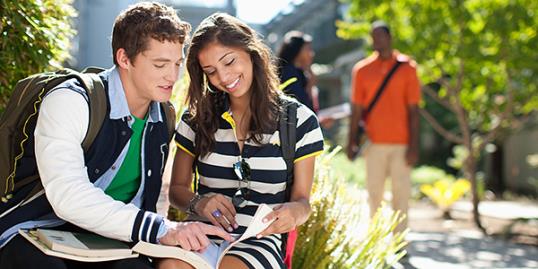 When Susan Patton, a guest contributor to The Daily Princetonian and president of Princeton University's class of 1977, told her audience that they should find their spouses before they graduate, many college women began to freak out.
"Does that mean my friend with benefits will become my husband?" "Am I deemed a lonely spinster before my life really begins?" Though Patton justifies her controversial claim with her sons' experiences, her argument is offensive and fails to recognize that restricting yourself to marrying your college beau has its set of drawbacks and limitations.
"Men regularly marry women who are younger, less intelligent, less educated," Patton argues. "It's amazing how forgiving men can be about a woman's lack of erudition, if she is exceptionally pretty."
Wait a second, so is Patton trying to say that we have to be pretty or somewhat inferior to get married? Perhaps she hasn't received the memo, but a little bit of personality goes a long way. Suggesting that guys would rather marry a girl with beauty over brains is degrading and fails to recognize that marriage should be much more than physical attraction.
So what does she mean?
"Simply put, there is a very limited population of men who are as smart or smarter than we are," Patton says. "And I say again: You will never again be surrounded by this concentration of men who are worthy of you."
We should take this as a compliment to an extent; however, her statement isn't entirely true. First of all, who is to say that intellect is the only thing that women look for in a spouse? Having a riveting conversation with your husband is important; however, Patton doesn't acknowledge that there are people who are "street smart" or didn't have the money to attend a top-tier school.  And quite frankly, I'd rather be with a guy who is loyal and caring than a former classmate who isn't those things any day.
Though we might be OK with a spouse who isn't as smart as we are, Patton also argues that men may not want to "marry up." A powerful and intelligent woman does sound intimidating; however, Patton is also forgetting that there are college men at equally prestigious schools who are "worthy of you." Though it seems like ages ago, we did apply to a bevy of schools that matched our test scores and GPA.  So unless all the heterosexual male students from those schools found true love in college, which is unlikely, there will be single guys who are "just as smart or smarter than we are" out there after graduation.
With a world of eligible bachelors to choose from, why should we narrow our choices down to the boys who grace our own campus's quad? Once you graduate, you'll have so many opportunities to meet guys: work, graduate school, post-work cocktails and your friends, just to name a few.
From a statistical standpoint, young married couples are the underdogs.
Clark University's Poll of Emerging Adults found that 86 percent of young adults in America expect their marriage to last a lifetime. Though the idea of a college sweetheart is endearing, there's a big chance you will not live happily ever after. While The Huffington Post reports that the national divorce rate is declining, more young couples are divorcing. According to the National Center for Health Statistics, 60 percent of American couples who marry between 20 and 25 [years old] eventually divorce. That doesn't scream matrimonial bliss to me.
Read the rest of the op-ed on Her Campus here.
More from HerCampus.com:
7 signs he's never going to commit
7 scientifically proven ways to make him fall for you
Photo: College couple / Paul Bradbury/Getty Images
love: friendships, dating, sex & marriage
Should little girls be dreaming of a different kind of "I do"?

Tall Twitter users named Wayne, we're on to you!

After your return from your honeymoon, your marriage officially starts and with that come some changes. It's not to say that the honeymoon phase is over, but you'll have to get some things situated in order to have your marriage start off on the right foot. We tapped the expert advice of wedding planner and reality TV star David Tutera and love and career coach Charreah Jackson to dish on six things you must do to have a successful first month of marriage — from wedding-related logistics to wrap up to relationship rules to set.

Owner of Weddings in Vieques, a destination-wedding planning company off the coast of Puerto Rico, Sandy Malone has helped countless couples plan their big day since 2007. Here, the veteran planner is sharing some expert advice for free: She's sharing the top eight things you have to do right after you get engaged.

Is the idea of a big bridal bash just not your thing? Or perhaps you and your fiancé are just the super spontaneous type, so why not make your next beach vacation your nuptials as well? If you're thinking of eloping but have questions on the mind, we're here to help. We tapped elopement and wedding planner Lindsey Nickel, founder of Events, Etc., for her top dos and don'ts for getting hitched on the sly.

Easy everyday ways to keep the love alive.

Expert tips on moving past those oh-so-familiar arguments.

Sometimes you have to do things you don't want to do, like hang out with his lame friends. You're not always in the mood to nurse a beer silently while he and his boys argue about who's going to die next on "Game of Thrones" — but tomorrow he's sitting through a seven-girl brunch. So.

Why holding on to your partner's mistakes will end up hurting you.

A little extra effort, will power and research can help your marriage bloom well into old age.

These are the conversations all betrothed couples should take the time to have before they get hitched.

Brace yourself, this is uncomfortable.