Op-ed: You don't need to find your husband in college
One woman's take on why university is not the only place to meet the man of your dreams.
Most girls dream of getting married. Some dedicate an entire Pinterest board to their future wedding before they even have a boyfriend (guilty as charged); others daydream about the day they'll meet their husband. But according to some, our days to have that fateful encounter are numbered.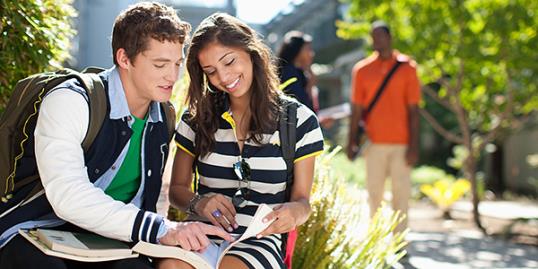 When Susan Patton, a guest contributor to The Daily Princetonian and president of Princeton University's class of 1977, told her audience that they should find their spouses before they graduate, many college women began to freak out.
"Does that mean my friend with benefits will become my husband?" "Am I deemed a lonely spinster before my life really begins?" Though Patton justifies her controversial claim with her sons' experiences, her argument is offensive and fails to recognize that restricting yourself to marrying your college beau has its set of drawbacks and limitations.
"Men regularly marry women who are younger, less intelligent, less educated," Patton argues. "It's amazing how forgiving men can be about a woman's lack of erudition, if she is exceptionally pretty."
Wait a second, so is Patton trying to say that we have to be pretty or somewhat inferior to get married? Perhaps she hasn't received the memo, but a little bit of personality goes a long way. Suggesting that guys would rather marry a girl with beauty over brains is degrading and fails to recognize that marriage should be much more than physical attraction.
So what does she mean?
"Simply put, there is a very limited population of men who are as smart or smarter than we are," Patton says. "And I say again: You will never again be surrounded by this concentration of men who are worthy of you."
We should take this as a compliment to an extent; however, her statement isn't entirely true. First of all, who is to say that intellect is the only thing that women look for in a spouse? Having a riveting conversation with your husband is important; however, Patton doesn't acknowledge that there are people who are "street smart" or didn't have the money to attend a top-tier school.  And quite frankly, I'd rather be with a guy who is loyal and caring than a former classmate who isn't those things any day.
Though we might be OK with a spouse who isn't as smart as we are, Patton also argues that men may not want to "marry up." A powerful and intelligent woman does sound intimidating; however, Patton is also forgetting that there are college men at equally prestigious schools who are "worthy of you." Though it seems like ages ago, we did apply to a bevy of schools that matched our test scores and GPA.  So unless all the heterosexual male students from those schools found true love in college, which is unlikely, there will be single guys who are "just as smart or smarter than we are" out there after graduation.
With a world of eligible bachelors to choose from, why should we narrow our choices down to the boys who grace our own campus's quad? Once you graduate, you'll have so many opportunities to meet guys: work, graduate school, post-work cocktails and your friends, just to name a few.
From a statistical standpoint, young married couples are the underdogs.
Clark University's Poll of Emerging Adults found that 86 percent of young adults in America expect their marriage to last a lifetime. Though the idea of a college sweetheart is endearing, there's a big chance you will not live happily ever after. While The Huffington Post reports that the national divorce rate is declining, more young couples are divorcing. According to the National Center for Health Statistics, 60 percent of American couples who marry between 20 and 25 [years old] eventually divorce. That doesn't scream matrimonial bliss to me.
Read the rest of the op-ed on Her Campus here.
More from HerCampus.com:
7 signs he's never going to commit
7 scientifically proven ways to make him fall for you
Photo: College couple / Paul Bradbury/Getty Images
love: friendships, dating, sex & marriage
Revealr is a new iPhone app that allows those looking for love to hear their possible matches before they see them.

A new poll reveals 59 percent of the country supports same-sex marriage.

Celebrity engagements are so much fun to follow because every detail is bound to be over-the-top — from the proposal (like when Kanye rented out an entire stadium to propose to Kim) to the huge, sparkly engagement ring and, of course, the wedding. Plus, as trendsetters, celebs can be a source of inspiration even if you can't afford a million dollar ring. Here are our celebrity wedding predictions for 2014.

If you've ever been to a club—like, ever, even once—you are not going to be shocked to hear that women get a lot of unwanted, aggressive attention. But when you read the findings of this study on how often and why it happens, it might make you feel downright sick to your stomach.

Hopeless romantics and cringe-worthy chick flicks would tell you that it doesn't matter what you do on the date, as long as you're together. But they're wrong. Dead wrong. Women use your date ideas to size you up, says matchmaker Rachel DeAlto, author of "Flirt Fearlessly." "You absolutely will be judged based on the date you plan. There are so many subconscious impressions that we take in while dating." Gulp. Here are 10 terrible ideas that can land you on the no-lay list—and simple swaps to keep her happy. By K. Aleisha Fetters

No matter your current relationship status or past relationship fails, get a fresh start this month, with these tips for spring cleaning your love life.

Forget the rules you've always heard—it's time to start making your own.

Are you in an affair without knowing it? Unless you're a swinger, having sex with someone else counts as cheating. But then there's the fuzzy area between friendship and infidelity—and chances are, your girlfriend sees those shades of gray as more black and white than you do. "Men aren't as attuned to identifying ambiguous behaviors as cheating as women are," says Daniel Kruger, Ph.D., a University of Michigan psychologist, who's studied gender differences in definitions of infidelity. In other words, what you consider totally innocent could be her deal breaker.

We spoke with relationship therapist Rachel A. Sussman, author of "The Breakup Bible," for her tips on how regular girls can survive a split like an A-lister.

A researcher from Texas Tech University has found that people who use the same kind of "function words" are more likely to get together.

Check out these five celebrity stunners.

And by weird, we really mean friggin' awesome.