Op-ed: You don't need to find your husband in college
One woman's take on why university is not the only place to meet the man of your dreams.
Most girls dream of getting married. Some dedicate an entire Pinterest board to their future wedding before they even have a boyfriend (guilty as charged); others daydream about the day they'll meet their husband. But according to some, our days to have that fateful encounter are numbered.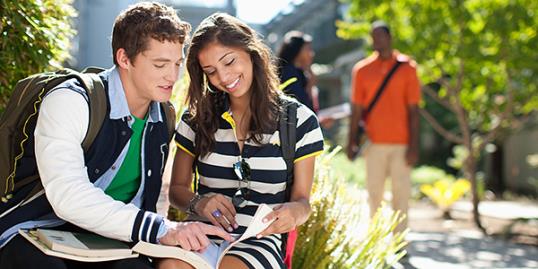 When Susan Patton, a guest contributor to The Daily Princetonian and president of Princeton University's class of 1977, told her audience that they should find their spouses before they graduate, many college women began to freak out.
"Does that mean my friend with benefits will become my husband?" "Am I deemed a lonely spinster before my life really begins?" Though Patton justifies her controversial claim with her sons' experiences, her argument is offensive and fails to recognize that restricting yourself to marrying your college beau has its set of drawbacks and limitations.
"Men regularly marry women who are younger, less intelligent, less educated," Patton argues. "It's amazing how forgiving men can be about a woman's lack of erudition, if she is exceptionally pretty."
Wait a second, so is Patton trying to say that we have to be pretty or somewhat inferior to get married? Perhaps she hasn't received the memo, but a little bit of personality goes a long way. Suggesting that guys would rather marry a girl with beauty over brains is degrading and fails to recognize that marriage should be much more than physical attraction.
So what does she mean?
"Simply put, there is a very limited population of men who are as smart or smarter than we are," Patton says. "And I say again: You will never again be surrounded by this concentration of men who are worthy of you."
We should take this as a compliment to an extent; however, her statement isn't entirely true. First of all, who is to say that intellect is the only thing that women look for in a spouse? Having a riveting conversation with your husband is important; however, Patton doesn't acknowledge that there are people who are "street smart" or didn't have the money to attend a top-tier school.  And quite frankly, I'd rather be with a guy who is loyal and caring than a former classmate who isn't those things any day.
Though we might be OK with a spouse who isn't as smart as we are, Patton also argues that men may not want to "marry up." A powerful and intelligent woman does sound intimidating; however, Patton is also forgetting that there are college men at equally prestigious schools who are "worthy of you." Though it seems like ages ago, we did apply to a bevy of schools that matched our test scores and GPA.  So unless all the heterosexual male students from those schools found true love in college, which is unlikely, there will be single guys who are "just as smart or smarter than we are" out there after graduation.
With a world of eligible bachelors to choose from, why should we narrow our choices down to the boys who grace our own campus's quad? Once you graduate, you'll have so many opportunities to meet guys: work, graduate school, post-work cocktails and your friends, just to name a few.
From a statistical standpoint, young married couples are the underdogs.
Clark University's Poll of Emerging Adults found that 86 percent of young adults in America expect their marriage to last a lifetime. Though the idea of a college sweetheart is endearing, there's a big chance you will not live happily ever after. While The Huffington Post reports that the national divorce rate is declining, more young couples are divorcing. According to the National Center for Health Statistics, 60 percent of American couples who marry between 20 and 25 [years old] eventually divorce. That doesn't scream matrimonial bliss to me.
Read the rest of the op-ed on Her Campus here.
More from HerCampus.com:
7 signs he's never going to commit
7 scientifically proven ways to make him fall for you
Photo: College couple / Paul Bradbury/Getty Images
love: friendships, dating, sex & marriage
As a general rule, any island that offers great weather year-round is going to attract the most visitors in the winter (high season) when we're all trying to escape the snow. Once summer rolls around, many islands see a sharp drop-off in tourism since many people have beach weather right in their own backyards.

And how you can attack the issues together.

A wedding is an exceptionally special day. Sometimes, an opportune photo flub makes the occasion even more memorable. Here are 25 awesome wedding photo bombs.

Somewhere between the first few butterfly-inducing dates and the committed-for-life stage, there's the period of wondering if you're both on the same page about how serious you feel about a future together. If you're not quite at the point of "that talk" but you're looking for a few clues you're heading in that direction, here are some signs he's in it for the long haul as your relationship progresses.

What's that sound? It's white noise blocking out the well-meaning person proclaiming groundbreaking news about where you can meet someone, asking why you're still single, or bugging you about when you're getting married already. Don't be that person. Here are 15 annoying things all single people don't want to hear.

With just a few days left before the big day, you already have a mile-long checklist of to-dos—now meet the don'ts! From impromptu skin treatments to all-night movie marathons, here are 11 things to avoid at all costs.

A new study shows that watching and discussing romantic films can drastically reduce your chance of divorce. These flicks more than fit the bill.

These seemingly innocent phrases still have the power to wound… big time.

Making "I do" last forever is one of the biggest challenges you'll ever face—and it's normal to worry about how you'll do it. But, if your connection involves any of these things, rest assured that you're in it for the long run.

Ultimately, as hard as it may seem at the beginning, a marital affair can be a turning point.

Five months after the Boston Marathon bombing, The Knot reached out to Rebekah Gregory and Pete DiMartino and offered to throw them a dream wedding. They said yes, and on April 4, 2014, the two married at the Biltmore Estate in Asheville, North Carolina. Rebekah and Pete exchanged vows on the tennis lawn amidst the cherry tree blossoms and then celebrated with all of their friends and family at a beautiful reception tent right in front of the estate. All of the details were perfectly executed by a team of talented and generous wedding industry pros, including celebrity wedding planner Marcy Blum. Here, a few highlights from Rebekah and Pete's wedding day.

Your wedding is your special day, but you want to keep your guests happy, too. Here are 20 typical wedding guest complaints and what you can do about them.