Where are America's least faithful cities?
Extra-marital affairs are more common in some cities than others, according to an annual report.
For the second year in a row, Washington D.C. has been named the country's most infidelity-prone city.
AshleyMadison.com is a dating website for married people looking to cheat. "You only live once," is their motto, followed by, "have an affair." As you can imagine, the site is no stranger to criticism, and they've released another controversial report: their annual list of "Americas Least Faithful Cities." Based on user data collected on their site, they found that our nation's capital is indeed our country's least faithful city.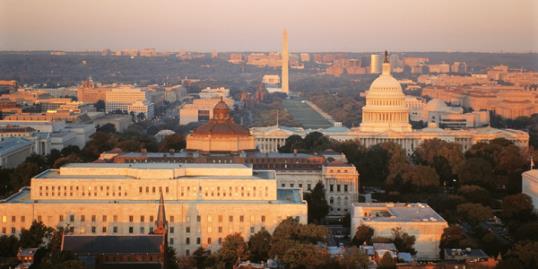 More on MSN Living: 10 tips for a sexy and romantic Valentine's Day
Washington D.C. had the highest number of AshleyMadison members per capita last year—with 34,157 new users. Apparently, Texans also have cheating on their minds. Austin and Houston came in second and third on the list.
"With enormous public attention paid to political cheating scandals this year, including the Gen. Petraeus affair, there was no doubt that Washington residents would be influenced," founder Noel Biderman said in a press release. "Living in D.C., it's crucial to keep up appearances and therefore adultery has become a way of life for many of the city's most powerful residents." 
More on MSN Living: Best Valentine's Day gifts on Pinterest
Biderman also found that the day after Valentine's Day is his site's busiest day of the year. In 2012, they had a 439 percent increase in membership sign-ups.
So where else does infidelity prevail?
  Top 10 Least Faithful Cities, according to AshleyMadison.com:
Washington, D.C.

Austin

Houston

Miami 

Oklahoma City, Okla.

Richmond, Va.

Boston

Lincoln, Neb.

Philadelphia

Phoenix, Aiz.

More from The Heart Beat:
Romance fades three and a half years into marriage
New wedding trend: The anti-invite
China's 'fake-marriage market' a growing trend
Love content like this? Friend us on Facebook, follow us on Twitter and find us on Pinterest.
Photo: Cameron Davidson/Getty Images
love: friendships, dating, sex & marriage
Pheromones may be the key to finding your perfect match.

Her partner? Wine? Downtime? Find out where it all ranks.

This time of year, we dust off our holiday traditions of special songs, stories, events and food to make our season bright. Here's a look into the traditional, unique and quirky holiday traditions of some famous couples.

Look, I looooove engagement season for obvious reasons, but even I can admit I'm like, "Really, AGAIN?" when yet ANOTHER engagement ring pops up in my news feed. Seriously, there were two this weekend. (Congrats, Gemma and Danny!)

We asked real men and women (and a few first-base experts, too) to give us the cardinal rules of kissing, tell us what makes someone a good kisser and more. So whether you're leaning in for kiss No. 1 or 1,000, read on.by Devin Tomb

Not quite sure which diamond shape suits your personality? We're here to help.

Dating can lead to all kinds of tricky situations. To help you navigate even the most awkward moments, we've compiled our 50 best dating tips—some new, some old—given to us by experts, moms, women like you, and even Justin Timberlake.

Customers as Madison's new Snuggle House can snuggle with professional cuddlers for $60 an hour.

Can you believe it was only about 15 years ago that engagement ring shopping meant a time-consuming slog from jewelry boutique to jewelry boutique? Thank goodness for the internet; nowadays, it's easy to do all that legwork online.

The holiday season, with all its twinkly lights and fireplaces and cold nights perfect for snuggling, is most definitely for lovers—but "The Single Woman" author Mandy Hale is here to remind you that it's also for singles, too.

Studies show that being satisfied with your romantic relationship is one of the best predictors of happiness -- even more important than education, income, or having a high-status job. Resolve to make 2014 your happiest year yet with these bond-strengthening pledges.

This winter, it's all about mixing unexpected seasonal elements with elegant neutral details and a hint of sparkle and sequins. Take a look.