Where are America's least faithful cities?
Extra-marital affairs are more common in some cities than others, according to an annual report.
For the second year in a row, Washington D.C. has been named the country's most infidelity-prone city.
AshleyMadison.com is a dating website for married people looking to cheat. "You only live once," is their motto, followed by, "have an affair." As you can imagine, the site is no stranger to criticism, and they've released another controversial report: their annual list of "Americas Least Faithful Cities." Based on user data collected on their site, they found that our nation's capital is indeed our country's least faithful city.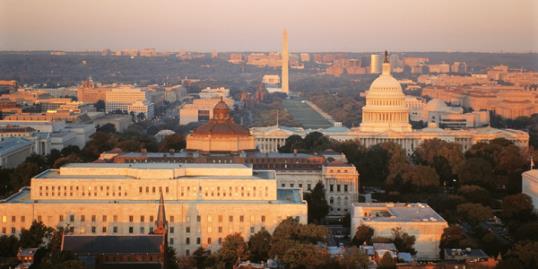 More on MSN Living: 10 tips for a sexy and romantic Valentine's Day
Washington D.C. had the highest number of AshleyMadison members per capita last year—with 34,157 new users. Apparently, Texans also have cheating on their minds. Austin and Houston came in second and third on the list.
"With enormous public attention paid to political cheating scandals this year, including the Gen. Petraeus affair, there was no doubt that Washington residents would be influenced," founder Noel Biderman said in a press release. "Living in D.C., it's crucial to keep up appearances and therefore adultery has become a way of life for many of the city's most powerful residents." 
More on MSN Living: Best Valentine's Day gifts on Pinterest
Biderman also found that the day after Valentine's Day is his site's busiest day of the year. In 2012, they had a 439 percent increase in membership sign-ups.
So where else does infidelity prevail?
  Top 10 Least Faithful Cities, according to AshleyMadison.com:
Washington, D.C.

Austin

Houston

Miami 

Oklahoma City, Okla.

Richmond, Va.

Boston

Lincoln, Neb.

Philadelphia

Phoenix, Aiz.

More from The Heart Beat:
Romance fades three and a half years into marriage
New wedding trend: The anti-invite
China's 'fake-marriage market' a growing trend
Love content like this? Friend us on Facebook, follow us on Twitter and find us on Pinterest.
Photo: Cameron Davidson/Getty Images
love: friendships, dating, sex & marriage
Lesson learned: don't be afraid to shake things up!

Plus, what to do if you're experiencing a dry spell.

To go Dutch or not to go Dutch? Turns out, it's really not that simple.

While the national average wedding cost may be $29,858, if you live in a larger city, like Manhattan where the average wedding costs $86,916, you may find yourself spending close to triple of that number! Take a look at some of the other most expensive places in America to get married.

Happy spring! Luckily, the weather here in New York is fairly warm and beautifully sunny, so I'm totally feeling that start of the season buzz. You know, when you want to walk outside for hours and then reorganize your entire closet by getting rid of all your stupid snow boots and sweaters immediately?

The American Civil Liberties Union's primary work is litigation, but this month it's moonlighting as a wedding planner as part of its role in the campaign to legalize same-sex marriage nationwide.