Where are America's least faithful cities?
Extra-marital affairs are more common in some cities than others, according to an annual report.
For the second year in a row, Washington D.C. has been named the country's most infidelity-prone city.
AshleyMadison.com is a dating website for married people looking to cheat. "You only live once," is their motto, followed by, "have an affair." As you can imagine, the site is no stranger to criticism, and they've released another controversial report: their annual list of "Americas Least Faithful Cities." Based on user data collected on their site, they found that our nation's capital is indeed our country's least faithful city.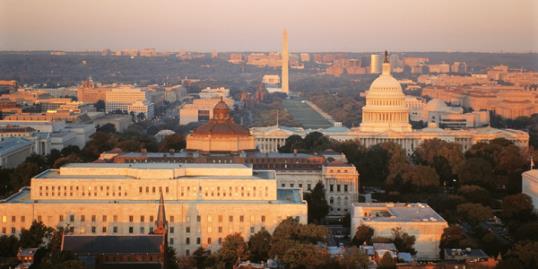 More on MSN Living: 10 tips for a sexy and romantic Valentine's Day
Washington D.C. had the highest number of AshleyMadison members per capita last year—with 34,157 new users. Apparently, Texans also have cheating on their minds. Austin and Houston came in second and third on the list.
"With enormous public attention paid to political cheating scandals this year, including the Gen. Petraeus affair, there was no doubt that Washington residents would be influenced," founder Noel Biderman said in a press release. "Living in D.C., it's crucial to keep up appearances and therefore adultery has become a way of life for many of the city's most powerful residents." 
More on MSN Living: Best Valentine's Day gifts on Pinterest
Biderman also found that the day after Valentine's Day is his site's busiest day of the year. In 2012, they had a 439 percent increase in membership sign-ups.
So where else does infidelity prevail?
  Top 10 Least Faithful Cities, according to AshleyMadison.com:
Washington, D.C.

Austin

Houston

Miami 

Oklahoma City, Okla.

Richmond, Va.

Boston

Lincoln, Neb.

Philadelphia

Phoenix, Aiz.

More from The Heart Beat:
Romance fades three and a half years into marriage
New wedding trend: The anti-invite
China's 'fake-marriage market' a growing trend
Love content like this? Friend us on Facebook, follow us on Twitter and find us on Pinterest.
Photo: Cameron Davidson/Getty Images
love: friendships, dating, sex & marriage
Five months after the Boston Marathon bombing, The Knot reached out to Rebekah Gregory and Pete DiMartino and offered to throw them a dream wedding. They said yes, and on April 4, 2014, the two married at the Biltmore Estate in Asheville, North Carolina. Rebekah and Pete exchanged vows on the tennis lawn amidst the cherry tree blossoms and then celebrated with all of their friends and family at a beautiful reception tent right in front of the estate. All of the details were perfectly executed by a team of talented and generous wedding industry pros, including celebrity wedding planner Marcy Blum. Here, a few highlights from Rebekah and Pete's wedding day.

Your wedding is your special day, but you want to keep your guests happy, too. Here are 20 typical wedding guest complaints and what you can do about them.

Study finds that early birds get the long-term relationships.

Receptions would take place near where raw sewage is processed.

We don't think this one can be topped.

Studies show the lesbian divorce rate is astronomical. Find out why - and how to avoid it.

Plus, four more real-life reasons to not incorporate a hot air balloon into your engagement.

We searched far and wide to find some of the most creative gifts for the first 10 years of marriage—complete with a few fun, personalized ideas for celebrating your love.

Marriage is a beautiful thing, but it's not always easy to stay on the same page. Here are 20 signs your marriage is in trouble and what you can do to fix it.

Today in unfortunately rhyming news: The more you tweet, the more you cheat.

We don't know these couples personally, but their public relationship personas can teach us a thing or two about love. Here are 25 of the best love lessons.

This short course in flirting will teach you not only how to flirt better but how to tell when someone is flirting with you—and how to respond. Have fun.