Where are America's least faithful cities?
Extra-marital affairs are more common in some cities than others, according to an annual report.
For the second year in a row, Washington D.C. has been named the country's most infidelity-prone city.
AshleyMadison.com is a dating website for married people looking to cheat. "You only live once," is their motto, followed by, "have an affair." As you can imagine, the site is no stranger to criticism, and they've released another controversial report: their annual list of "Americas Least Faithful Cities." Based on user data collected on their site, they found that our nation's capital is indeed our country's least faithful city.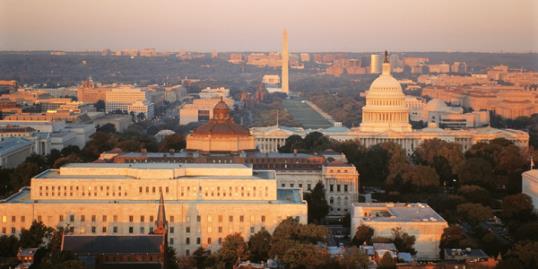 More on MSN Living: 10 tips for a sexy and romantic Valentine's Day
Washington D.C. had the highest number of AshleyMadison members per capita last year—with 34,157 new users. Apparently, Texans also have cheating on their minds. Austin and Houston came in second and third on the list.
"With enormous public attention paid to political cheating scandals this year, including the Gen. Petraeus affair, there was no doubt that Washington residents would be influenced," founder Noel Biderman said in a press release. "Living in D.C., it's crucial to keep up appearances and therefore adultery has become a way of life for many of the city's most powerful residents." 
More on MSN Living: Best Valentine's Day gifts on Pinterest
Biderman also found that the day after Valentine's Day is his site's busiest day of the year. In 2012, they had a 439 percent increase in membership sign-ups.
So where else does infidelity prevail?
  Top 10 Least Faithful Cities, according to AshleyMadison.com:
Washington, D.C.

Austin

Houston

Miami 

Oklahoma City, Okla.

Richmond, Va.

Boston

Lincoln, Neb.

Philadelphia

Phoenix, Aiz.

More from The Heart Beat:
Romance fades three and a half years into marriage
New wedding trend: The anti-invite
China's 'fake-marriage market' a growing trend
Love content like this? Friend us on Facebook, follow us on Twitter and find us on Pinterest.
Photo: Cameron Davidson/Getty Images
love: friendships, dating, sex & marriage
One minute you're happy and in love, the next he's delivering the "It's not you, it's me" speech. Why? We have the scoop on the real reasons most couples split up.

Want to keep your wedding budget in check? Start by checking out this list of the 10 things that could end up costing you a lot more than you anticipated.

Brace yourself, this is uncomfortable.

The proposal-filled site How He Asked has shared its top 10 most emotional proposal photos with us, so have your tissues handy. We're suckers for a good proposal story, and these ones are truly tear-worthy. Check them out now, and watch your heart grow (at least) three sizes!

How to do weddings: Yet another foreign (and expensive) aspect of adulthood that you have to learn the hard way. But have no fear! Click through for some must-have wedding tips.

As part of the 2014 Brides Best Honeymoon awards, we're counting down the best places for newlyweds to stay in the Mainland U.S. From luxe resorts in the Napa Valley to hotel oases in the Sedona Desert, you're guaranteed a memorable stay no matter which resort you choose.

These are the conversations all betrothed coupled should take the time to have before they get hitched.

For him they're NBD, so don't stress.

It's not always easy to speak up about the little—or big—things that bother you about your marriage, but some of this stuff may be on his mind.

It's not really about what happens, but how you react to what happens.

Etta James is No. 1 on Spotify ranking.

These secluded vacation rentals promise plenty of peace and quiet.