Where are America's least faithful cities?
Extra-marital affairs are more common in some cities than others, according to an annual report.
For the second year in a row, Washington D.C. has been named the country's most infidelity-prone city.
AshleyMadison.com is a dating website for married people looking to cheat. "You only live once," is their motto, followed by, "have an affair." As you can imagine, the site is no stranger to criticism, and they've released another controversial report: their annual list of "Americas Least Faithful Cities." Based on user data collected on their site, they found that our nation's capital is indeed our country's least faithful city.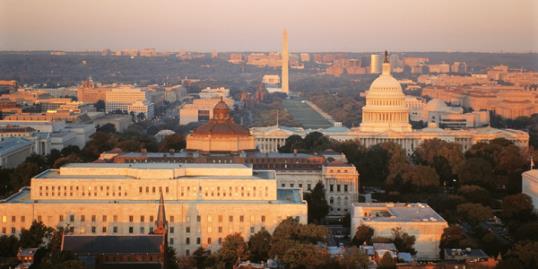 More on MSN Living: 10 tips for a sexy and romantic Valentine's Day
Washington D.C. had the highest number of AshleyMadison members per capita last year—with 34,157 new users. Apparently, Texans also have cheating on their minds. Austin and Houston came in second and third on the list.
"With enormous public attention paid to political cheating scandals this year, including the Gen. Petraeus affair, there was no doubt that Washington residents would be influenced," founder Noel Biderman said in a press release. "Living in D.C., it's crucial to keep up appearances and therefore adultery has become a way of life for many of the city's most powerful residents." 
More on MSN Living: Best Valentine's Day gifts on Pinterest
Biderman also found that the day after Valentine's Day is his site's busiest day of the year. In 2012, they had a 439 percent increase in membership sign-ups.
So where else does infidelity prevail?
  Top 10 Least Faithful Cities, according to AshleyMadison.com:
Washington, D.C.

Austin

Houston

Miami 

Oklahoma City, Okla.

Richmond, Va.

Boston

Lincoln, Neb.

Philadelphia

Phoenix, Aiz.

More from The Heart Beat:
Romance fades three and a half years into marriage
New wedding trend: The anti-invite
China's 'fake-marriage market' a growing trend
Love content like this? Friend us on Facebook, follow us on Twitter and find us on Pinterest.
Photo: Cameron Davidson/Getty Images
love: friendship, dating, sex & marriage
Your summer wedding is only a few months away? Don't sweat it! We have the finishing touches that will guarantee your wedding to be the absolute best blow out.

Planning a wedding involves months (sometimes years) of endless details, pressing deadlines, family drama and—far too often—enough stress to make you just want to elope. Stop right there. Consider this your cheat sheet and secret weapon against such insanity.

Those Facebook friends that seem to have the perfect life with the flawless husband they adore at all times? Even they face tough times like these.

If you're planning a crazy fun wedding, check out these hilarious wedding invitations.

Up your dating game this summer by taking advantage of the season's warm weather and extended evening light to move some of your dates outdoors.

You've said yes. Now it's time to start planning your wedding. Give guests a heads up with clever "save the date" cards. Here are 30 funny ones.

Gifts, affirmations, physical touch—what makes you feel most loved? One expert identified five main ways we express love. What's your preferred love language?

Rocky relationship? Maybe you and your spouse just have different ways of expressing love. Not to worry—here are some tips for speaking your partner's love language.

Hershey's syrup, whipped cream, and a Catwoman mask. Yes, yes, we were thinking the same thing: Nothing beats a woman who purrs. But what if you're still trying to get to the next level of your relationship? Well, that's where the fun comes in. "Ultimately, fun is the best aphrodisiac," says Paul Joannides, author of "The Guide to Getting It On!" "Quit looking for sexy and look for fun instead—and you'll end up having more sex." We like the way this guy thinks. That's why we brainstormed these adventures (with some help from experts and our female friends).

Before you sit down for 'the talk', read this guide to make sure you don't say the wrong things.

They look lovingly at each other across rooms, finish their partners' sentences, and playfully poke fun at one another. Here's how those blissful twosomes keep the romance alive.

Dear readers, You really are the sweetest. These quotes, sourced from our Facebook page, show that there are plenty of unique ways to tell your partner just how much you adore him.