Porn Stars Offer Advice at Relationship Workshops
In NYC, couples are learning lessons from porn industry pros.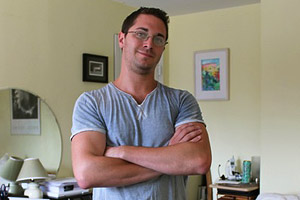 Porn stars seem an unlikely bunch to dispense relationship advice, but that's just what they're doing in a New York City-based series of workshops. And hear them out—it's not all about sex (but a lot of it is).
Since 2010, popular porn actresses have been taking over the lecture circuit, heading to NYC's West Village to host "Porn Star Sex Life." The name may be explicit, but the topics aren't always X-rated. Founder Josh Rosenberg claims that in addition to sex, he and his harem of porn princesses are revitalizing relationships, one couple at a time.
"We've really helped a lot of people," Rosenberg, 30, told DNAinfo.com. "We're helping couples reignite their passion."
While the premise of the workshop is obviously centered on sex, the lectures apparently encompass much more. After all, relationship behaviors like communication and understanding are a big part of a healthy sex life (presuming your sex life is not a career).
"It's just caring for your partner," Rosenberg said. "It's really understanding what's going on in your partner's head."
At $1,000 a ticket, I'd hope to leave with the ability to read my partner's mind. The cost is pricey, yes—but these ladies are staples of their industry, and, well, their time is worth a lot. The workshop is also an all day event.
In addition to relationship topics, the gals also dispense advice on dating, revealing the inner workings of the female brain to lovelorn men.
"It was everything—that's what they workshop was about," one attendee told DNAinfo. "Not just the sex, but things that make women want to be open with you."
According to a female attendee, "It's just information. 'Don't do that, do this instead.' And I thought that was really helpful."
And she makes a sensible point:
"I take lessons for tennis, people take lessons for the piano. Why wouldn't people take lessons for one of the most important things in their lives?"
True, but why get advice from porn pros rather than relationship experts?
"It's a lot sexier than a lecture," Rosenberg explained.
Photo: Josh Rosenberg/DNAinfo.co​m
More Love & Sex from MSN Living:
10 Things You Must Do After a Breakup
What He Really Wants to Do on Vacation
Men's Secret Bedroom Fears
love: friendships, dating, sex & marriage
Or how to tell if you've reached THAT point in your bond.

Dating doesn't have to be a daunting task, promise. Here's how to make it fun for you and him.

This just in: A new study shows girls are warriors in the womb.

You can make a pros and cons list...but ultimately you know what works best for you.

Maggie Reyes is a life coach, writer, and the founder of ModernMarried.com. She helps newlyweds re-think what married life can be. Here, she's revealing tricks every newlywed couple needs to know.

Government-supported Vietnamese classes teach women Korean language, customs.

Whether you're into creative artists or uber-preppy bankers, there's something to be said for trying something new.

Sometimes two characters on a TV show or movie can portray being a happy couple effortlessly, or can have lots of fun playing former spouses — especially if they're married to each other in real life! Keep scrolling for six celebrity costars you probably didn't know tied the knot, even after the bloodiest and craziest story lines.

Some couples want nothing more than a laid-back, by-the-book proposal. Then there are the other couples, where the proposal not only needs to be personalized, it also has to be unique and entirely different than the typical restaurant, bended-knee idea. Sound like you? Then get inspired by some of the most creative proposal ideas we've ever seen. If you find something you like, steal it and then modify it to make your proposal something totally unforgettable.

From Nantucket all the way to Cayo Espanto, we've rounded up some of the prettiest beaches to travel to for your honeymoon.

Researchers studied the age-old stereotype that women really are more talkative than men.

'There is a science behind attraction,' SingldOut says.