Porn Stars Offer Advice at Relationship Workshops
In NYC, couples are learning lessons from porn industry pros.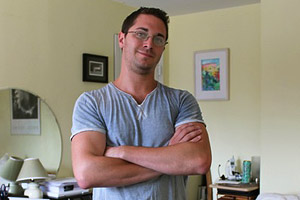 Porn stars seem an unlikely bunch to dispense relationship advice, but that's just what they're doing in a New York City-based series of workshops. And hear them out—it's not all about sex (but a lot of it is).
Since 2010, popular porn actresses have been taking over the lecture circuit, heading to NYC's West Village to host "Porn Star Sex Life." The name may be explicit, but the topics aren't always X-rated. Founder Josh Rosenberg claims that in addition to sex, he and his harem of porn princesses are revitalizing relationships, one couple at a time.
"We've really helped a lot of people," Rosenberg, 30, told DNAinfo.com. "We're helping couples reignite their passion."
While the premise of the workshop is obviously centered on sex, the lectures apparently encompass much more. After all, relationship behaviors like communication and understanding are a big part of a healthy sex life (presuming your sex life is not a career).
"It's just caring for your partner," Rosenberg said. "It's really understanding what's going on in your partner's head."
At $1,000 a ticket, I'd hope to leave with the ability to read my partner's mind. The cost is pricey, yes—but these ladies are staples of their industry, and, well, their time is worth a lot. The workshop is also an all day event.
In addition to relationship topics, the gals also dispense advice on dating, revealing the inner workings of the female brain to lovelorn men.
"It was everything—that's what they workshop was about," one attendee told DNAinfo. "Not just the sex, but things that make women want to be open with you."
According to a female attendee, "It's just information. 'Don't do that, do this instead.' And I thought that was really helpful."
And she makes a sensible point:
"I take lessons for tennis, people take lessons for the piano. Why wouldn't people take lessons for one of the most important things in their lives?"
True, but why get advice from porn pros rather than relationship experts?
"It's a lot sexier than a lecture," Rosenberg explained.
Photo: Josh Rosenberg/DNAinfo.co​m
More Love & Sex from MSN Living:
10 Things You Must Do After a Breakup
What He Really Wants to Do on Vacation
Men's Secret Bedroom Fears
love: friendships, dating, sex & marriage
This time of year, we dust off our holiday traditions of special songs, stories, events and food to make our season bright. Here's a look into the traditional, unique and quirky holiday traditions of some famous couples.

Look, I looooove engagement season for obvious reasons, but even I can admit I'm like, "Really, AGAIN?" when yet ANOTHER engagement ring pops up in my news feed. Seriously, there were two this weekend. (Congrats, Gemma and Danny!)

We asked real men and women (and a few first-base experts, too) to give us the cardinal rules of kissing, tell us what makes someone a good kisser and more. So whether you're leaning in for kiss No. 1 or 1,000, read on.by Devin Tomb

Not quite sure which diamond shape suits your personality? We're here to help.

Dating can lead to all kinds of tricky situations. To help you navigate even the most awkward moments, we've compiled our 50 best dating tips—some new, some old—given to us by experts, moms, women like you, and even Justin Timberlake.

Customers as Madison's new Snuggle House can snuggle with professional cuddlers for $60 an hour.

Can you believe it was only about 15 years ago that engagement ring shopping meant a time-consuming slog from jewelry boutique to jewelry boutique? Thank goodness for the internet; nowadays, it's easy to do all that legwork online.

The holiday season, with all its twinkly lights and fireplaces and cold nights perfect for snuggling, is most definitely for lovers—but "The Single Woman" author Mandy Hale is here to remind you that it's also for singles, too.

Studies show that being satisfied with your romantic relationship is one of the best predictors of happiness -- even more important than education, income, or having a high-status job. Resolve to make 2014 your happiest year yet with these bond-strengthening pledges.

This winter, it's all about mixing unexpected seasonal elements with elegant neutral details and a hint of sparkle and sequins. Take a look.

Here's why dudes without hair make the best boyfriends.

What do you wish you appreciated more when you were flying solo?