Porn Stars Offer Advice at Relationship Workshops
In NYC, couples are learning lessons from porn industry pros.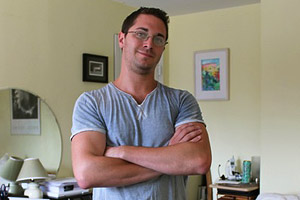 Porn stars seem an unlikely bunch to dispense relationship advice, but that's just what they're doing in a New York City-based series of workshops. And hear them out—it's not all about sex (but a lot of it is).
Since 2010, popular porn actresses have been taking over the lecture circuit, heading to NYC's West Village to host "Porn Star Sex Life." The name may be explicit, but the topics aren't always X-rated. Founder Josh Rosenberg claims that in addition to sex, he and his harem of porn princesses are revitalizing relationships, one couple at a time.
"We've really helped a lot of people," Rosenberg, 30, told DNAinfo.com. "We're helping couples reignite their passion."
While the premise of the workshop is obviously centered on sex, the lectures apparently encompass much more. After all, relationship behaviors like communication and understanding are a big part of a healthy sex life (presuming your sex life is not a career).
"It's just caring for your partner," Rosenberg said. "It's really understanding what's going on in your partner's head."
At $1,000 a ticket, I'd hope to leave with the ability to read my partner's mind. The cost is pricey, yes—but these ladies are staples of their industry, and, well, their time is worth a lot. The workshop is also an all day event.
In addition to relationship topics, the gals also dispense advice on dating, revealing the inner workings of the female brain to lovelorn men.
"It was everything—that's what they workshop was about," one attendee told DNAinfo. "Not just the sex, but things that make women want to be open with you."
According to a female attendee, "It's just information. 'Don't do that, do this instead.' And I thought that was really helpful."
And she makes a sensible point:
"I take lessons for tennis, people take lessons for the piano. Why wouldn't people take lessons for one of the most important things in their lives?"
True, but why get advice from porn pros rather than relationship experts?
"It's a lot sexier than a lecture," Rosenberg explained.
Photo: Josh Rosenberg/DNAinfo.co​m
More Love & Sex from MSN Living:
10 Things You Must Do After a Breakup
What He Really Wants to Do on Vacation
Men's Secret Bedroom Fears
love: friendship, dating, sex & marriage
We've made picking your palette a breeze! Just find your favorite hue and choose one of the cool combos below.

Get inspired with these twelve ideas for a fantastic, fun summer wedding!

What's worse than getting snubbed while proposing? Having your heart broken in front of countless strangers.

Want your I do's to be totally you? From pre-wedding cocktails to Mad Lib vows, here are 25 ways to make your ceremony as unforgettable as your reception.

Summer love can be sweet. But it tends to be fast, feverish and often fleeting. In a season where emotions run hot, here are some rules to help avoid heartbreak.

We asked brides on TheKnot.com to tell all -- and they did. Here, five of the most likely culprits and advice for how to deal with your drama-causing guests along the way.

This short course in flirting will not only teach you how to flirt better but also how to tell when someone is flirting with you—and how to respond. Have fun.

Gatsby glamour doesn't have to just live on the big screen! Embrace the trendy (yet timeless) art deco style with sequins, pearls, feathers and geometric patterns. Check out these art deco ideas and achieve the feel of 1920s decadence. By the way, all of these are affordable, except for the $600 hairpiece which is a splurge, but a knockout. Shop the look!

Wondering if your summer love will last? Here are 15 signs if your seasonal love is fleeting or for real.

Sixteen years after "Titanic's" release—and 101 years after the historic ship's notorious sinking—our hearts still go on for star-crossed lovers Rose DeWitt Bukater (Kate Winslet) and Jack Dawson (Leonardo DiCaprio). We rounded up some of our favorite ill-fated, but oh-so-romantic affairs on film, from "Gone with the Wind" to "Moulin Rouge!".

Flirting shouldn't be retired once you've got the ring. We asked relationship expert Harlan Cohen, as well as real husbands, the best way to keep the sparks flying.

When we're annoyed by male behavior, we turn to columnist Aaron Traister. His logic may be strange, but we have to admit, it's pretty helpful. Here, he answers our many questions for guys.