Porn Stars Offer Advice at Relationship Workshops
In NYC, couples are learning lessons from porn industry pros.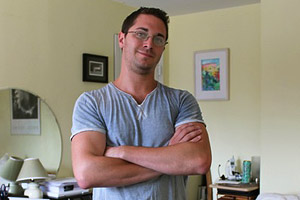 Porn stars seem an unlikely bunch to dispense relationship advice, but that's just what they're doing in a New York City-based series of workshops. And hear them out—it's not all about sex (but a lot of it is).
Since 2010, popular porn actresses have been taking over the lecture circuit, heading to NYC's West Village to host "Porn Star Sex Life." The name may be explicit, but the topics aren't always X-rated. Founder Josh Rosenberg claims that in addition to sex, he and his harem of porn princesses are revitalizing relationships, one couple at a time.
"We've really helped a lot of people," Rosenberg, 30, told DNAinfo.com. "We're helping couples reignite their passion."
While the premise of the workshop is obviously centered on sex, the lectures apparently encompass much more. After all, relationship behaviors like communication and understanding are a big part of a healthy sex life (presuming your sex life is not a career).
"It's just caring for your partner," Rosenberg said. "It's really understanding what's going on in your partner's head."
At $1,000 a ticket, I'd hope to leave with the ability to read my partner's mind. The cost is pricey, yes—but these ladies are staples of their industry, and, well, their time is worth a lot. The workshop is also an all day event.
In addition to relationship topics, the gals also dispense advice on dating, revealing the inner workings of the female brain to lovelorn men.
"It was everything—that's what they workshop was about," one attendee told DNAinfo. "Not just the sex, but things that make women want to be open with you."
According to a female attendee, "It's just information. 'Don't do that, do this instead.' And I thought that was really helpful."
And she makes a sensible point:
"I take lessons for tennis, people take lessons for the piano. Why wouldn't people take lessons for one of the most important things in their lives?"
True, but why get advice from porn pros rather than relationship experts?
"It's a lot sexier than a lecture," Rosenberg explained.
Photo: Josh Rosenberg/DNAinfo.co​m
More Love & Sex from MSN Living:
10 Things You Must Do After a Breakup
What He Really Wants to Do on Vacation
Men's Secret Bedroom Fears
love: friendships, dating, sex & marriage
Brad Pitt and Angelina Jolie finally took the plunge, but marriage isn't always a good choice for everyone.

Learn how these surprising tactics can really improve your relationship.

Use these tips to up your chances of finding love.

Find out how paired-off ladies might feel lacking—and how you can make your relationship satisfying.

These signals are seriously subtle, but they can give you real insight into what's going through your husband's mind.

Check which changes are necessary to stay happy together.

We know some of this may sound obvious, but these simple statements can make both of you happier.

Making your relationship more secure, connected, and intimate doesn't have to feel overwhelming. Try these expert tips and reap the rewards now—and in the long run.

For those times when nothing big and horrible happened--but nothing is feeling right either.

What's more fun than animals in weddings? We've rounded up eight of the cutest.

Your puppy is all over your Instagram, Facebook and fridge, so there's no reason not to include him in your engagement pictures too. The best engagement photos give viewers a peek into your life. If you're a dog owner, take this opportunity to show off your pooch, like these 22 couples did! And we can't thank them enough.

Our married blogger gets real about checking out other guys when you're taken.