Top reason for divorce? 'Unreasonable behavior'
Unreasonable behavior and too much arguing are more likely to ruin a marriage than adultery.
More couples divorce due to "unreasonable behavior" than adultery, according to a new study.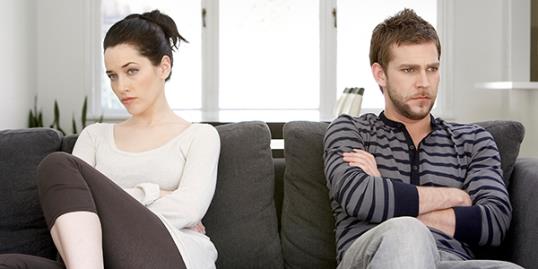 MSN: Manimony: What Divorce Costs Famous Women
U.K-based Cooperative Legal Services studied divorce trends in the U.K. over the past 40 years and found that unreasonable behavior is now cited in 47 percent of divorce cases. In the 1970s, it was only cited in 28 percent of cases. What's more, the latest figures show only 15 percent of divorces are caused by infidelity. In the '70s, cheating was cited in 29 percent of divorces.
So what exactly constitutes "unreasonable"? The Guardian gave a few examples from lawyers' divorce cases: A husband who made his wife feel guilty for going out with friends, a cross-dressing husband who had a sex change, and a spouse who withdrew the family's savings and burned it in the bedroom.
The National Fatherhood Initiative conducted a similar study in the U.S., asking divorced individuals why they decided to end their marriages. Interestingly, they found adultery wasn't the top reason for divorce in the United States, either. Seventy-three percent of couples blamed their divorces on a "lack of commitment." Fifty-six percent of exes said they split because of too much arguing.
Read more about the study here.
More from The Heart Beat: 
Subscribe to The Heart Beat | Friend us on Facebook, follow us on Twitter and find us on Pinterest.
Photo: Noel Hendrickson/Getty Images
love: friendships, dating, sex & marriage
Experts say a meaningful gift is an extension of a healthy relationship (no pressure, though!).

Researchers in a recent study conclude that men are better at focusing on one task, while women are more attuned to multi-task.

It's normal to want to be accepted by your in-laws. But feeling that you need to be accepted can bring complications, causing you to be uncomfortable and unnatural around them.

One New York couple breaks down the highs and lows of their year together and even asks friends and family to weigh in.

Okay, prepare the tissues. We've rounded up the top ten viral love stories of the year. These stories are the ones that tugged at our heartstrings and went wild on the internet. And for good reason! These stories set the internet on fire and nearly crashed our computers, all because they revolve around the most important emotion in the world: love.

Man's best friend might have just become his mortal enemy due to stealing his woman.

Can a long-term union be happy without sex? One 34-year-old mom says yes. She anonymously shares all the not-so-dirty details of why not getting busy led to her wedded bliss.

Gluten-free? Mac lover? Pixie? There's a dating site for you.

Dating can lead to all kinds of tricky situations. To help you navigate even the most awkward moments, we've compiled our 50 best dating tips—some new, some old—given to us by experts, moms, women like you, and even Justin Timberlake.

This time of year, we dust off our holiday traditions of special songs, stories, events and food to make our season bright. Here's a look into the traditional, unique and quirky holiday traditions of some famous couples.

Two steps forward, one giant fight afterward?

If you've been hiding any of this stuff, it's time to fess up.