Top reason for divorce? 'Unreasonable behavior'
Unreasonable behavior and too much arguing are more likely to ruin a marriage than adultery.
More couples divorce due to "unreasonable behavior" than adultery, according to a new study.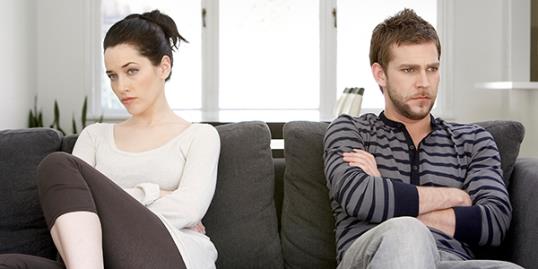 MSN: Manimony: What Divorce Costs Famous Women
U.K-based Cooperative Legal Services studied divorce trends in the U.K. over the past 40 years and found that unreasonable behavior is now cited in 47 percent of divorce cases. In the 1970s, it was only cited in 28 percent of cases. What's more, the latest figures show only 15 percent of divorces are caused by infidelity. In the '70s, cheating was cited in 29 percent of divorces.
So what exactly constitutes "unreasonable"? The Guardian gave a few examples from lawyers' divorce cases: A husband who made his wife feel guilty for going out with friends, a cross-dressing husband who had a sex change, and a spouse who withdrew the family's savings and burned it in the bedroom.
The National Fatherhood Initiative conducted a similar study in the U.S., asking divorced individuals why they decided to end their marriages. Interestingly, they found adultery wasn't the top reason for divorce in the United States, either. Seventy-three percent of couples blamed their divorces on a "lack of commitment." Fifty-six percent of exes said they split because of too much arguing.
Read more about the study here.
More from The Heart Beat: 
Subscribe to The Heart Beat | Friend us on Facebook, follow us on Twitter and find us on Pinterest.
Photo: Noel Hendrickson/Getty Images
love: friendships, dating, sex & marriage
LinkedUp connects to your LinkedIn profile to find you a date.

Plus, some report having no one at all they feel close to.

It's wedding season! Let's take a look back at when these stunning celebs put on gorgeous gowns and held beautiful bouquets in support of their friends' and family members' big days.

A new study says we're more open to consensual non-monogamy now than ever before — but does it work?

5 steps to being happy together in the long run.

There has been an exponential increase in the number of people who are questioning their marriage.

We're willing to bet that if you're not already grappling with these wedding-related snags, you will be soon.

Pull out the tissues for these personalized wedding vows.

Forgotten what love is all about? Read this note, and remember.

And a few that aren't so shocking.

If you find yourself doing any of these things, consider changing your behavior or counseling.

From pineapple sculptures made out of sunflowers to bold graphic printed tablecloths, ten trendsetters in the wedding industry shared 100 days' worth of inspiring new wedding details. See The Knot editors' top picks for the coolest and most awe-worthy ideas from the wedding experts.