Couple Marries Remotely Over Skype
A Skype wedding makes marriage possible for long distance lovers.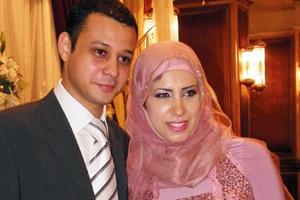 Sometimes it's bleak, sometimes it's convenient, but the fact is, face-to-face contact is no longer necessary for many of life's interactions. Many things can now be accomplished remotely: work, friendships, meetings, and yes, even weddings.
A young accountant working in Dubai was tired of postponing his wedding. His fiancé lived thousands of miles away, in his native city of Alexandria, Egypt. Eventually, the couple decided distance shouldn't keep them from tying the knot, so they invited friends and family to watch them exchange their vows—via Skype.
Last year, 30 year-old Mahmoud Mohammed Abdul Hafez was living in Egypt with his fiancé, Somaia, and the two were planning an upcoming wedding. But in April, Mahmoud lost his job (see a photo of the newlyweds here).
"We got engaged in February 2011 and our plan was to wed by the end of the year," Mahmoud told the 7Days newspaper. "When I lost my job, everything changed."
Luckily, Mahmoud found a new job. The only problem? It was in Dubai, thousands of miles away from his bride-to-be.
"When I got my job, the first thing on my mind was to get the wedding done and silence all the critics. I didn't want to delay it because my fiancé was getting worried, too," Mahmoud said.
But being a new employee, Mahmoud was reluctant to ask for time off, likely traumatized by his last termination.
"I wanted my job but I didn't want to lose my fiancé, so the only available option was to have the wedding conducted without physically being there."
So he decided to walk down the virtual aisle. Mahmoud invited some friends over to his Dubai apartment, where they gathered in front of his laptop webcam. Meanwhile, Somaia was joined by the couple's parents on the other end, in Alexandria. They arranged for the appropriate authorizations, and Mahmoud's father represented him to sign the papers as a witness.
The two then exchanged their vows and became husband and wife, all completely remotely.
"I am now happily married," Mahmoud told the newspaper.
Wedded bliss may have started out on a webcam for these two, but they do have face-to-face plans in the coming months. The newlyweds plan to throw a big wedding bash in Alexandria when Mahmoud takes his annual leave at the end of the year.
Photo: Courtesy of 7Days
More on love & sex from MSN Living:
24 Secrets of Successful Daters
How to Get Busy When You're Busy
Sweet, Fun and Cheap Date Ideas
love: friendships, dating, sex & marriage
The typical wedding: A white dress, tiered cake, floral centerpieces and a cute flower girl -- you know the drill. Every once in a while, though, a couple trades in tradition for a quirky, never-seen-that-before idea. Here are a few of the most out-there wedding photos that made us do a double take.

There's a lot to love about weddings this fall, like cocktails served in copper Moscow mule mugs, industrial-inspired lighting and pheasant feather details. See what's new!

Do you have to be engaged to sport a ring with bling?

124.6 million haven't gotten hitched.

Even though the national average wedding is $29,858, that's just an average. If you live in a smaller state like Idaho where the average wedding costs $16,159, you may find yourself saving a little more than half of the national spend! Check out some of the other least expensive cities to get married in below:

Summer is winding down, but the ubiquitous summer romance lives on.

For those times when nothing big and horrible happened--but nothing is feeling right either.

He's confident, distinguished and anywhere from 4 to 20 years older than you. Age is just a number, but there's something about older men that we love. Here are eight reasons why being in a relationship with an older man is tops.

While a younger man may have less life experience, that doesn't mean he's not emotionally mature. Here are the eight reasons why being in a relationship with a younger man is tops.

Have you ever wondered what the 'other woman' was thinking?

So fall is coming and you need some romantic inspiration now that long walks on the beach are out of the question. Well look no further! From apple picking to pumpkin carving, these are some great fall date ideas from girls just like you!

Getting bored of the same dinner and movie date night? Take an adorable cue from your favorite celebs and try something new! From dancing to boxing you can't go wrong with these awesome date ideas.