Couple Marries Remotely Over Skype
A Skype wedding makes marriage possible for long distance lovers.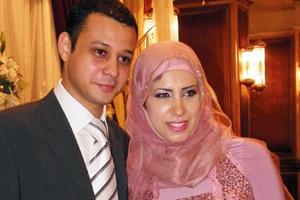 Sometimes it's bleak, sometimes it's convenient, but the fact is, face-to-face contact is no longer necessary for many of life's interactions. Many things can now be accomplished remotely: work, friendships, meetings, and yes, even weddings.
A young accountant working in Dubai was tired of postponing his wedding. His fiancé lived thousands of miles away, in his native city of Alexandria, Egypt. Eventually, the couple decided distance shouldn't keep them from tying the knot, so they invited friends and family to watch them exchange their vows—via Skype.
Last year, 30 year-old Mahmoud Mohammed Abdul Hafez was living in Egypt with his fiancé, Somaia, and the two were planning an upcoming wedding. But in April, Mahmoud lost his job (see a photo of the newlyweds here).
"We got engaged in February 2011 and our plan was to wed by the end of the year," Mahmoud told the 7Days newspaper. "When I lost my job, everything changed."
Luckily, Mahmoud found a new job. The only problem? It was in Dubai, thousands of miles away from his bride-to-be.
"When I got my job, the first thing on my mind was to get the wedding done and silence all the critics. I didn't want to delay it because my fiancé was getting worried, too," Mahmoud said.
But being a new employee, Mahmoud was reluctant to ask for time off, likely traumatized by his last termination.
"I wanted my job but I didn't want to lose my fiancé, so the only available option was to have the wedding conducted without physically being there."
So he decided to walk down the virtual aisle. Mahmoud invited some friends over to his Dubai apartment, where they gathered in front of his laptop webcam. Meanwhile, Somaia was joined by the couple's parents on the other end, in Alexandria. They arranged for the appropriate authorizations, and Mahmoud's father represented him to sign the papers as a witness.
The two then exchanged their vows and became husband and wife, all completely remotely.
"I am now happily married," Mahmoud told the newspaper.
Wedded bliss may have started out on a webcam for these two, but they do have face-to-face plans in the coming months. The newlyweds plan to throw a big wedding bash in Alexandria when Mahmoud takes his annual leave at the end of the year.
Photo: Courtesy of 7Days
More on love & sex from MSN Living:
24 Secrets of Successful Daters
How to Get Busy When You're Busy
Sweet, Fun and Cheap Date Ideas
love: friendships, dating, sex & marriage
All year long we obsess over hundreds of beautiful photos of every wedding detail, from the cutest flower girl dresses ever to wedding favor ideas that no one has ever seen before. But we couldn't keep these brilliant details to ourselves — here, 10 of the year's most unique wedding ideas!

Sexier sex! Very public proposals! Nearlyweds! It was a pretty busy year for love and relationships. As 2013 comes to a close, we look back at the best trends that made headlines.

The most wonderful time of the year can quickly become the most irritating time of the year if you're waiting for an engagement ring.

The holidays are a time of joy, cheer, and fighting with your boyfriend because he forgot to bring the gift you bought for his mom after you reminded him five times. These practical tips will help you avoid the bickering so you can get back to the important stuff—like eating more cookies.

Wedding cake, wedding reception? Psh! This couple is forgoing both—and going for a run instead.

Part of the reason Christmas felt so magical when you were a kid was because of all the special things you did only at that time of year, like sing Christmas carols or help decorate your mom's famous sugar cookies. (OK, fine. Also because of presents.)

Talk about a marriage proposal to remember.

I was just discussing last night how annoying posed professional portraits have become.

The key to wedded bliss isn't over-the-top romance, but these surprisingly simple practices you can do to stay - or fall back - in love with your partner. Read on for expert tips on how to have a happy marriage.

Do not get him a dopp kit, a money clip, a tie (seriously?), cufflinks or a bunch of candy that you will eat after he opens. Get him this stuff instead. He'll be surprised—but more importantly, he'll be happy. These gifts are good.

It might be time to let go of our general assumption that long-distance relationships are pure torture.

Researchers in a recent study conclude that men are better at focusing on one task, while women are more attuned to multi-task.