Couple Marries Remotely Over Skype
A Skype wedding makes marriage possible for long distance lovers.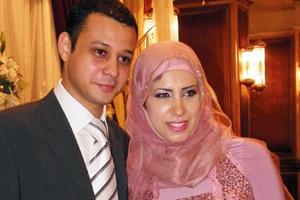 Sometimes it's bleak, sometimes it's convenient, but the fact is, face-to-face contact is no longer necessary for many of life's interactions. Many things can now be accomplished remotely: work, friendships, meetings, and yes, even weddings.
A young accountant working in Dubai was tired of postponing his wedding. His fiancé lived thousands of miles away, in his native city of Alexandria, Egypt. Eventually, the couple decided distance shouldn't keep them from tying the knot, so they invited friends and family to watch them exchange their vows—via Skype.
Last year, 30 year-old Mahmoud Mohammed Abdul Hafez was living in Egypt with his fiancé, Somaia, and the two were planning an upcoming wedding. But in April, Mahmoud lost his job (see a photo of the newlyweds here).
"We got engaged in February 2011 and our plan was to wed by the end of the year," Mahmoud told the 7Days newspaper. "When I lost my job, everything changed."
Luckily, Mahmoud found a new job. The only problem? It was in Dubai, thousands of miles away from his bride-to-be.
"When I got my job, the first thing on my mind was to get the wedding done and silence all the critics. I didn't want to delay it because my fiancé was getting worried, too," Mahmoud said.
But being a new employee, Mahmoud was reluctant to ask for time off, likely traumatized by his last termination.
"I wanted my job but I didn't want to lose my fiancé, so the only available option was to have the wedding conducted without physically being there."
So he decided to walk down the virtual aisle. Mahmoud invited some friends over to his Dubai apartment, where they gathered in front of his laptop webcam. Meanwhile, Somaia was joined by the couple's parents on the other end, in Alexandria. They arranged for the appropriate authorizations, and Mahmoud's father represented him to sign the papers as a witness.
The two then exchanged their vows and became husband and wife, all completely remotely.
"I am now happily married," Mahmoud told the newspaper.
Wedded bliss may have started out on a webcam for these two, but they do have face-to-face plans in the coming months. The newlyweds plan to throw a big wedding bash in Alexandria when Mahmoud takes his annual leave at the end of the year.
Photo: Courtesy of 7Days
More on love & sex from MSN Living:
24 Secrets of Successful Daters
How to Get Busy When You're Busy
Sweet, Fun and Cheap Date Ideas
love: friendships, dating, sex & marriage
How to flag her little fibs. By Laura Tedesco

A new study on attraction may help explain why fashions change.

As a general rule, any island that offers great weather year-round is going to attract the most visitors in the winter (high season) when we're all trying to escape the snow. Once summer rolls around, many islands see a sharp drop-off in tourism since many people have beach weather right in their own backyards.

And how you can attack the issues together.

A wedding is an exceptionally special day. Sometimes, an opportune photo flub makes the occasion even more memorable. Here are 25 awesome wedding photo bombs.

Somewhere between the first few butterfly-inducing dates and the committed-for-life stage, there's the period of wondering if you're both on the same page about how serious you feel about a future together. If you're not quite at the point of "that talk" but you're looking for a few clues you're heading in that direction, here are some signs he's in it for the long haul as your relationship progresses.

What's that sound? It's white noise blocking out the well-meaning person proclaiming groundbreaking news about where you can meet someone, asking why you're still single, or bugging you about when you're getting married already. Don't be that person. Here are 15 annoying things all single people don't want to hear.

With just a few days left before the big day, you already have a mile-long checklist of to-dos—now meet the don'ts! From impromptu skin treatments to all-night movie marathons, here are 11 things to avoid at all costs.

A new study shows that watching and discussing romantic films can drastically reduce your chance of divorce. These flicks more than fit the bill.

These seemingly innocent phrases still have the power to wound… big time.

Making "I do" last forever is one of the biggest challenges you'll ever face—and it's normal to worry about how you'll do it. But, if your connection involves any of these things, rest assured that you're in it for the long run.

Ultimately, as hard as it may seem at the beginning, a marital affair can be a turning point.