Couple Marries Remotely Over Skype
A Skype wedding makes marriage possible for long distance lovers.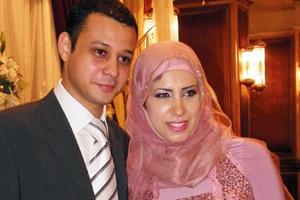 Sometimes it's bleak, sometimes it's convenient, but the fact is, face-to-face contact is no longer necessary for many of life's interactions. Many things can now be accomplished remotely: work, friendships, meetings, and yes, even weddings.
A young accountant working in Dubai was tired of postponing his wedding. His fiancé lived thousands of miles away, in his native city of Alexandria, Egypt. Eventually, the couple decided distance shouldn't keep them from tying the knot, so they invited friends and family to watch them exchange their vows—via Skype.
Last year, 30 year-old Mahmoud Mohammed Abdul Hafez was living in Egypt with his fiancé, Somaia, and the two were planning an upcoming wedding. But in April, Mahmoud lost his job (see a photo of the newlyweds here).
"We got engaged in February 2011 and our plan was to wed by the end of the year," Mahmoud told the 7Days newspaper. "When I lost my job, everything changed."
Luckily, Mahmoud found a new job. The only problem? It was in Dubai, thousands of miles away from his bride-to-be.
"When I got my job, the first thing on my mind was to get the wedding done and silence all the critics. I didn't want to delay it because my fiancé was getting worried, too," Mahmoud said.
But being a new employee, Mahmoud was reluctant to ask for time off, likely traumatized by his last termination.
"I wanted my job but I didn't want to lose my fiancé, so the only available option was to have the wedding conducted without physically being there."
So he decided to walk down the virtual aisle. Mahmoud invited some friends over to his Dubai apartment, where they gathered in front of his laptop webcam. Meanwhile, Somaia was joined by the couple's parents on the other end, in Alexandria. They arranged for the appropriate authorizations, and Mahmoud's father represented him to sign the papers as a witness.
The two then exchanged their vows and became husband and wife, all completely remotely.
"I am now happily married," Mahmoud told the newspaper.
Wedded bliss may have started out on a webcam for these two, but they do have face-to-face plans in the coming months. The newlyweds plan to throw a big wedding bash in Alexandria when Mahmoud takes his annual leave at the end of the year.
Photo: Courtesy of 7Days
More on love & sex from MSN Living:
24 Secrets of Successful Daters
How to Get Busy When You're Busy
Sweet, Fun and Cheap Date Ideas
love: friendships, dating, sex & marriage
Learn how these surprising tactics can really improve your relationship.

Use these tips to up your chances of finding love.

Find out how paired-off ladies might feel lacking—and how you can make your relationship satisfying.

These signals are seriously subtle, but they can give you real insight into what's going through your husband's mind.

Check which changes are necessary to stay happy together.

We know some of this may sound obvious, but these simple statements can make both of you happier.

Making your relationship more secure, connected, and intimate doesn't have to feel overwhelming. Try these expert tips and reap the rewards now—and in the long run.

For those times when nothing big and horrible happened--but nothing is feeling right either.

What's more fun than animals in weddings? We've rounded up eight of the cutest.

Your puppy is all over your Instagram, Facebook and fridge, so there's no reason not to include him in your engagement pictures too. The best engagement photos give viewers a peek into your life. If you're a dog owner, take this opportunity to show off your pooch, like these 22 couples did! And we can't thank them enough.

Our married blogger gets real about checking out other guys when you're taken.

He's confident, distinguished and anywhere from 4 to 20 years older than you. Age is just a number, but there's something about older men that we love. Here are eight reasons why being in a relationship with an older man is tops.