Couple Marries Remotely Over Skype
A Skype wedding makes marriage possible for long distance lovers.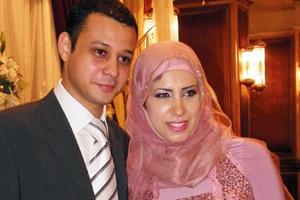 Sometimes it's bleak, sometimes it's convenient, but the fact is, face-to-face contact is no longer necessary for many of life's interactions. Many things can now be accomplished remotely: work, friendships, meetings, and yes, even weddings.
A young accountant working in Dubai was tired of postponing his wedding. His fiancé lived thousands of miles away, in his native city of Alexandria, Egypt. Eventually, the couple decided distance shouldn't keep them from tying the knot, so they invited friends and family to watch them exchange their vows—via Skype.
Last year, 30 year-old Mahmoud Mohammed Abdul Hafez was living in Egypt with his fiancé, Somaia, and the two were planning an upcoming wedding. But in April, Mahmoud lost his job (see a photo of the newlyweds here).
"We got engaged in February 2011 and our plan was to wed by the end of the year," Mahmoud told the 7Days newspaper. "When I lost my job, everything changed."
Luckily, Mahmoud found a new job. The only problem? It was in Dubai, thousands of miles away from his bride-to-be.
"When I got my job, the first thing on my mind was to get the wedding done and silence all the critics. I didn't want to delay it because my fiancé was getting worried, too," Mahmoud said.
But being a new employee, Mahmoud was reluctant to ask for time off, likely traumatized by his last termination.
"I wanted my job but I didn't want to lose my fiancé, so the only available option was to have the wedding conducted without physically being there."
So he decided to walk down the virtual aisle. Mahmoud invited some friends over to his Dubai apartment, where they gathered in front of his laptop webcam. Meanwhile, Somaia was joined by the couple's parents on the other end, in Alexandria. They arranged for the appropriate authorizations, and Mahmoud's father represented him to sign the papers as a witness.
The two then exchanged their vows and became husband and wife, all completely remotely.
"I am now happily married," Mahmoud told the newspaper.
Wedded bliss may have started out on a webcam for these two, but they do have face-to-face plans in the coming months. The newlyweds plan to throw a big wedding bash in Alexandria when Mahmoud takes his annual leave at the end of the year.
Photo: Courtesy of 7Days
More on love & sex from MSN Living:
24 Secrets of Successful Daters
How to Get Busy When You're Busy
Sweet, Fun and Cheap Date Ideas
love: friendships, dating, sex & marriage
This just in: A new study shows girls are warriors in the womb.

You can make a pros and cons list...but ultimately you know what works best for you.

Maggie Reyes is a life coach, writer, and the founder of ModernMarried.com. She helps newlyweds re-think what married life can be. Here, she's revealing tricks every newlywed couple needs to know.

Government-supported Vietnamese classes teach women Korean language, customs.

Whether you're into creative artists or uber-preppy bankers, there's something to be said for trying something new.

Sometimes two characters on a TV show or movie can portray being a happy couple effortlessly, or can have lots of fun playing former spouses — especially if they're married to each other in real life! Keep scrolling for six celebrity costars you probably didn't know tied the knot, even after the bloodiest and craziest story lines.

Some couples want nothing more than a laid-back, by-the-book proposal. Then there are the other couples, where the proposal not only needs to be personalized, it also has to be unique and entirely different than the typical restaurant, bended-knee idea. Sound like you? Then get inspired by some of the most creative proposal ideas we've ever seen. If you find something you like, steal it and then modify it to make your proposal something totally unforgettable.

From Nantucket all the way to Cayo Espanto, we've rounded up some of the prettiest beaches to travel to for your honeymoon.

Researchers studied the age-old stereotype that women really are more talkative than men.

'There is a science behind attraction,' SingldOut says.

One minute you're happy and in love, the next he's delivering the "It's not you, it's me" speech. Why? We have the scoop on the real reasons most couples split up.

Want to keep your wedding budget in check? Start by checking out this list of the 10 things that could end up costing you a lot more than you anticipated.